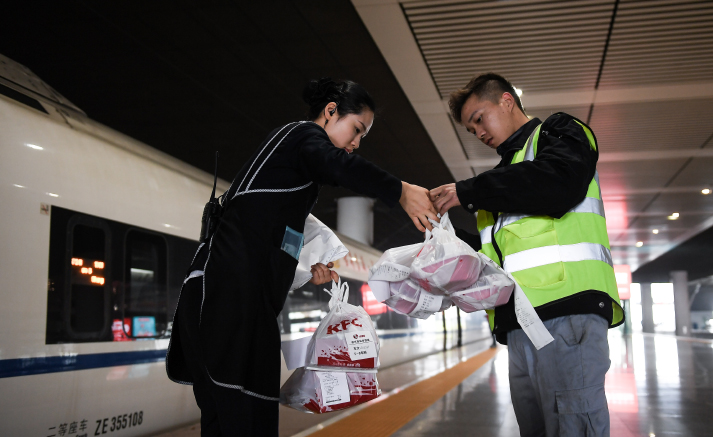 Plastic bags are now in great demand in delivering take-out food in China (XINHUA)
For vegetable vendor Xu, a plastic bag is the most convincing invitation to potential customers. Bundles of white and blue plastic bags dangled from hooks tied to the poles of a big tent sheltering his vegetables from rain or sun. Upon spotting a visitor who stopped and glanced at his vegetables, Xu handed her a new plastic bag. She grabbed it and began to fill it with tomatoes.
Xu and his wife operate a stall at the entrance of a residential community in Beijing's northern Haidian District. "Many residents pass by the entrance every day, and for those who make impromptu decisions to buy, the plastic bags are handy," Xu told Beijing Review.
More than convenience, customers also like Xu's plastic bags because they are free and are the right size for garbage bins at home. The plastic bags available at the supermarket across the street have to be bought and are too small for household bins.
Although it has been 10 years since the government issued a regulation on limiting plastic bag production, sale and use for retail purposes, they are still widely used in China.
Limited effect
China restricted the use of plastic bags on June 1, 2008. The government also imposed a ban on the production, sale and use of any plastic bag thinner than 0.025 mm because such super-thin plastic bags cannot easily be reused and are a major source of plastic pollution. Plastic bags meeting quality standards must be properly labeled, according to regulations.
All supermarkets, shopping malls and other retail facilities were forbidden from providing plastic bags free of charge. Retail establishments must clearly mark the price of plastic bags and charge the cost in addition to commodity prices.
The regulation called on accelerated implementation of waste classification so as to effectively reduce the amount of plastic waste ending up in refuse incinerators or landfills.
In 2008, 3 billion plastic bags were used every day in China, with one third of them used to hold groceries, according to the Plastic Recycling Professional Committee of China Plastics Processing Industry Association.
Now, one decade on, what effect has the regulation produced?
Data from the National Development and Reform Commission showed that from 2008 to 2016, the use of plastic bags in stores and supermarkets was slashed by more than two thirds, saving an accumulated total of about 1.4 million tons of plastic bags, equivalent to reducing carbon dioxide emissions by nearly 30 million tons.
Observations at supermarkets show many consumers now bring their own reusable bags for shopping. Those who choose to pay for plastic bags also use bags sparingly.
But a majority of retail facilities still provide free and substandard plastic bags according to a report by Beijing-based China Zero Waste Alliance, an NGO founded in 2011 to push for solutions to China's waste problem. The report is based on on-site investigations of 1,101 brick-and-mortar retail facilities in Beijing and Guangdong, Liaoning, Anhui, Henan, Zhejiang, Jiangxi and Sichuan provinces.
It found that among 979 stores providing plastic shopping bags, 78 percent supplied plastic bags that did not meet quality standards regarding thickness or labeling. Only 17 percent—mostly large supermarkets or nationwide convenience store chains—charged for plastic bags.
The alliance discovered that overall, only 9.1 percent of the retail facilities under study met the plastic bag quality standard and charged money for them as required.
Ballooning new demand
While plastic bags are still freely available in many brick-and-mortar retail facilities, booming e-commerce poses new difficulties for curbing plastic pollution.
In September 2017, the State Post Bureau released a report on the status quo and trend of green packaging in China's courier industry at a meeting hosted by Beijing-based China Post and Express News.
The report revealed that 14.7 billion plastic bags were used in 2016 in the e-commerce industry, including 6.8 billion used by courier companies for packaging, with the remaining used for packaging by online retailers.
Plastic packaging is also widely used in restaurants. China Zero Waste Alliance studied 23 restaurants offering take-out food. It found that none of them charged for plastic bags and 96 percent of them were using plastic bags that were improperly labeled.
Today, plastic is used in various aspects of daily life and has become almost irreplaceable, Wang Xiaoyi, a research fellow with the Institute of Sociology of the Chinese Academy of Social Sciences, told Beijing Youth Daily. The demand for plastic is rigid: Consumers have to put products into plastic bags to be weighed in supermarkets, while even more plastic is used to bottle water or to hold take-out food, he said. He believes replacing plastic with substitute products is more important than charging money for using plastic bags.
Decomposable plastic bags are available in supermarkets, but at a higher cost. The 2017 study on green packaging of China's courier industry demonstrated that decomposable plastic bags and tapes cost four to five times more than conventional products. Some 95 percent of courier companies and stations the alliance surveyed expressed that the cost of green packaging is currently untenable for them. Hence to promote green packaging, it is important to lower the cost of decomposable products.
Plastic was able to replace other materials to become a necessity due, to a great extent, to its low cost, said Wang. But this is because its environmental cost is not included in its production price. If this is factored into the price of plastic, then plastic products would become expensive and may be replaced by other materials, he said. To reduce plastic consumption, he suggested that measures should not only be taken at the consumption end, but also in the production process. Producers should be compelled to reduce the use of plastic in products such as electronics and toys, produce plastic products with longer life spans, and shoulder recycling responsibilities.
Stricter measures
Given the limited effect of the current regulation on restricting the use of plastic bags, some people suggest an outright ban on disposable non-decomposable plastic bags and tableware. Tong Bin, a member of the Hunan Provincial Committee of the Chinese People's Political Consultative Conference, a political advisory body in central China's Hunan Province, supports such a ban. He told China Central Television that enterprises producing eco-friendly plastic bags should be subsidized to lower their costs, while law enforcement should be stepped up so that those producing ultra-thin plastic bags are strictly penalized.
In fact, such an outright ban on producing, selling or providing disposable non-decomposable plastic bags and tableware has been implemented in northeast China's Jilin Province since January 1, 2015. Plastic products made from petroleum must be replaced with substitute products from renewable biological materials that do not produce harmful substances and are biodegradable.
At the national level, the National Development and Reform Commission is considering how to adjust the ordinance on restricting the use of plastic bags and how to regulate their use by online retailers, courier companies and restaurants offering take-out food, said He Lifeng, the commission's head. At the beginning of 2018, the commission started to solicit public suggestions on preventing and controlling plastic pollution.
Copyedited by Rebeca Toledo
Comments to wanghairong@bjreview.com