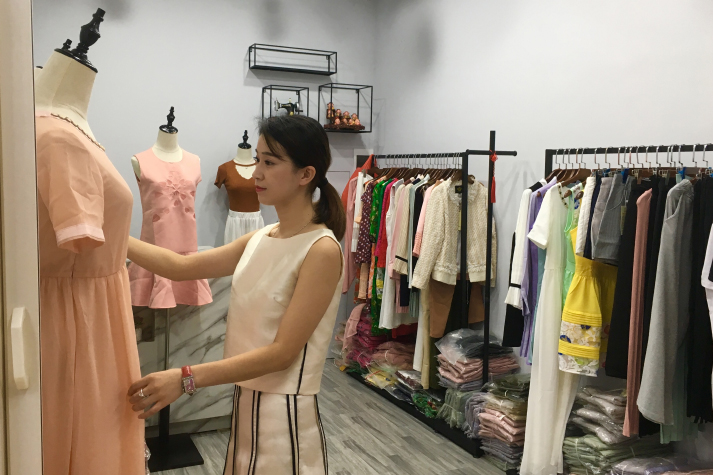 Zang Yadan, a clothes vendor, works in the Mingzhu International Trade Center in Cangzhou, north China's Hebei Province (ZHAO PIAO)
After graduating from university in 2011, Zang Yadan, from east China's Zhejiang Province, and her husband started a clothing business in Beijing. When informed about the relocation of wholesale markets out of the capital, they decided to stay in north China in a bid to maintain the base of their business. Hence, they conducted field trips to Tianjin and Yongqing, north China's Hebei Province, but in the end, they settled on Cangzhou, Hebei.
"The Mingzhu International Trade Center has developed supporting facilities and a complete industrial chain. In addition, the Cangzhou-based Dongsu Group has provided an all-round guarantee on not only my business, but also issues like home purchasing and children's education. As a result, I have nothing to worry about," Zang said.
Integrated development
In April 2015, the central authorities adopted a guideline for Beijing-Tianjin-Hebei integrated development. The document pointed out that the coordinated development was a key national strategy, whose focus is to ease the non-capital functions of Beijing. Three months later, four priorities were identified, including large wholesale markets. Based on statistics from the Beijing Municipal Commission of Commerce, from 2015 to 2017, 461 markets and 68 logistics centers were relocated.
On July 29, the Guanyuan Wholesale Market in downtown Beijing announced that it would close in September after serving customers for 20 years. It is the last wholesale market in Xicheng District. Many clothing wholesale markets have shuttered one after another in the past few years, including the Dahongmen market, where Zang was based. Many manufacturers and vendors like Zang moved to Cangzhou, which is 50 minutes from Beijing by high-speed train.
Wang Ligong, General Manager of the Beijing Shengyaomei Fashion Dress Co. Ltd., who ran a clothing business in Beijing for 24 years, was the first tenant relocated to the Mingzhu Garment Town in Cangzhou. Wang said his decision was based on development prospects and the convenient transportation system in the city. He said he views Cangzhou as a potential new battlefield where his business can achieve greater success. Of course, there is another vital reason for his decision: Yu Guiting, Chairman of the Dongsu Group, moved him with his sincerity.
To ease the move, the Dongsu Group, a private joint-stock enterprise involved in diverse sectors ranging from plastics to real estate and education, invested in and built the Mingzhu Garment Town and the Mingzhu International Trade Center. Speaking about the Dongsu Group's decision to extend its business to clothing, Yu recounted an experience he had 34 years ago.
"I traveled to the United States for the first time in 1984. The driver who received me wore a decent suit, and in the following six days, he didn't wear the same thing twice. Then I realized since China was in a phrase of development, the Chinese clothing industry could also flourish," Yu said.
He also pointed out the wholesale markets and the garment processing industry, which underwent rapid development in Beijing in the past three decades, are the most difficult parts of the relocation program. But at the same time, the plan offers new opportunities for nearby cities like Cangzhou. In view of these conditions, the company decided to invest in the clothing industry.
In ancient Chinese philosophy, time, location and people are the necessary factors for success. In this case, time is represented by the national strategy of Beijing-Tianjin-Hebei integrated development; location is represented by convenient transportation; and Yu's genuine attitude toward vendors is the last essential element.
In the past three years, Yu, 69, has received more than 60,000 tenants from Beijing. He is always patient and kind to prospective vendors. "Apart from talking face to face, I like to invite them to my home," he told Beijing Review.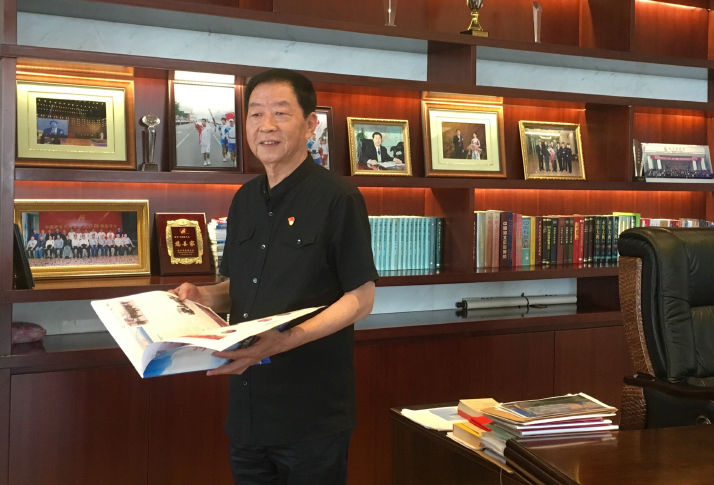 Yu Guiting, Chairman of the Dongsu Group (ZHAO PIAO)
Future vision
But attracting them to Cangzhou is only the initial step; keeping them is more significant. To achieve this goal, a series of preferential policies are in place for tenants from Beijing, including rent exemption for two years, home sales at a discount and free shuttle buses between Beijing and Cangzhou. Moreover, the Dongsu Group coordinates with the local education department and helps merchants handle worries about their children's education.
Yu underlined the importance of providing a wide range of services to clothing companies from Beijing. They have thrived in the capital to such an extent that only a complete industrial chain can ensure their continued growth, he said.
Mindful of their needs, the Dongsu Group introduced the Mingzhu International Trade Center, which displays products and offers a venue for negotiations with customers, and the Mingzhu Garment Town for clothing design, production, warehousing and logistics. These two projects complement each other and form an industrial chain.
The Cangzhou Government plays a positive role in facilitating the relocation of Beijing's clothing markets. For instance, during the construction of the Mingzhu Garment Town, the Cangzhou Municipal Development and Reform Commission fully supported the endeavor, simplifying the examination and approval procedures and speeding up the process.
The inflow of businesses, of course, promotes the development of Cangzhou's economy. The clothing industry, which is labor-intensive, can boost local employment and potentially help create a garment town with a population of 200,000-300,000. In addition, with the introduction of the clothing industry, the industrial structure of Cangzhou, where heavy chemicals constitute the pillar industry, will be more balanced.
Yu has his own vision for the future: He hopes the Mingzhu International Trade Center and the Mingzhu Garment Town are able to undertake the transfer of clothing companies from Beijing and Tianjin before going on to promote indigenous innovation. By forming a modern business model that concentrates on design, manufacturing, e-commerce and tourism, Cangzhou aims to turn itself into a major player in the fashion industry in China and perhaps in the world at large.
"When our town develops to a certain scale, it will attract clothing companies from Guangzhou, Fuzhou and Wenzhou, and even those from South Korea. In the future, it will have the potential to introduce Italian and French clothing companies to Cangzhou and become an international garment manufacturing and processing base," Yu said.
Copyedited by Rebeca Toledo
Comments to zanjifang@bjreview.com