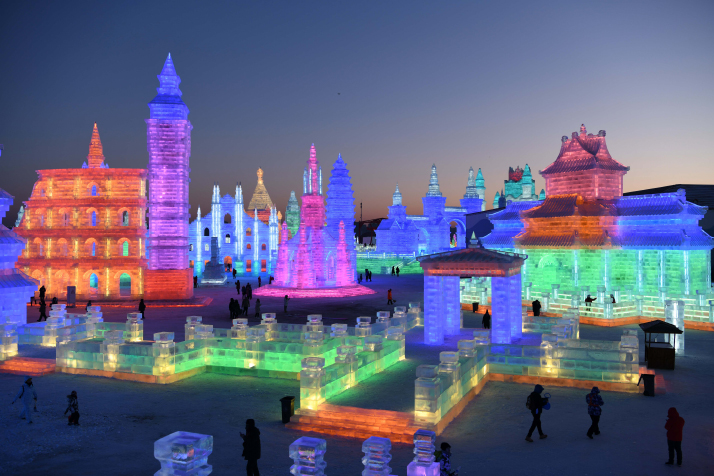 Tourists visit Ice-Snow World, which covers 600,000 square meters, in Harbin, capital of northeast China's Heilongjiang Province, on December 23, 2018 (XINHUA)
The ice collection season was launched on the frozen waters of the Songhuajiang River in Harbin, capital city of northeast China's Heilongjiang Province, on December 7, 2018. Ice collected by teams of workers will be used to build Ice-Snow World, a spectacular theme park in the city.
Liu Shujuan is a team leader with more than 20 years of experience, having learned from her father since the age of 16. Her responsibilities include selecting the ice area for collection and judging and controlling the conditions for work.
"Look at the ice in the sunshine, see how clear it is," Liu said with satisfaction.
A promising market
A stable water flow in the Songhuajiang River contributes to the generation of the crystal clear ice formed during winter, the main reason why the famous Ice-Snow World insists on using natural ice produced by the river despite advanced technology for ice making. Ice-Snow World opened on December 23, 2018, with 110,000 cubic meters of crystal ice collected for its construction, ushering in a frozen world for all to enjoy.
In addition to Heilongjiang, there are other northern areas that are vigorously developing winter tourism, including Hebei and Jilin provinces and Xinjiang Uygur Autonomous Region. Boasting a special landscape and abundant natural resources, these northern areas draw visitors to winter activities, which add strong growth to local economies.
Ice and snow tourism has generated enormous wealth, according to a report released by the China Tourism Academy (CTA) on December 23, 2018. During the 2017-18 winter season, ice and snow tourist activities covered 197 million visitors and created revenue of 330 billion yuan ($47.9 billion), which increased 16 percent and 22 percent, respectively, over the 2016-17 season. It is estimated that the number of visitors will reach 340 million this season, generating 680 billion yuan ($98.6 billion) worth of revenue.
"Twenty years have passed since the promotion of tourism and golden week in China. People who suffer from aesthetic fatigue need fresher and more exciting tourism projects," Han Yuanjun, an assistant researcher at the CTA, told Beijing Review.
As a growing trend, snow-themed events successfully meet people's new demands, while at the same time, filling a vacuum in domestic tourism over the winter months, which are regarded as the low season for travel. In addition, the increasing number of consumers buying tourist products also accelerates the pace of ice-snow tourism development. Han tied it to the upgrading of both China's consumption structure and people's consumption patterns.
Unique scenery and local culture in winter have become the soft power of many cities for developing ice and snow tourism, which contributes to the popularity of ice-snow travel. "Snow sports alone can't satisfy consumers, so making local customs and cultures available enriches their journey," Han said. Thanks to advanced technologies, residents living in south China today can also take part in snow sports like skiing without traveling too far. However, they are still willing to visit farther away places which feature local ethnic groups and fluffy snowfalls for an unforgettable experience.
The development of snow tourism is an integration of tourism and sports resources ever since Beijing won its bid to host the 2022 Winter Olympic Games in 2015. According to a development plan for ice-snow sports issued by the General Administration of Sport of China, the scale of the ice and snow industry will reach 600 billion yuan ($87 billion) in 2020, which shows huge potential and opportunities in the sector.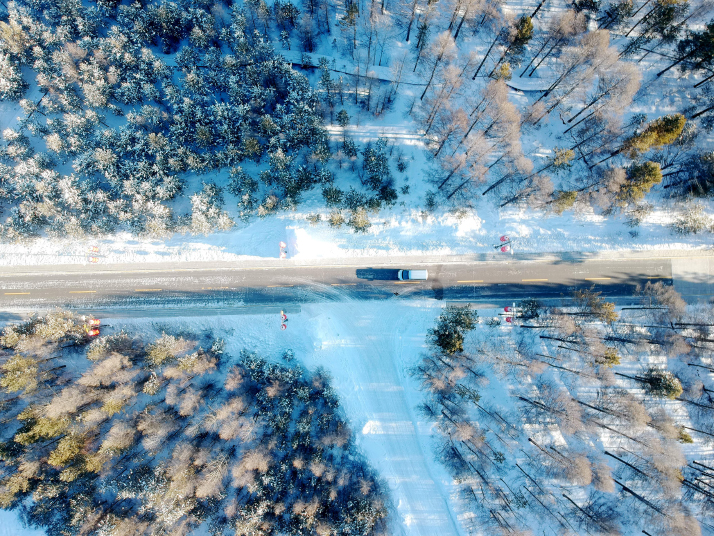 An aerial view of Beiji Village in Mohe, northeast China's Heilongjiang Province, on December 16, 2018 (XINHUA)
Growth and reflection
Changes are also taking place among travelers. In the consumption report, the number of people between 50-70 years old rose exponentially, even though people below 30 still occupied the major group of consumers, indicating the growing diversity of tourist products.
Ice and snow tourism has generally grown to include hot springs, sightseeing, folk customs and other leisure events, said Dai Bin, Dean of the CTA, at the Jilin Ice and Snow Cultural Summit on December 23, 2018, in Changchun, capital city of Jilin.
Dai said that tourism products which combine multiple events are popular among consumers.
On Tuniu.com, an online travel service provider, the bestseller in the northeast region is a snow-themed package covering sports, winter fishing and sightseeing, which is a fusion of natural scenery, local culture and recreation. This concept also appeals to individual travelers. Xie Jingwei, a college student in Beijing, is now planning to drive to Qinhuangdao City in Hebei to ski with his friends. He told Beijing Review, "In the evening, we are going to have a good rest at the hot spring after enjoying some local food."
The CTA report highlighted a change in tourist services, as existing products and services on the market are not meeting customers' needs anymore. Wanting a more authentic experience, people are starting to turn to local tour guides for tourist packages.
Despite creating new products and providing better services, ice and snow tourism is still an emerging industry, with problems to be solved.
The hot-debated issues in recent years, such as poor infrastructure and services, are being resolved gradually. But how to develop ice-snow tourism sustainably is a new problem.
A balance needs to be struck between profits and the ecology. During a research trip to Heilongjiang, Jilin and Liaoning provinces in September 2018, President Xi Jinping said lucid waters and lush mountains are invaluable assets and so are ice and snow, calling for making the local environment even better and giving full play to the region's special resources and strengths in developing the winter economy. "This instruction is a program of action for the development of the ice and snow economy and the exploration of ice and snow tourism," Dai said.
Another problem is the homogenization of products and services in the region. For example, the popularity of Xuexiang Village in Heilongjiang has caused many tourist cities to follow suit, and since winter fishing in the Chagan Lake of Jilin was developed, winter fishing appears on many tourist routes. "Ice-snow tourism is an industry driven by resources, so innovation and brand building are vital tasks for these tourist cities," Han said.
The exploration of tourist products should be rooted in traditional customs instead of projects like tourist towns and attractions. What makes winter fishing in the Chagan Lake famous is not the activity itself but its historical tradition and the charm of its culture.
Moreover, to stimulate the influence of local customs, cultural and creative enterprises, along with international agencies, need more opportunities to play a role. For instance, the administration of Changbai Mountain signed a strategic cooperation agreement with the Winter Games Association International (WGA) on the global development of the ice and snow industry on December 5, 2018. The WGA will provide consultant services on market development, talent management and international investment for the administration.
The ice-snow market should strive to be inclusive, and in this way, the popularization of ice-snow sports and the public spread of theme traveling will be realized.
Copyedited by Rebeca Toledo
Comments to liqing@bjreview.com