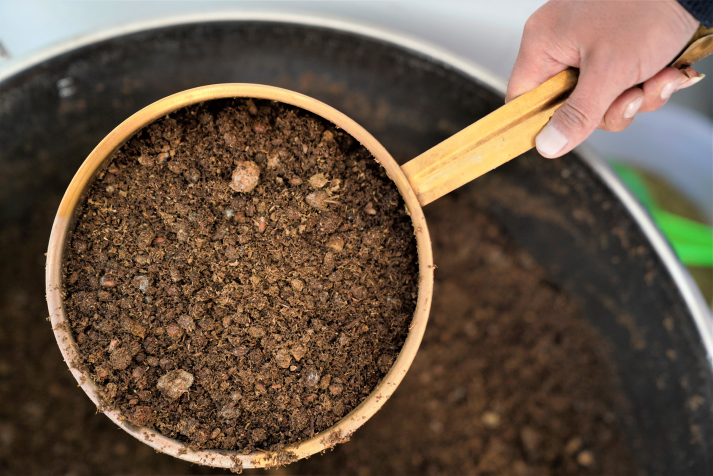 Herbs used in the Lum medicinal bathing (XINHUA)
Padma Yangdron's 2019 New Year's wish has been refined from her 2018 one. Her wish for 2018 was to have the Lum medicinal bathing of Sowa Rigpa, traditional Tibetan medicine, included in UNESCO's World Intangible Cultural Heritage list.
This became a reality on November 28, 2018, at the 13th session of UNESCO's Intergovernmental Committee for the Safeguarding of the Intangible Cultural Heritage in Port Louis, Mauritius, where the decision to inscribe it on the Representative List of the Intangible Cultural Heritage of Humanity was announced.
As director of the Tibetan Medicine Hospital in Lhasa, southwest China's Tibet Autonomous Region, and one of the members of the application team, Padma saw the event via live broadcast and was thrilled. "It is a milestone in promoting Tibetan medicine to the world," she told Beijing Review at a forum at the Beijing Hospital of Tibetan Medicine. "In 2019, I will work hard to protect it and promote it in various ways."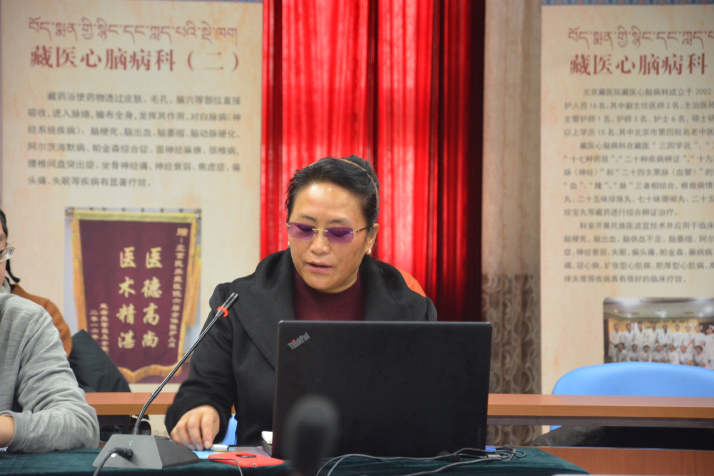 Padma Yangdron speaks at a forum at the Beijing Tibetan Medicine Hospital on December 9, 2018 (COURTESY PHOTO)
Healing baths
Lum medicinal bath is a knowledge and practice concerning life, health, and illness prevention and treatment among the Tibetan ethnic people in China, as the application text describes.
Padma explained that in Tibetan, Lum means traditional knowledge and the practices of bathing in either natural hot springs or herbal water, or sitting in steam to adjust mind and body balance, ensure health and treat illnesses. Sowa Rigpa, the Tibetan name of the medicinal practice, literally means the knowledge of recuperating. The practice has a history of more than 2,500 years.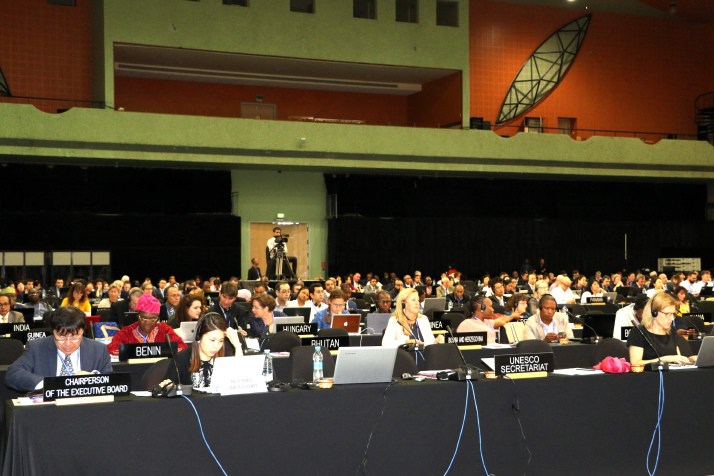 Lum medicinal bath is inscribed on UNESCO's World Intangible Cultural Heritage list in Port Louis, Mauritius, on November 28, 2018 (XINHUA)
Originating on the Qinghai-Tibet Plateau, the practice has been widely developed in Tibet, as well as regions in Qinghai, Sichuan, Yunnan, and Gansu provinces, and is widely recorded through local folklore, epics, dramas, paintings, sculptures and other fine art forms.
"Being inscribed on UNESCO's list indicates that it will be more acknowledged around the world," Padma said.
"In the past, there were more natural hot springs than herbal baths in hospitals," she added. "But now almost every hospital in Tibet has a specific department for medicinal bathing."
Baths for curing illness have a long tradition in Tibet. There is a legend about a Buddhist deity signaling a dying woman to bathe in the river and the woman recovering immediately afterward. A weeklong bathing festival, with a history of more than 700 years, is celebrated in the seventh or the eighth month of the Tibetan calendar to cleanse the body and wash away potential diseases.
"Today, many Tibetans living in remote areas still choose hot spring bathing as their first choice to cure illnesses," Padma said.
Yangbum Jashi, Director of the Tibetan Medicinal Bathing Department at the Qinghai Tibetan Medicine Hospital, is a great promoter of the practice in Qinghai Province.
After graduating from a Tibetan medicine school in Qinghai, Yangbum joined the hospital in 1985. "It was the first year Qinghai was setting up medicinal bathing departments in hospitals. At that time, there were only three hospitals in Qinghai that had a medicinal bathing department," Yangbum told Beijing Review. "In my hospital, there were only six bath tubs. Now we have more than 80 and almost every hospital in Qinghai has set up a department."
Since most places in Tibet are at a high altitude and very cold, rheumatic diseases are very common among local farmers and herders. Medicinal bathing has curative effects on this, along with neurogenic diseases, arthritis, skin diseases and gynecological diseases.
"Many people think of it as the bathing we do at home, but it is definitely more than that," Yangbum said. "We have a complete set of theoretic systems and operating procedures."
Medicinal bathing was first recorded in the Four Volumes of Medicine, the text of Tibetan medicine that is more than 1,000 years old. Herbs are boiled and poured into the tub, taking effect as the hot water opens pores. As an external treatment method, it is believed to have very few side effects.
The whole process, which normally takes less than 20 minutes, must be strictly indoors, Yangbum explained. Doors should not be opened during the entire procedure since the heat of the herbal water helps patients sweat. If a door opens during the process, it lets the cold in, which will affect the treatment. The temperature of the herbal water is strictly prescribed and normally it is different each time.
After getting out of the bath, the patient must lie on a hot bed to help the herbal effects work better and more thoroughly. This process also needs to be strictly indoors.
Normally a treatment can take seven to 10 consecutive days, after which the patient needs to rest for at least a month to get the maximum effect, as the herbs need some time to course through the body.
Currently, about 40 percent of the patients at Qinghai Tibetan Medicine Hospital are from other provinces and regions in China. Some are from foreign countries.
Yang Fengwei, 37, from Gansu Province, suffered from postpartum rheumatism for more than a year and didn't get better even after seeing many doctors. She decided to go to the Qinghai Tibetan Medicine Hospital to try the medicinal bathing treatment.
"I doubted whether it would work every time I soaked in the herbal water," Yang said. "But after one month of the first course, I noticed that I was not afraid of the cold anymore. Before that, I never felt warm. This was a big surprise to me."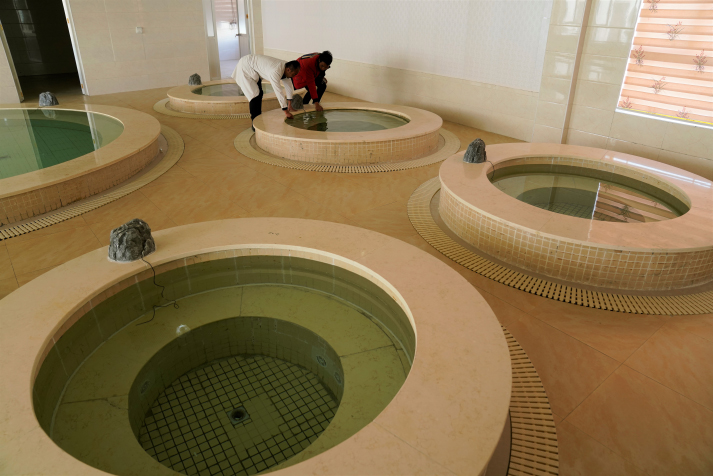 Medical staff at the Tibetan Medicine Hospital of Tibet Autonomous Region check bath tubs on November 21, 2018 (XINHUA)
Spreading the benefits
Medicinal bathing has become a commonly accepted treatment in areas inhabited by Tibetan people. "Spring and autumn are the favorite seasons for many patients to come and get the treatment," Yangbum said. "We are very busy after Spring Festival; patients have to make appointments two months in advance to get the treatment, which is covered by medical insurance."
The map of the bath treatment areas has been expanding. Wangchug Dorje, Director of the Medicinal Bathing Department at the Beijing Hospital of Tibetan Medicine, said patients now have to make appointments one month in advance.
"We have many patients from many places including Inner Mongolia and Xinjiang Uygur autonomous regions and Shanxi Province," Wangchug told Beijing Review. "The number is still growing, especially after it was included on the World Intangible Cultural Heritage list."
Herbal powders claiming to contain Tibetan medicinal bathing herbs have been on the market for a long time. The instructions say that buyers should simply put the powder into water and bathe in it.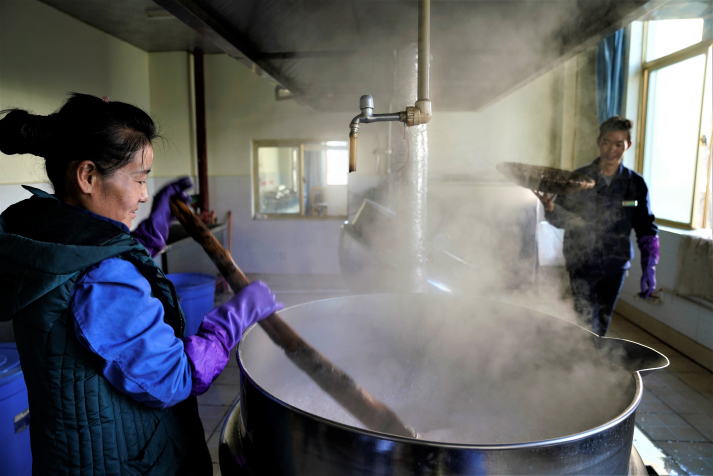 Staff members boil herbs for medicinal bathing in Shannan Tibetan Medicine Hospital in southwest China's Tibet Autonomous Region on November 28,2018 (XINHUA)
"This is a problem," Yang Ga, a professor at the Tibetan Medicine University in Tibet, said. "The successful UNESCO bid will definitely help promote Sowa Rigpa, but the potential financial rewards will also trigger more related commercial products, including fake ones. Without effective regulations, this will have negative repercussions."
Yangbum echoed Yang's view, saying that the media, while promoting Tibetan medicinal baths, should make it clear that it is a professional procedure and show consumers a complete picture of what it entails.
China now has 20 institutes for training Tibetan medicine practitioners. The Traditional Tibetan Medicine School is China's only specialized institute for the practice. In some parts of Tibet and Qinghai, the master-to-apprentice has also been preserved to sustain the practice.
Migdrol, 53, is a national-level intangible cultural heritage inheritor of Sowa Rigpa. He inherited the knowledge from his father, a prestigious doctor of Tibetan medicine in Shannan, a city in southeastern Tibet. Now he has passed on the practice to six of his apprentices. "We will sustain and develop the patrimony left by our ancestors," he said.
In 2007, the practice was included in Tibet's intangible cultural heritage list and in 2014, it made it to the national intangible cultural heritage list. In 2015, a five-year preservation plan (2019-23) was drafted by the country's intangible cultural heritage protection center and the Tibetan cultural department on the basis of a monitoring system to ensure coordinated safeguarding and development of the Tibetan tradition. Measures include special vocational training and increasing young people's awareness of preservation through the compilation of primary and secondary school textbooks.
Padma added that many measures have been taken to preserve the practice, including the establishment of a relevant database, promotion through school textbooks and more medical training programs. Two newly built three-story buildings at the Tibetan Medicine Hospital in Lhasa will start the bath therapy soon.
With the inscription of the Lum medicinal bathing, China now has 40 items on UNESCO lists. "Tibetan medicine is an important part of Tibetan culture and Tibetan people's daily life," Padma said. "We will take further steps in the protection and development of traditional Tibetan medicine as we promised UNESCO in the application."
Copyedited by Rebeca Toledo
Comments to yuanyuan@bjreview.com