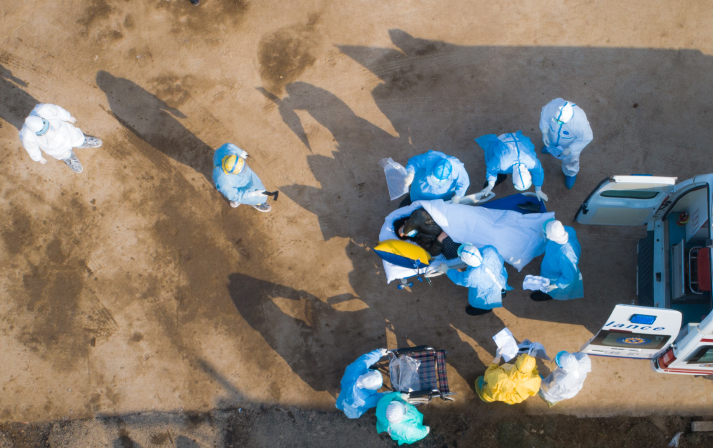 Medical workers admit patients infected with the novel coronavirus at the Huoshenshan Hospital in Wuhan, Hubei Province in central China, on February 4 (XINHUA)
In Chinese mythology, the Spring Festival is a celebration after dispelling an imaginary monster called nian by bursting crackers and pasting auspicious red paper strips on doors. This year, China has been grappling with a real monster—the 2019-nCoV.
As of February 6, there were 31,211 confirmed infection cases in China, with 22,112 in Hubei. The death toll was 637 while 1,542 people were cured and discharged from hospital. Some 190 confirmed cases were also reported in about 20 more countries.
On February 3, the Standing Committee of the Political Bureau of the Communist Party of China (CPC) Central Committee met to discuss how to double efforts to contain the outbreak. President Xi Jinping, also General Secretary of the CPC Central Committee, said not just medical and healthcare but "all work should serve to win the fight against the epidemic."
He also stressed that there should be no formalism and bureaucracy in fighting the epidemic and any dereliction of duty would be punished.
It is an all-out war being fought fiercely not only by medical workers at the frontline but also by everyone else in different ways. For a majority of people, it is a silent war fought from inside their homes or behind masks.
Workers package masks at a factory in Linli County, Hunan Province in central China, on January 26, the second day of the Chinese New Year (XINHUA)
High vigilance
A bustling transportation hub located in a Beijing neighborhood known as China's Silicon Valley, the Shangdi Subway Station is a place where one can feel the pulsating vitality of the hi-tech area. Workday mornings always see jostling crowds in and out of the station and the nearby streets teeming with commuters.
But not on February 3, the first workday after the end of the Chinese New Year holiday. The station looked deserted even during what should have been the peak morning rush hour, with only one or two passengers walking in occasionally. Mu Ye, a young staffer at the station, told Beijing Review that in recent days few people took the subway.
After the outbreak of the novel coronavirus or 2019-nCoV, Mu has got a new assignment. Wearing a gas mask and carrying a white handheld digital thermometer, his work is to check the temperature of the people arriving at the station.
Many people did not return to their workplaces on February 3 due to policies implemented to halt the transmission of the virus. Those traveling back to the capital from outside were mandated to self-quarantine for two weeks if they had returned by public transportation, or for one week if they had traveled in their own vehicles. Flexible work hours and working from home have been encouraged. The Beijing Municipal Government, like many local governments in the country, asked companies in the city not to resume work until February 10, except public utilities and healthcare and medical product manufacturers.
After the onset of the outbreak about one month ago, various initiatives have been taken to stop the transmission of the disease. The epicenter of the outbreak, Wuhan in Hubei Province in central China, has been sealed off. People are being scanned in public places for fever. Notices are being issued regularly, asking residents to wear masks, wash their hands after coming in from outside, and stay away from crowded places. Individuals are required to report their health condition.
At the Qinghe Railway Station on the recently launched Beijing-Zhangjiakou High-Speed Railway, smart equipment that combines infrared temperature measurement with facial recognition is being used. A staff member told Beijing Review that it was developed by hi-tech company Baidu and recently put into service to detect infection without having to stop the people passing by it. Passengers detected with high temperature are led to a quarantine zone and given medical treatment. On the loudspeaker tips on how to travel safely are being repeated.
With these and other measures to block disease transmission, "the epidemic will hopefully peak in the next 10 days to two weeks or so," Zhong Nanshan, a renowned respiratory scientist who led the fight against severe acute respiratory syndrome (SARS) 17 years ago, told state broadcaster China Central Television (CCTV) on February 2. The 84-year-old is in Wuhan leading an experts' team dispatched by the National Health Commission (NHC) to combat the virus.
With the number of confirmed cases still on the rise, Zhong cautioned that prevention and control still need to be strengthened. "We cannot relax our vigilance," he said, reiterating that early detection and isolation of patients is still the most effective method against the disease.
"The SARS breakout lasted nearly six months. Today, our country has made great progress in dealing with major infectious diseases. We are confident of controlling the 2019-nCoV pneumonia more effectively and restore normal social order as soon as possible," he said.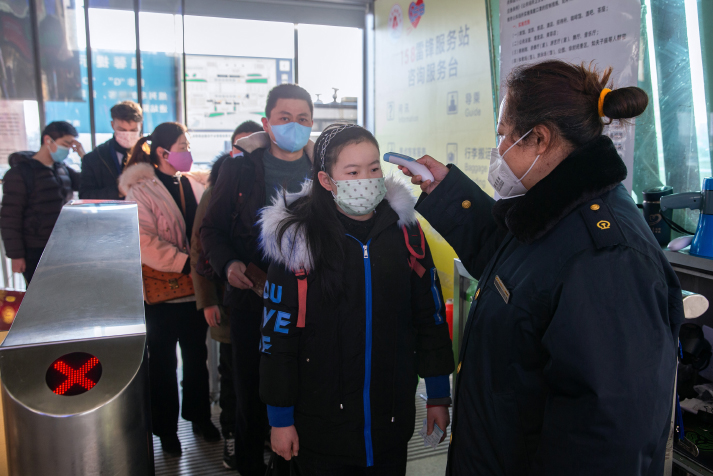 A staffer checks the temperature of a passenger at the Nanjing Railway Station in Nanjing, Jiangsu Province in east China, on February 2 (XINHUA)
A glimpse into the situation
The first alarm was sounded by vigilant medical workers in a hospital in Wuhan who identified a link between four people admitted into the hospital with pneumonia at the end of December. All four had worked in the Huanan Seafood Wholesale Market, which sold live poultry, aquatic products and wild animals.
The cases were reported to the Chinese Center for Disease Control and Prevention (China CDC) on December 31. "On the last day of 2019, staff members were poised to usher in a new year in peace. However, the tranquility was suddenly broken… A report about pneumonia of unknown cause in Wuhan arrived," an article on the center's website recounted the moment.
Experts dispatched by the center arrived at Wuhan on the earliest flight the next morning and began investigations. On January 8, researchers confirmed that the novel coronavirus was the pathogenic cause of the pneumonia. Though the market was shut down on January 1 and Wuhan suspended public transportation and mass gatherings and cut itself off from the outside world since January 23, the virus is still spreading.
But encouragingly, most patients show only mild symptoms, Jiao Yahui, an NHC official, said at a press conference on February 4.
Earlier, Wu Zunyou, chief epidemiologist at China CDC, also said the new type of coronavirus pneumonia is not as severe as previously thought. An analysis of more than 7,000 confirmed cases in China shows that so far, there has been no death among patients under 30. The mortality rate of patients between 40 and 59 was only 0.2 percent. Death mainly occurred among elderly patients, especially those who also suffered from other diseases. Wu said fatality among patients over 80 was relatively high at about 18 percent.
On February 2, Zhong said the fatality rate in confirmed cases was around 2.3-2.4 percent, which was lower than the toll caused by the H7N9 and H5N1 influenza and the Middle East respiratory syndrome, but higher than that of ordinary influenza.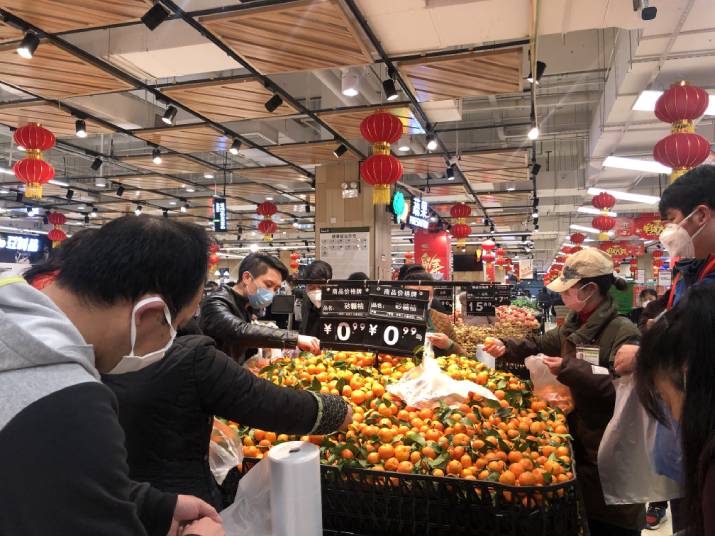 Residents buy fruits at a supermarket in Huanggang, Hubei, on February 2 (XINHUA)
Effective measures
China's fight against the 2019-nCoV is much more efficient than it was against SARS, said Zhang Boli, a member of a national research team formed to tackle the outbreak, on January 29. Zhang was also part of an expert group that had a similar task during the SARS outbreak in 2003.
It took more than three to four months to figure out the SARS virus while it took just over a week to identify the novel coronavirus. Diagnostic kits were soon developed and distributed to medical institutions across the country. China has also released the whole genome sequence of the virus to help scientists worldwide develop diagnostic kits and study the viral pathogenicity. Information on infection cases is being released daily.
The government announced on February 5 that application for clinical trials to use Remdesivir, a drug that has shown good antiviral results, for 2019-nCoV treatment had been approved. The first batch of pneumonia patients were expected to start taking the drug the following day.
Information and data on clinical trials for Lopinavir and Ritonavir, a combination of antiviral medicine earlier used to treat HIV, and traditional Chinese medicines are being collected.
Zhong also said on February 2 that at least seven drugs specifically targeting the chemical components of the 2019-nCoV are in clinical research.
Meanwhile, a group of Chinese institutions are developing vaccines for the novel coronavirus, including China CDC and Tsinghua University.
The outbreak occurred during the annual Spring Festival travel rush, when some 3 billion trips were expected between January 10 and February 18, which made curbing the spread of the disease especially challenging.
On January 20, the NHC announced that the 2019-nCoV would be deemed a Category B disease, the second highest level that also includes SARS, anthrax and AIDS. However, Category A precautions would be adopted, which meant patients would be quarantined. The government announced free diagnosis and treatment.
By January 29, 31 provincial-level regions on the Chinese mainland had activated the highest public health emergency response. All communities, urban and rural, were mobilized to prevent transmission and identify patients. Big data and artificial intelligence technology began to be used to trace and monitor infections. An app was developed to help users find out whether they have shared rides with any infected person.
The medical community's response has been overwhelming. Medical workers in Hubei cut short their holiday to return to work and treat the people flocking to hospitals for diagnosis and medical care. The national health authorities mobilized more than 10,000 medical personnel from across the country to assist doctors in Wuhan. In addition, two makeshift hospitals were built in the city in less than half a month to accommodate the rising number of patients.
The two new hospitals, Huoshenshan and Leishenshan, went into operation in early February. They were erected by thousands of workers and volunteers who worked in shifts to continue the assembling round the clock.
In addition, venues in Wuhan, including gymnasiums, exhibition centers and sports centers, have been or would be converted into hospitals to admit more people infected.
After medical workers and epidemic prevention experts, drivers were the next largest group among the 120,000 people entering Wuhan in the first week it was locked down, analysis of data from the State Information Center, a national think tank, shows. They are crucial to the lifeline of the city.
Thanks to them, food, medicines and other essential supplies have been continuously delivered to Wuhan. One story doing the rounds is that of the dedication of Tan Dexiao, a young trucker who was carrying nearly 6 tons of food materials such as rice and noodles to Wuhan. Heavy rains caused the expressway to close, which meant he had to detour for about 175 km. Then his truck got stuck in a pit and he had to wait for hours before it could be hauled out and then proceeded to deliver the goods to their destination, all this in the thick of the holiday season.
Still, the high demand for medical supplies, especially protective clothing and masks, rendered a "tight balance" between supply and demand, Tian Yulong, chief engineer at the Ministry of Industry and Information Technology, said at a press conference on February 3. Hubei is an important production base of medical materials including protective clothing and goggles. The recovery of production capacity after the Spring Festival can significantly alleviate the shortage, he said.
Liu Xiaoming, Vice Minister of Transport, said some e-commerce enterprises have purchased urgently needed materials such as masks from overseas. Individuals have also chipped in. Singer Hu Haiquan purchased 160,000 masks from Singapore, packed them into 40 suitcases, and had them brought to China. Chinese people living and studying abroad have sent supplies to Wuhan and other affected cities, according to multiple sources.
There is also an outpouring of international assistance in a show of solidarity with medical supplies being sent in by countries as diverse as Japan, Pakistan and Iran.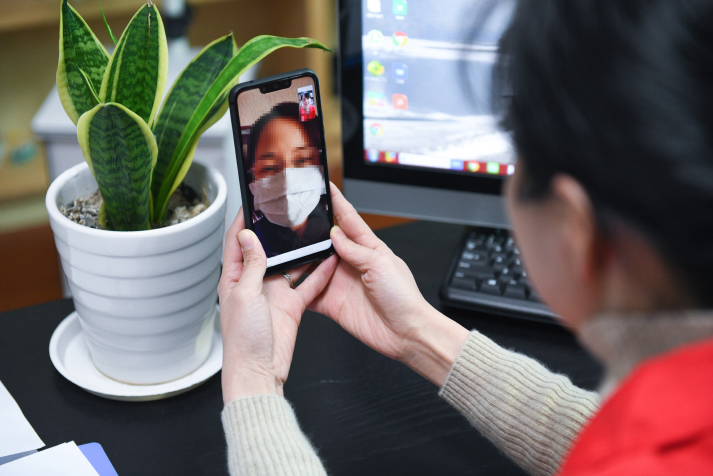 A volunteer in Cixi City, Zhejiang Province in east China, offers psychological counseling to people through a smartphone app on February 4 (XINHUA)
The economic fallout
As the epidemic continues, people cannot help wondering about its economic impact. According to Lian Weiliang, Vice Minister of the National Development and Reform Commission, on February 3, the economic impact depends on the progress and effectiveness of epidemic prevention and control.
It is relatively large for transportation, cultural, tourism, catering, entertainment and other services. Liu said because of restrictive measures, the travel volume on Chinese New Year Day, which fell on January 25, declined 41.5 percent year on year for railways, 25 percent for road transport and 41.6 percent for airlines.
At the same time, online shopping, online meal ordering, online entertainment and other new forms of the digital economy are very robust, Lian said. "It should be stressed that the economic impact is temporary and will not change the fundamentals of China's long-term economic growth," he added.
Speaking of the impact on foreign trade, Vice Minister of Commerce Wang Bingnan called on the international community to work together to overcome the difficulties rather than impose restrictions.
Various levels of governments are making policies to guarantee exports, he added. For instance, the local government of Suzhou, a hi-tech manufacturing hub in Jiangsu Province in east China, has issued 10 policies to help small and medium-sized enterprises deal with the epidemic.
The economic impact of the current outbreak can't be computed based on the SARS experience, Lian said. Today, advanced technology such as the Internet and Internet of Things has made it possible for a lot of work to be done remotely and automatically.
"Currently, China's economic strength and ability to respond to emergencies is significantly stronger than at the time of the SARS breakout. We are capable and confident of preventing and controlling the epidemic, and minimizing its impact on the economy," he said.
__________
Quick Facts About 2019-nCoV
Coronaviruses are a large family of viruses that cause illnesses ranging from the common cold to more severe diseases such as Middle East respiratory syndrome (MERS) and severe acute respiratory syndrome (SARS). The current outbreak of the novel coronavirus (2019-nCoV) that was first reported in Wuhan, capital of Hubei Province in central China, is a new strain that was not previously identified in humans.
Coronaviruses are zoonotic, meaning they are transmitted between animals and people. Detailed investigations found that SARS was transmitted from civet cats to humans and MERS from dromedary camels to humans. Several known coronaviruses circulating in animals have not yet infected humans.
Common signs of infection include fever, cough and difficulty in breathing. In more severe cases, infection can cause pneumonia, acute respiratory distress syndrome, kidney failure and death.
Standard recommendations to prevent the spread of infection include washing hands regularly, covering the mouth and nose when coughing or sneezing, thoroughly cooking meat and eggs, and avoiding close contact with anyone showing symptoms of respiratory illness such as coughing or sneezing.
Chronology of 2019-nCoV
February 6: A total of 107 medical teams with 10,596 members have arrived in the novel coronavirus (2019-nCoV) hard-hit Hubei Province in central China to assist epidemic control, Yang Yunyan, Vice Governor of Hubei, says at a press conference. They came from 29 provinces, municipalities and autonomous regions, as well as the People's Liberation Army.
February 6: After 10 days' work, the Leishenshan Hospital, the second makeshift hospital for treating 2019-nCoV patients in Wuhan, Hubei, starts to be delivered after passing the check by the city's urban construction and health departments.
February 4: The Huoshenshan Hospital, Wuhan's first makeshift hospital, begins accepting 2019-nCoV patients. The hospital with 1,000 beds was delivered on February 2 after 10 days' construction.
February 3: The Standing Committee of the Political Bureau of the Communist Party of China (CPC) Central Committee holds a meeting on the prevention and control of pneumonia caused by the 2019-nCoV. President Xi Jinping, also General Secretary of the CPC Central Committee, calls for prompt and resolute actions to contain its spread.
January 30: The World Health Organization (WHO) announces that the 2019-nCoV outbreak has become a public health emergency of international concern. However, it advises against any trade and travel restrictions on China and praises China's prevention and containment measures.
January 26: The seven-day Spring Festival holiday, scheduled to end on January 30, is extended until February 2 to control the epidemic.
January 25: Xi chairs a meeting of the Standing Committee of the Political Bureau of the CPC Central Committee on the prevention and control of the outbreak of the 2019-nCoV. A CPC Central Committee leading group is set up to oversee the work. The meeting also studies and makes new arrangements for the treatment of patients.
January 23: Wuhan announces it will suspend public transportation and close the airport and railway stations to outgoing passengers, asking residents not to leave the city without compelling reasons.
January 22: The State Council Information Office holds a press conference on the prevention and control of the outbreak, with Li Bin, Vice Minister of the National Health Commission (NHC), briefing the media.
January 20: Xi orders resolute efforts to curb the outbreak, stressing people's lives and health are the top priority.
January 20: The NHC announces that it will take preventive and control measures used for Category A infectious diseases. Pneumonia caused by the 2019-nCoV is classified as a Category B infectious disease and a quarantinable disease at the border.
January 13: A Chinese tourist from Wuhan is confirmed as the first person in Thailand infected with the 2019-nCoV.
January 10: China shares genome sequence of the virus with WHO and other countries.
January 7: Preliminary lab results show that a new type of coronavirus caused the viral pneumonia in Wuhan. The newly detected coronavirus is different from known species, including the viruses that caused SARS and MERS, and needs further research and understanding.
January 1: The seafood market in Wuhan associated with the outbreak of the viral pneumonia is closed.
December 31, 2019: The Wuhan Municipal Health Commission states that the 27 pneumonia cases in the city were identified as viral pneumonia, and all cases were found to be related to a local seafood market. The commission says that the patients, including seven in serious condition, reported symptoms of fever and difficulty in breathing. All patients receive quarantined treatment and authorities investigate the market's hygiene conditions. The WHO China Country Office was informed.
December 30, 2019: The NHC notices an outbreak of viral pneumonia in Wuhan and dispatches a national working group and experts to guide and support its prevention and treatment. The earliest case was recorded on December 8, 2019, according to the Wuhan Municipal Health Commission on January 11.
(Compiled by Beijing Review)
Copyedited by Sudeshna Sarkar
Comments to wanghairong@bjreview.com