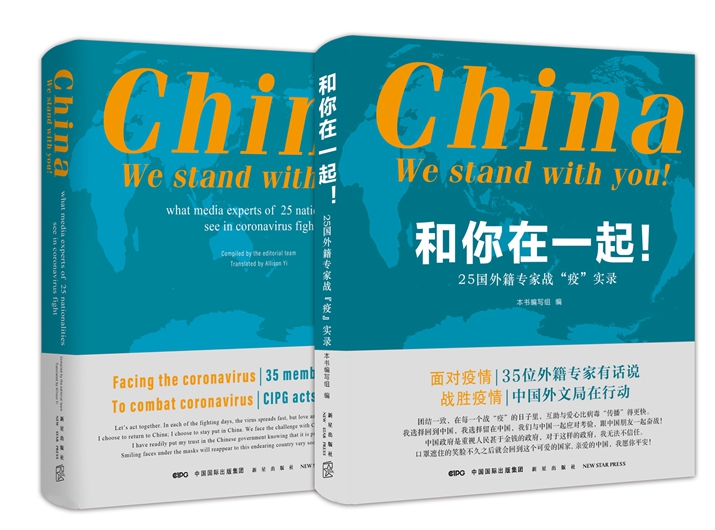 China, We Stand with You—what communications professionals from 25 nations see in coronavirus fight has been released recently by New Star Press of China International Publishing Group (CIPG). It's a book of media convergence with English and Chinese versions written by 35 foreign experts hailing from 25 countries and working at CIPG.
The book includes contents from news reports, pictures, comments and videos published by the experts who decided to stay or come back to China after the outbreak of the coronavirus disease (COVID-19) epidemic. It consists of 40 articles and 300 photos, including eight parts with QR codes of videos in English, French, Arabic, Spanish, Japanese, and Korean languages created by the authors. The written and visual stories speak to the truth, recording how Chinese people have worked to bring relief to those affected by the epidemic. Foreign editors from Beijing Review, including Sudeshna Sarkar, Rebeca Toledo and Tomokazu Ueno, contributed articles to the book.
The media professionals concerned about China find the coverage of the epidemic by some western media misleading, which caused panic, and try to tell people what is really going on in China. They have chosen to stay in China or return from abroad, and share a common belief that "the smiles behind masks will be visible soon in this lovely country." The book shows the sense of responsibility of the media and press professionals, the trust of the international experts in China and the Chinese people, and love beyond boundaries amid crises, which reflects true internationalism.
The international experts believe that China is the place where great achievements and miracles are made and show concerns to the country by staying with China when it is in need. As Rebeca Toledo wrote in her story, the effective, swift and compassionate battle against the virus in China has served as a calming balm for her. "I have readily put my trust in the Chinese Government knowing that it is putting people before profits," she said.
CIPG, also known as China Foreign Languages Publishing Administration, is the largest organization in China devoted to international publishing and communication and is engaged in fields including news, publishing, translation, research, and international trade of cultural products.
Copyedited by Madhusudan Chaubey
Comments to linan@bjreview.com