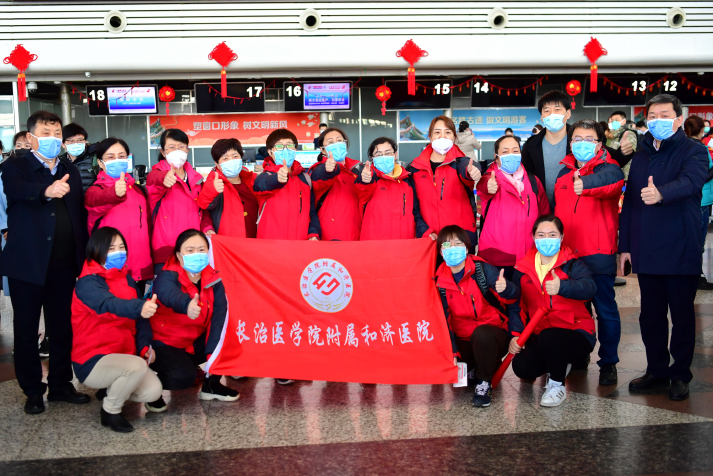 Members of a medical team from Shanxi Province pose for a photo before departing for Hubei Province on February 2 (XINHUA)
Zhu Haixiu is a nurse from the intensive care unit of the Third Affiliated Hospital of Sun Yat-Sen University in Guangzhou, Guangdong Province in south China. The 22-year-old left for Wuhan in the central province of Hubei, the city hit the hardest by the coronavirus disease 2019 (COVID-19), as part of a medical team on January 24, the Chinese New Year's Eve.
The dark circles around her eyes from fatigue were captured by the lens of China Central Television during an interview with patients and medical staff on February 11 at Hankou Hospital, where Zhu was working.
Asked whether she was afraid, she said she was at the beginning but after seeing the situation in the city, she no longer is. When reporters asked her to talk to her parents in front of the camera, she politely declined, saying it would make her cry and she did not want to cry because it would make the protective goggles she was wearing blurry, and then she would not be able to see well when she went back to work.
The video went viral after the program was aired, touching the hearts of viewers with the dedication of medical workers.
Wang Yi, State Councilor and Minister of Foreign Affairs, hailed them as heroes who have been putting themselves in the way of danger to save lives.
"Medical teams converged in Hubei, the hardest-hit province, from across the nation to support epidemic control. Exemplifying professional dedication, all medical workers are saving and protecting lives around the clock despite the risk of infection and exhaustion from overwork," he told the international community at the 56th Munich Security Conference in Germany on February 15.
The fight against COVID-19 has its casualties, like military battles. According to the National Health Commission (NHC), as of February 11, a total of 1,716 medical workers had been infected and six had died.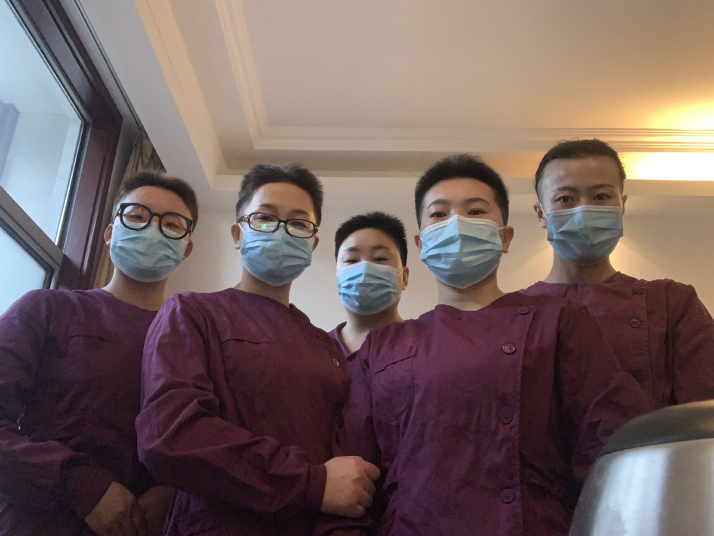 Wang Yani (left), a nurse from the Longde County People's Hospital in Ningxia Hui Autonomous Region, poses with her teammates in Wuhan, Hubei, after they all got haircuts to reduce chances of coronavirus infection on February 9 (COURTESY PHOTO)
Show of solidarity
"We should all be proud of the medical staff of our country," Guo Yanhong, an NHC official, said while speaking of their spirit and contribution at a press conference on February 17.
Since the most important task in current epidemic prevention and control work is to do everything possible to treat patients, the nation has mobilized to support Hubei to reduce infection and the mortality rate and improve treatment and the recovery rate.
By February 17, more than 32,000 medical personnel had been sent by 29 provincial-level regions and the military to support Wuhan and other cities in Hubei. They are mainly doctors and nurses from respiratory, infection and intensive care departments, Guo said. Nearly 11,000 doctors and nurses specializing in the treatment of critical illnesses are in Wuhan, about 10 percent of all such specialists in China.
In addition, 22 national emergency medical rescue teams with sophisticated equipment have arrived in Wuhan. Three biosafety level-3 mobile laboratories have been set up to speed up diagnosis. These labs, equipped with a high degree of containment measures, are used for diagnostic or research work with animal pathogens that may be harmful.
Nineteen provinces and municipalities have been paired up with 16 cities and prefectures in Hubei other than Wuhan to offer assistance. Other cities in Hubei where the epidemic is relatively severe, such as Huanggang, Xiaogan and Jingzhou, are being partnered with two provinces each.
Zhou Yuehui, an associate professor at the Party School of the Communist Party of China Central Committee and National Academy of Governance, called this counterpart assistance arrangement a reflection of China's institutional advantage in pooling resources to do important tasks. The same mechanism was used for reconstruction in Sichuan Province in southwest China after it was devastated by an 8-magnitude earthquake in May 2008, and also for poverty alleviation work.
According to the NHC, medical teams from outside Hubei must have medical, management and endemic prevention staff. They should also provide medical and other supplies.
With all these efforts, the prevention and control work is progressing. By February 19, 16,155 patients had been cured and discharged from hospital. While 74,576 cases had been confirmed and the epidemic had taken 2,118 lives, the number of new cases was dropping.
Doctors from the Peking University Third Hospital tend to a patient in Wuhan, Hubei, in February (COURTESY PHOTO)
Duty before all
The medical workers battling in Hubei have been mobilized by their institutions with senior officials leading the teams. When the renowned Peking University Third Hospital in Beijing asked for volunteers to support Wuhan, it received over 1,500 applications within 24 hours. The first medical team and supplies were assembled on the night of January 25, the Chinese New Year's Day. The next day, a team of 20 doctors and nurses departed for Wuhan.
By February 20, the hospital had sent 137 medical workers in three groups, with its president Qiao Jie leading one team.
"From receiving the notice to departure, it was less than 24 hours," recalled Liang Chao, a member of the first group. "My son, who is 3 and a half years old, didn't understand the purpose of my trip. He is obsessed with science fiction superhero Ultraman. Before I left, I held him in my arms and told him, Daddy will become an Ultraman warrior and go to a place called Wuhan to kill a monster. Since it is a ferocious monster, Daddy will have to spend some days there. On hearing this, he smiled cheerfully."
Many medical workers have put their professional duty before family duty to join the battle.
After Gao Weibo, a doctor at the Peking University People's Hospital, went to Wuhan, his wife, a doctor at the Peking Union Medical College Hospital, also departed for the virus-hit city as part of another medical team. They have two young children, whom they left in the care of others.
"I will take care of my younger brother and protect our family," Gao's 8-year-old elder son promised in a note to his father.
Wang Yani, a 27-year-old nurse sent to work in Wuhan by the Longde County People's Hospital in Ningxia Hui Autonomous Region, northwest China, kept a diary that shows how medical workers in Wuhan have confronted the danger with their dedication, morale and warmth. Her diary was published in the China Report ASEAN magazine.
She arrived in Wuhan on February 4 as part of a medical team. where she was assigned to work in a makeshift hospital converted from a cultural building complex. On February 9, she and four other team members decided to get a haircut to reduce chances of infection. She described the experience in her diary:
"A local barber sighed from behind his face mask. 'This is my third time chopping off the hair of doctors and nurses,' he said. 'Thank you for the sacrifice you are making for Wuhan.'"
"No problem," she muttered to him, trying to stay upbeat. "I'm cutting it short for security. I'll come back to Wuhan next time with waist-length hair to eat your famous hot dry noodles."
After the haircut, "we instantly changed from five young ladies into five lads," she wrote jokingly. When she showed her new hairstyle to her mother during a video chat, her mother supported her. "You look handsome," she said. "The new hair will be better."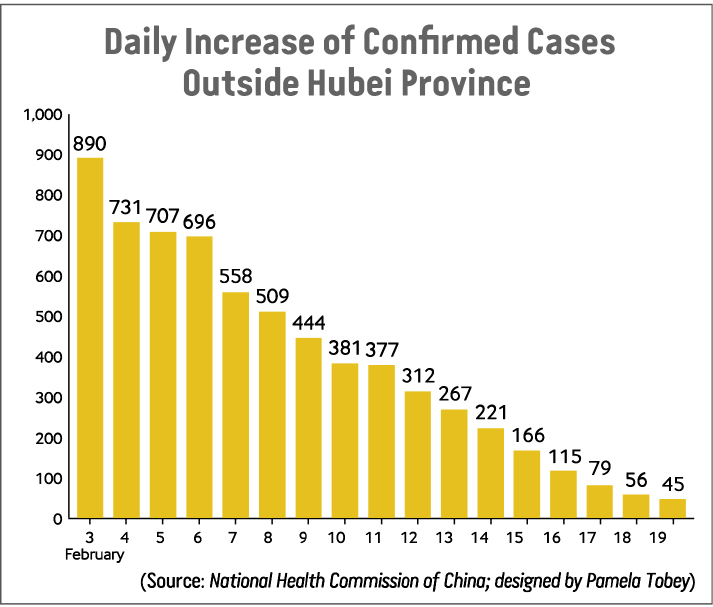 Fearless of difficulties
As Wang Yani started her work in Wuhan, members of several other medical teams had been working there for about a week. The first team from the Peking University Third Hospital started to treat critically ill patients at Tongji Hospital on 3 a.m. on January 29. After changing into their protective suits, the team members all looked alike. So to distinguish one another, they wrote their respective names and "Cheer up" on their clothing.
Wang Junhong, a doctor on the team, described how she felt on the first work day in Wuhan in her diary: "There is tension and anxiety, just like what soldiers may feel before going to war; but there is greater confidence and conviction."
Wang Yani also had an entry in her diary: "Weighed down by layers of isolation clothing under an exposure suit, we felt like robots. Our movements were clumsy and it was difficult to breathe. To ensure efficiency in the infected ward and extend the use of the limited protective gear, we did not eat or drink during the 10-hour shift to avoid going to the toilet."
However, no one complained because "we all understood the severity of the situation," she wrote.
Li Ran, a doctor from the Peking University People's Hospital, described the oxygen deficiency he suffered under the protective suit as more serious than what he experienced in the rarified environment of Lhasa's high altitude in Tibet Autonomous Region, southwest China.
Yet after completing his shift on February 9, when he found out his first patient of the day, who had been suffering shock and low blood oxygen on arrival, had returned to a stable condition, he felt happy. "All efforts are worthwhile," he said.
Besides medical care, doctors and nurses also offer solicitude. "They all wore heavy protective suits, masks and goggles. Although I could see only the outline of their faces, I could still really feel their warm smiles… I felt much better, as if the virus was not so terrible," a patient surnamed Fan told China News Agency after being cured and discharged from a hospital in Wuhan. He wrote a letter of gratitude to the medical personnel from Sichuan who treated him.
"From time to time, the doctors chatted with us, asking if we felt uncomfortable and encouraging us to stay optimistic, drink more water and get out of bed for a walk," he said. "Seeing how they were not afraid at all, my tension ebbed and my fear dissipated."
Since quarantined patients are not accompanied by family members and only see medical staff in protective suits every day, they may feel fear and uneasiness. By talking with them, comforting them and dancing with them, medical staff can boost patients' confidence in winning the battle against the disease, Zhao Yanfang, a nurse from the Traditional Chinese Medicine Hospital in Tianshui, Gansu Province in northwest China, told Tianshui Daily. Realizing patients not only need physical treatment but also emotional healing, she tried to cheer them up by dancing with those with mild symptoms. Now, several videos featuring dancing medical staff and patients in Wuhan are circulating online.
While doctors race against time to save patients, medical scientists are also burning the midnight oil to find an effective drug or vaccine. Clinical trials have confirmed that Chloroquine phosphate, an anti-malarial drug, has some curative effect on COVID-19, Sun Yanrong, deputy head of the China National Center for Biotechnology Development under the Ministry of Science and Technology, told a press conference on February 17.
The medical staff on the frontline is not only working under high pressure and risk of infection, but also under great psychological pressure. To support them, the NHC and other government departments have issued a directive on improving their working conditions. It proposed ensuring a reasonable work and rest time, psychological counseling and improving logistics services for them.
Some places such as Hubei, Chongqing and Tianjin cities have introduced policies giving medical workers temporary work subsidies, purchasing special life insurance for them and giving their children assistance in school enrolment, Xinhua News Agency reported.
Copyedited by Sudeshna Sarkar
Comments to wanghairong@bjreview.com