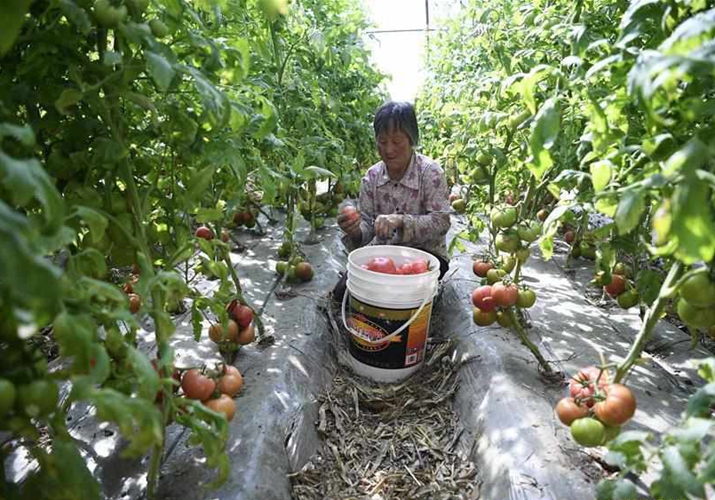 A farmer picks tomatoes at a modern agricultural park in Helan County, Yinchuan, northwest China's Ningxia Hui Autonomous Region on February 22, 2020. Farmers across China have been busy carrying out agricultural production recently as the weather warms up (XINHUA)
During the busy season of spring plowing, various epidemic prevention and control work measures have not been halted in rural areas.
"Stay more at home; wear masks; wash hands more frequently, and keep ventilated," according to the knowledge of epidemic prevention and control broadcast in 400 villages through loudspeakers in Chuxiong Yi Autonomous Prefecture, southwest China's Yunnan Province, over the past few days.
In order not to miss the agricultural season, various regions have opened up transport channels and strengthened monitoring and dispatch work. Many agricultural enterprises have carried out "point-to-point" production and distribution to ensure that agricultural materials enter villages around the country, and farmers have agricultural materials available.
The agricultural situation dispatching data of the Ministry of Agriculture and Rural Affairs show that the national estimated demand for corn seeds is 1.1 billion kg, and the total amount of existing seed supply is 1.6 billion kg; the expected demand for hybrid rice seeds is 210 million kg, and the total amount of existing seed supply is 400 million kg, which can meet the current demand for seeds.
Furthermore, the supply of nitrogen fertilizer is more than 13 million tons while the stock of pesticides is 93,000 tons which can sufficiently meet the need of agricultural supply during spring plowing.
As the supply of agricultural materials can keep up with the demand, field management is also upgrading. In Dayulan Village in central China's Henan Province, Niu Changhe, a researcher of agricultural technology extension, squatted down, pulled up the tillers of wheat seedlings and planed the soil to check soil moisture.
"The green period of wheat is very critical, and it is necessary to do a good job in wheat field management, such as water and fertilizer, disease and pest control, and so on," Niu Changhe said as he took out his mobile phone and posted the technical key points in the WeChat group of county agricultural technicians.
"During the critical period of epidemic prevention and control, we should give further play to the advantages of informationization in terms of convenience and efficiency," an official from the Ministry of Agriculture and Rural Affairs said.
He added that China should continue to improve the coverage and utilization rate of APPs in the popularization of agricultural technologies, speed up related information technology integration construction, and allow the broad masses of farmers to hop on board the "Internet plus" express train.