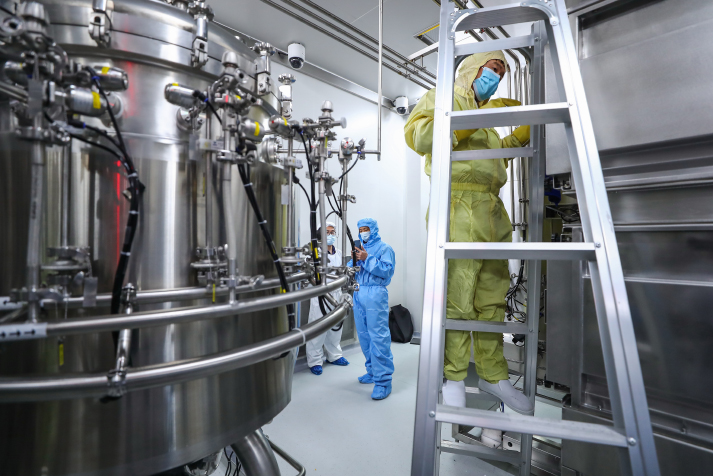 Workers test equipment in a new workshop to be used to produce a novel coronavirus vaccine at China National Pharmaceutical Group Co. Ltd. in Beijing on April 10 (XINHUA)
A drug approved for Chinese market last year as an antibiotic was unexpectedly found to be quite effective in treating patients with the novel coronavirus disease (COVID-19).
Known as Carrimycin, it was independently developed by Chinese researchers over a lengthy period of 30 years. Developed for upper respiratory infections, it is the world's first antibiotic created using synthetic biology that can be used in clinical treatment. It is also classified as a Class 1 new drug, which means it is an innovative medicine containing new chemical substances with clinical value that have never been marketed before.
Made in China
The first patient to try this medicine for the treatment of COVID-19 was a retired teacher living in Wuhan, Hubei Province in central China. She tested positive for the virus in late January, but couldn't get a bed in then overloaded hospitals. Her symptoms grew more severe as she developed hemoptysis.
After contacting an online doctor in Shenyang, capital city of Liaoning Province in northeast China, in early February, she was prescribed Carrimycin, which was then delivered from Shenyang to Wuhan.
Her symptoms were greatly relieved after four days of taking the drug. She then shared the drug with some of her relatives, who had also been infected with COVID-19 and found it was just as effective for them. On February 15, the drug was officially included as a prescription at the Central Hospital in Huangshi City of Hubei, which was also hit hard by the epidemic.
Starting on February 21, the drug was tested on 32 patients, including six with light symptoms, 17 with regular symptoms and nine with severe symptoms. Within 14 days, all 32 patients tested negative for the virus. By then, the developer of the drug, Tonglian Group, based in Shenyang, had started producing the drug around the clock in its factory in Shanghai.
"It is the only drug that has been independently developed by China among all the Western medicine drugs used for treating COVID-19," Zhao Xiaofeng, Director of the R&D Department at Tonglian, told Beijing Review. The effect of the drug was confirmed by the Ministry of Science and Technology (MOST), which listed it as one of the effective drugs for treating COVID-19 at two press briefings respectively on March 26 and April 14.
"MOST has attached great importance to medicines developed independently by Chinese researchers and is accelerating further studies of the clinical effects of a series of drugs including Carrimycin," Sun Yanrong, an official with the ministry, said at the April 14 press conference.
Tonglian offers the drug to Chinese COVID-19 patients for free and is currently negotiating offering it to foreign patients.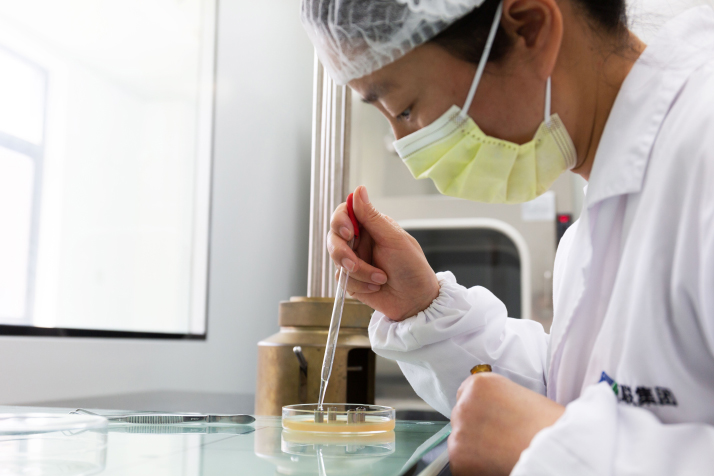 A staff member tests the potency of Carrimycin at Shanghai Tonglian Pharmaceutical Co. Ltd. in February (COURTESY PHOTO)
Medical solutions
After the COVID-19 outbreak, MOST initiated several projects to develop drugs and vaccines to treat the disease. In total, 27 projects were launched, involving over 3,200 people from 152 hospitals, colleges, research and development institutions and enterprises. To date, several drugs are undergoing clinical trials.
Since creating a new drug often requires at least a decade of research and huge investment, the possibility of creating one quickly is not a viable option, thus more efforts have been placed on exploring the potential effects of existing drugs for treating COVID-19.
In addition, time-honored traditional Chinese medicine (TCM) has played a role and has been applied to the treatment of COVID-19. In Zhejiang Province in east China, doctors combined TCM with Western medical therapies in the early stages of treatment.
On January 25, Huang Luqi, President of the China Academy of Chinese Medical Sciences, led a team of TCM doctors to Wuhan to treat patients with severe symptoms. They developed a TCM prescription and got approval from the National Medical Products Administration (NMPA) for clinical tests. It is the first TCM treatment therapy for COVID-19 approved by the NMPA.
Moreover, China National Pharmaceutical Group Co. Ltd., or Sinopharm, the largest state-owned healthcare company in China, has been actively engaged in the development of possible treatments since the outbreak. Guangdong Yifang Pharmaceutical Co. Ltd., a holding subsidiary of Sinopharm Group China Traditional Chinese Medicine Holding Co. Ltd., has worked out a TCM prescription known as Toujie Quwen Granule, which has proven to have noticeable effects in relieving COVID-19 symptoms.
Among the 50 confirmed patients with mild COVID-19 symptoms in Guangdong Province in south China who took the prescription, all regained normal body temperatures and their symptoms gradually disappeared within one week.
China National Biotech Group Co. Ltd., another subsidiary of Sinopharm, has concentrated on blood plasma therapies, which entail using blood plasma collected from people who have recovered from COVID-19 for the treatment of infected patients. Such therapies have proven to be successful.
Cao Xuejun, an official with the Ministry of Industry and Information Technology, stated at a press conference on April 8 that China has spared no efforts in ensuring the production and supply of drugs that can meet COVID-19 medical demands.
Currently, vaccine development has entered a new phase. Ad5-nCoV, China's first vaccine candidate to enter human clinical trials, began recruiting a second batch of volunteers on April 9 after 108 volunteers were inoculated in its phase-one trial on March 16.
Phase two needs a total of 500 volunteers, who will be divided into three groups based on the dose they receive. After vaccination, each volunteer will be monitored four times during the next six months.
Yang Xiaoming, Chairman of China National Biotech Group Co. Ltd. (CNBG), said since the outbreak, several teams developing vaccines have been set up and have been working around the clock to develop vaccines as soon as possible.
"Vaccine is crucial to ensuring production resumption in the country," Yang said. "We must have effective and sufficient vaccine."
Wang Junzhi, an academician from the Chinese Academy of Engineering, said normally the clinical trials of a vaccine should go through three phases. The first phase needs about 100 volunteers, the second needs several hundred while the third phase needs several thousand.
On April 28, the Beijing-based National Vaccine and Serum Institute launched its vaccine trial in Shangqiu, Henan Province, central China, which involved 32 volunteers in phase one, making it the fourth vaccine developed by China that has entered clinical trial stage.
The CNBG has already completed the construction of the world's largest vaccine production plant in Beijing. "The annual production volume can reach 100 million doses," Yang said. "It can meet both regular and emergency demand."
(Print Edition Title: Medical Shields)
Copyedited by Rebeca Toledo
Comments to yuanyuan@bjreview.com