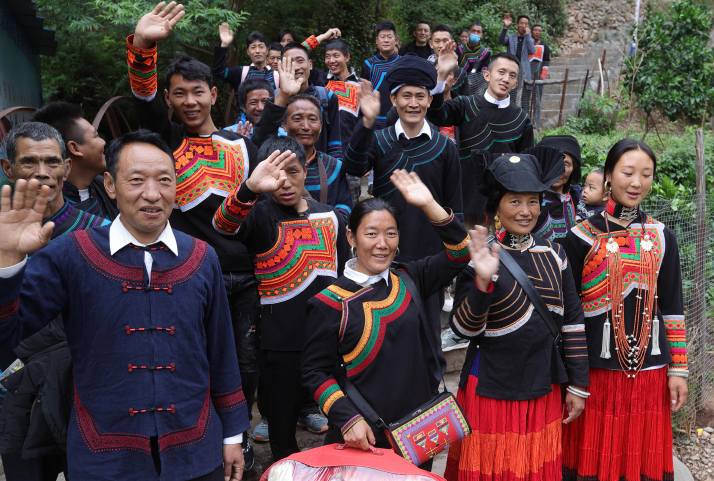 Residents of the Yi ethnic group in the cliff-top village of Atulie'er in Sichuan Province, southwest China, pose for a picture before moving to their new homes outside the mountain on May 12 (XINHUA)
White puffy clouds drift past a bungalow facing a deep valley and a towering peak beyond it. Chirps of birds animate the idyllic scene without shattering its serenity.
The bungalow with a wood-plank roof and mud walls is featured in a video clip that Mouse Labo posted online on April 13. It is in his hometown Atulie'er, a village perched on a steep 800-meter cliff in Zhaojue County, Liangshan Yi Autonomous Prefecture in Sichuan Province, southwest China.
Labo, in his 20s, often records daily life in the small village with a few hundred residents and shares it on live-streaming platforms. In addition to a sea of clouds, the videos show villagers climbing a steel ladder, often with buckets or bags on their backs.
The spectacular staircase with 2,556 steps was built in 2016 with funding from the county and prefecture governments. It replaced a chain of 17 rattan vine-and-stick ladders draped over the precipice, used by villagers to get in and out of the village.
The steel ladder has brought Atulie'er great benefits. After it was put into use, tourists arrived and the villagers' life improved significantly. Now Labo works as a tourist guide.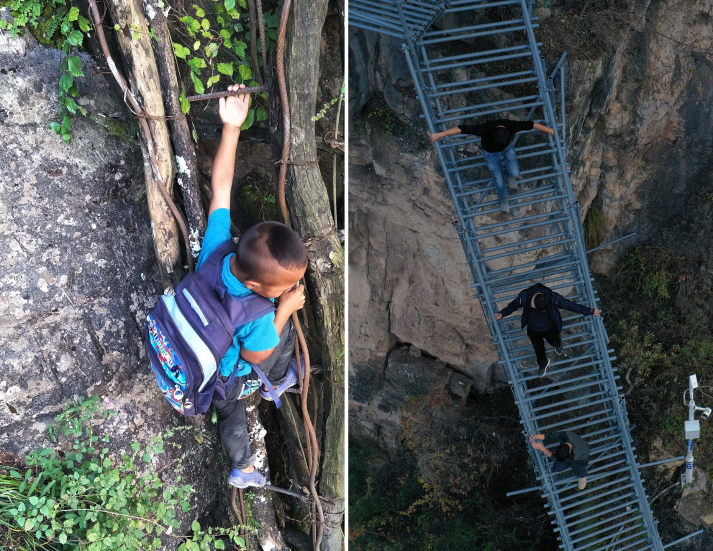 (Left) A child in Atulie'er climbs down a vine ladder to go to school on September 30, 2016; tourists are on their way to Atulie'er using a steel staircase on November 24, 2019 (XINHUA)
Better life
The first residents of Atulie'er are believed to have settled on the cliff about 600 years ago. The rugged terrain sheltered them and their descendants from wars and bandits, while the fertile patches of land kept them fed.
However, the village's poor accessibility hindered its development and created other problems.
Access to medical care was difficult. Labo said he had five elder brothers and sisters, who all died of illness in infancy. "My sister-in-law had a difficult labor. We tried to carry her down the mountain to a hospital, but she stopped breathing on the way, leaving a baby that survived only for eight months," he told People's Daily.
The trip up the cliff using the vine ladders, tantamount to ascending a 30-story building, usually took an average villager one and half hours and the trip down one hour.
The climb was also highly risky. In 2016, then Secretary of the Communist Party of China Atulie'er Branch, Apijiti, told Beijing Times that about seven or eight people he knew had lost their lives during the trip. He said he himself nearly fell off the cliff during his first visit to the village. But at that time, the vine ladders were the only option for children in the village to go to a boarding primary school at the foot of the mountain.
The steel ladder has made the trip much safer. Media reports and live-streaming by villagers have also made the village famous, turning it into a tourist destination.
The village draws tourists from home and abroad. In 2019, nearly 100,000 tourists visited, generating about 1 million yuan ($141,000) in tourism revenue, reported Xinhua News Agency. Villagers have opened shops and inns, and sell products such as honey, green pepper and navel oranges to tourists. Liangshan Culture and Tourism Investment Group Co. Ltd. is planning to build a sightseeing cableway leading to the village, which is expected to boost tourism.
Villagers have also gained access to tap water and electricity. An early education center was set up in 2016, offering free enrollment for children aged between 3 and 5 years. A telecommunication tower built in 2017 brought Internet access. Now, the village has a clinic and residents can also consult doctors via the Internet and get medicine from a pharmacy down the mountain through a drone in minutes.
Due to its unique geographical condition, paving a road is too expensive and difficult. So the government built houses for villagers in places with better access.
Now, poor villagers in Atulie'er and neighboring villages have bid farewell to their mud-walled houses and moved into new buildings furnished with basic furniture in the vicinity of the Zhaojue County seat. On average, every person is entitled to 25 square meters of living space, and a household pays about 10,000 yuan ($1,410). Labo, his wife and two children got a 100-square-meter apartment. The head of Atulie'er, Pachayouge, said the elderly and children will live in their new homes, while young and middle-aged villagers will stay in the village to develop tourism.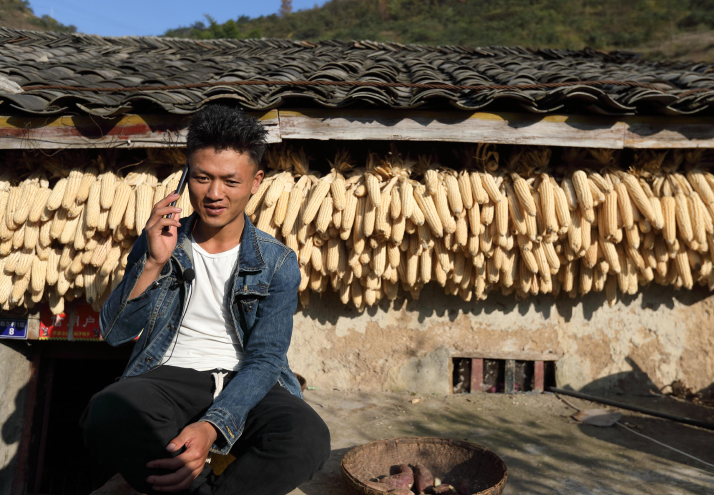 Mouse Labo talks with his brother-in-law on the phone on November 23, 2019 (XINHUA)
Continuing efforts
In Liangshan, there are many villages like Atulie'er located in deep mountains. More than 70 percent of the prefecture is mountainous. Poor transportation has hindered economic development, making the region one of the poorest in China.
However, unfavorable geographical condition is only one of the causes for its backwardness.
Hou Yuangao, a researcher with the Minzu University of China in Beijing and a Liangshan native, believes underdeveloped education is chiefly blamable for poverty and other problems in Liangshan. He thinks the most important thing for local people is to get out of isolation and improve their level of education.
According to a report by state broadcaster China Central Television in 2018, in Zhaojue, the average education was 4.4 years, and the nine-year compulsory education had not been realized until around 2007. Many villagers of the Yi ethnic group cannot speak standard Chinese and have difficulty in communicating with non-locals because of the language barrier.
Various levels of governments have increased investment in education. Since 2016, 15-year free education has been offered in ethnic minority regions in Sichuan, including Liangshan, covering the period from kindergarten to high school.
According to local newspaper Liangshan Daily, in 2019, the enrollment rate in primary schools in the prefecture was 99.35 percent, and 94.51 percent in junior high schools.
In recent years, as the government worked on targeted poverty relief with unprecedented determination, the development seen in Atulie'er is also being replicated in other villages in Liangshan.
Measures have been taken to develop specialty industries, improve education and medical services, construct infrastructure and if necessary, relocate residents to places with better natural conditions.
The priority is building roads. At the end of 2019, Abuluoha Village in Butuo County, believed to be the last village without a road in Liangshan, was connected to a paved road. Located in the deep valley of the Jinsha River, the village is surrounded by mountains on three sides and cliffs on the fourth. In the past, villagers had to walk more than three hours to another village where they could take a paved road to travel to the county seat and other places.
Thanks to these efforts, four counties in Liangshan have shed poverty, according to an announcement by the Sichuan Provincial Government on February 18.
Liangshan still has seven poor counties including Zhaojue. Nationwide, there are 52 counties left in poverty.
As China is going to eliminate absolute poverty this year, the prefecture is also intensifying efforts.
"Developing specialty industries is key to ensuring stable income for the impoverished people in Liangshan," said Zhang Qi, Director of the China Institute for Poverty Reduction at Beijing Normal University. He said Liangshan can develop modern planting, forestry, fruit and tourism industries with regional characteristics, and focus on branding and marketing organic agricultural products.
Gong Ping, head of the Liangshan Transportation Bureau, said Liangshan plans to build 16 expressways, and all its counties are expected to be connected by highways within five to 10 years. Currently, there is only one expressway in the prefecture, which is shut down for about 100 days a year because of ice and snow or geological disasters, which hinders delivery of agricultural products and also local people's pursuit for prosperity. "After the highway network is built, it will help specialty products to get out of Liangshan, Sichuan and even the country," he said.
(Print Edition Title: Scaling Development Cliffs)
Copyedited by Madhusudan Chaubey
Comments to wanghairong@bjreview.com