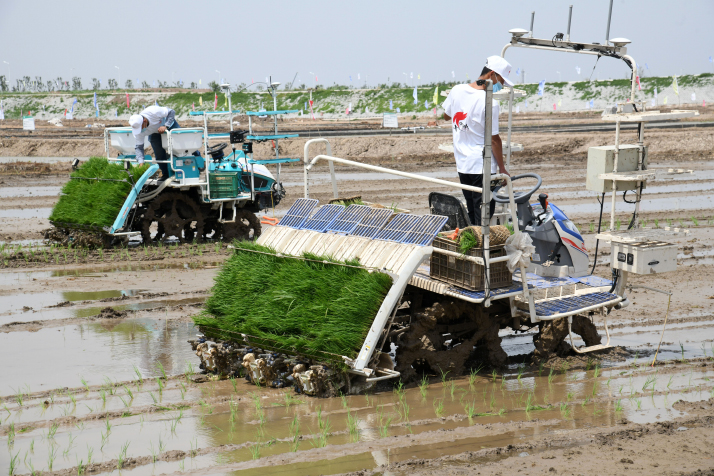 Seedlings of rice are transplanted in an experimental saline-alkali field in Qingdao, a coastal city in Shandong Province in east China, on June 5 (XINHUA)
Green rice seedlings dotting swathes of barren land in Qaidam Basin on the Qinghai-Tibet Plateau is a refreshing sight since the land, with its high salt content, could hardly grow even grass in the past.
It's hard to imagine that the crop, which requires a substantial amount of fresh water to survive, is able to grow in such an inhospitable environment. It's the first time the experiment to plant saline-alkaline tolerant rice strains has been carried out at such a high altitude, 2,800 meters above sea level.
The varieties were successfully developed in 2017 by a team of agricultural scientists. The team started to grow the rice in a few areas at first and gradually expanded to different parts of the country. This year, it plans to grow some 67,000 hectares of such strains across the country, including in Shandong Province in the east and in Qinghai Province and Inner Mongolia and Xinjiang Uygur autonomous regions in the north and northwest, respectively.
Step by step
Led by Yuan Longping, the renowned agronomist dubbed the "father of hybrid rice" in China and an academician at the Chinese Academy of Engineering, the team has been working on this project since 2012.
In 2016, the Qingdao Saline-Alkali Tolerant Rice Research and Development Center was established in Qingdao, a coastal city in Shandong. After over 1,000 experiments, the team finally cultivated several types of saline-alkali tolerant rice.
"Rice is the staple food for more than half of the population in the world," 90-year-old Yuan told China News Service. "It is estimated that by 2030, the world will have to produce 60 percent more rice than in 1995 to meet the demand of a growing population. Food security is a common concern for many countries."
Yuan explained that there are about 950 million hectares of saline-alkali land in the world, including 100 million hectares in China. "If saline-alkali land can be used to produce grains, this will greatly enhance food security for both China and the rest of the world," he said. "Of China's portion of saline-alkali land, about 20 percent can be ameliorated to arable field, and rice is the top choice for this transformation." About two thirds of Chinese depend on rice as a staple food.
Yuan, who developed the world's first hybrid rice in 1974, has set multiple world records in hybrid rice yields.
Now he is on the way to create more records. The team he led has embarked on testing the saline-alkaline tolerant rice strains in various parts of China to gauge their performance, taste, yield and cost.
"Output is a key factor for us to decide whether our technology can achieve commercialization. The tests in 2019 showed very promising results," Mi Tiezhu, deputy director of the Qingdao-based research center, told China Daily.
He said that by the end of 2019, about 1,300 hectares of experimental fields nationwide planted with the resilient rice strains had averaged yields of nearly 6 metric tons per hectare. "It means total profits from selling the rice can balance out production costs," Mi added.
During the Fourth International Saline-Alkali Tolerant Rice Forum held in Sanya, Hainan Province in south China, in late 2019, Yuan announced that the yield of crops planted in test fields in Dongying in Shandong may reach 11.99 tons per hectare.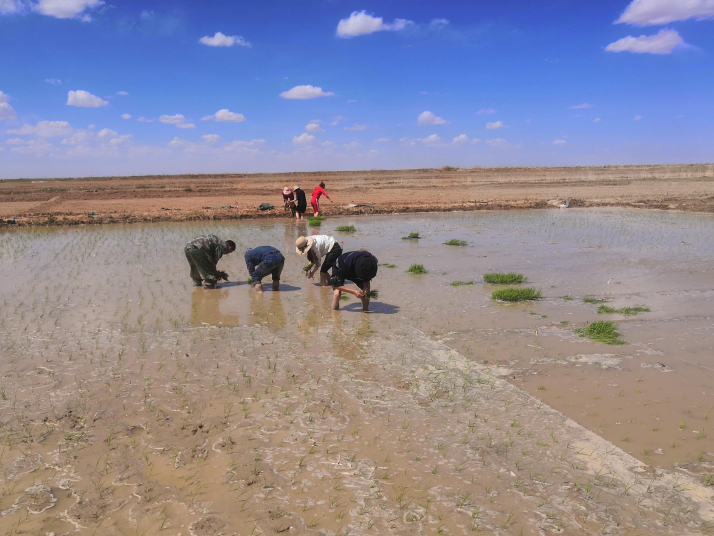 Members of a research team under agricultural scientist Yuan Longping transplant rice seedlings in Qaidam Basin in Qinghai Province, northwest China, on May 28 (XINHUA)
Promising grain
In May, the team started their rice experiment in 6.67 hectares of land in Qaidam Basin, which drew keen attention due to the basin's high altitude.
Zhang Guodong, another deputy director of the Qingdao-based center, said during an interview with Beijing-based Global Times that the rice planting will "empower Qinghai to fully utilize and expand its arable land."
The team uses soil improvement techniques for healthier crop growth and smart farming technology to control growth conditions.
Such practices are environmental friendly. For example, after the 66 hectares of saline-alkali land in Qingdao turned into rice paddies, the ecological environment has greatly improved, attracting birds and tourists, Zhang said.
This year, the team will adopt an artificial intelligence agricultural system in Qingdao, which can collect data through smart sensors and cameras to help calculate the precise amounts of water and fertilizer needed. The equipment will make the cultivation more water and nutrient efficient.
For the experimental land in Qaidam Basin, the team will use manual and mechanical methods to conduct observation. New experimental centers and planting bases will also be established in Qinghai to explore new ways for plateau agricultural production.
The team will plant about 200 types of rice in the basin to see which types are the most suitable for such areas.
"We have developed rice strains for almost all major types of saline-alkali soil in China," Zhang Xue, a researcher in the team, told Xinhua News Agency. If they succeed in their nationwide project this year, the once barren saline-alkali land will produce 40,000 tons of rice.
In addition to expanding the acreage and increasing the yield of the saline-alkali tolerant rice, the team also strives to enhance its taste.
The rice has been put on the market but remains an object of curiosity for consumers, not yet becoming the first choice for them.
"When Yuan developed the first generation of hybrid rice, taste was not the top consideration since the country was struggling to feed its people," Zhang said. "Yield was the priority. So the first generation of hybrid rice didn't taste that good. But now, the taste has noticeably improved in the second and third generations of hybrid rice."
However, for the saline-alkali tolerant rice, the taste and yield are both top priorities. "We have been working with experts from Japan to improve the taste," Zhang said. In the long term, the team aims to turn 6.7 million hectares of saline-alkali land into arable land and increase rice production to feed 80 million more people.
Amid rising uncertainties since the novel coronavirus outbreak around the world, food security has become more important than ever. Some countries and regions have begun to restrict grain exports out of fear of insufficient supplies. Russia, Kazakhstan, Ukraine and Cambodia have reportedly restricted the export of grains and other agricultural products.
"We are exploiting saline-alkali soil not only for China, but for other countries in the world to increase the efficiency of arable land to address the hunger crisis confronting all of humanity," Zhang said.
(Printed Edition: Land of Hope)
Copyedited by Rebeca Toledo
Comments to yuanyuan@bjreview.com