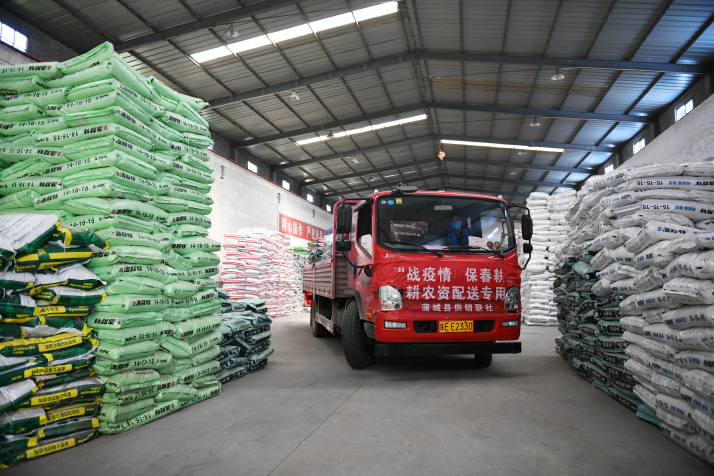 A fertilizer warehouse in Pucheng, a county in Shaanxi Province in northwest China, on March 4 (XINHUA)
Ren Zhiguo, a grain farmer who heads a rural cooperative in Zhenlai, a county in Jilin Province, northeast China, described how the novel coronavirus outbreak was giving him sleepless nights. It was time to plant rice but with transport hit by the pandemic, over 100 tons of seeds and fertilizer his cooperative needed hadn't arrived.
"Farming can't wait," Ren told China Youth Daily.
He felt relieved when the local government announced that vehicles transporting agricultural materials will be given the green light in a guideline it issued on spring planting.
The county's agricultural material wholesale markets reopened on March 1. Dealers deliver the materials to local farmers after obtaining a permit from the local agriculture and rural affairs authorities, who ensure the health and safety guidelines are met.
Learning the good news, Ren called up the factory that has been supplying him fertilizer for years, and the next morning, lorries loaded with bags of fertilizer arrived.
Ren has got back his peace of mind. A smooth spring planting is critical for ensuring not only farmers' income but also the food security of the nation, since the acreage of grain planted in spring accounts for over half of the yearly total in China.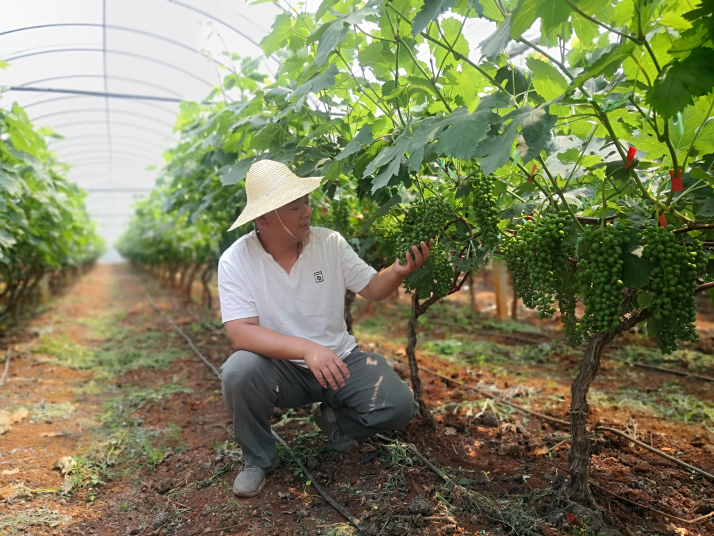 Xie Zhaochang, president of a rural cooperative in Jianshui, a county in Yunnan Province in southwest China, checks his grapes on March 18 (XINHUA)
Undisrupted supplies
To facilitate spring planting despite the novel coronavirus, the government has taken multiple measures. On February 26, the Ministry of Transport (MOT) and the Ministry of Agriculture and Rural Affairs (MARA) jointly issued a notice on guaranteeing transportation of production materials for spring farming. It asked the local authorities to come up with specific plans to ensure that the supply of agricultural materials is not affected by transportation disruptions.
Wang Xiuchun, Deputy Director of the Department of Transport Service at MOT, said at a press conference on March 22 that local transport departments have been asked to waive tolls for all vehicles. Those transporting agricultural materials and machinery will be allowed to pass without inspections.
Xie Yan, a MARA official, said the supply of agricultural materials had reached the normal level with 88 percent of major agricultural material enterprises having resumed production and 90 percent of agricultural material shops having reopened.
Agricultural production in Hubei, the central province hardest hit by the virus, is also recovering. On March 5, MARA held a video conference with the provincial government to find out what kind of agricultural materials they needed. Subsequently, the ministry, together with the Ministry of Industry and Information Technology and the All China Federation of Supply and Marketing Cooperatives, coordinated the supply of 700,000 tons of fertilizer and 2,520 tons of pesticide to Hubei.
Agricultural material production companies in Hubei are also resuming production. According to Xie, 77 percent of the 77 major agricultural material companies had restarted their factories and 86 percent of the 15,000 agricultural material stores were back in operation.
In Xinyu Agricultural Machinery Co. in Guyuan, a city in Ningxia Hui Autonomous Region in northwest China, it was business as usual with workers assembling and testing machineries in the workshop.
The company returned to work on February 22. By March 15, there were 16 workers back at their posts. "Although the number is smaller than usual, we are working around the clock to ensure supply, maintenance and repair of machineries for spring farming," Wang Zheng, general manager of the company, told China Youth Daily.
Wang Zheng said in the beginning some materials couldn't arrive due to shipping restrictions. However, the local government has solved the problem and is now coordinating with financial institutions to help him get a loan for expanding production.
The agricultural material wholesale market in Longmen, a township in Sichuan Province in southwest China, presented a busy scene with farmers in masks arriving to buy seeds and other farming essentials early in the morning.
Yuan Ming, a fertilizer seller, told China Youth Daily that his shop went back to operation on February 10. To reopen his shop, he had submitted an application and his health certificate to the authorities in advance, and was issued a permit. His fertilizer sold out immediately and he is now purchasing more from nearby factories to ensure a steady supply.
Mobilizing talent
In Lujiang, a county in Anhui Province in east China, He Lingyun, head of a machinery cooperative, is checking machineries with his workers.
"Our cooperative is responsible for nearly 13 square km of farmland. All the machines require maintenance but the technicians haven't come back," He told Xinhua News Agency. "I was very worried and informed the local agriculture and rural affairs department. They sent technicians the next day."
With the spring semester postponed in educational institutions, university students majoring in agriculture are encouraged to help out farmers. The Hunan Provincial Government and Hunan Agricultural University have jointly established a team to help with growing rice as part of double cropping—growing two consecutive crops on the same land in the same year. Zhu Haijun, a graduate from the university, is a member of the team. He is teaching farmers advanced technological and scientific ways in a village.
Many farmers are also getting advice online as face-to-face meetings with experts have been canceled to prevent the novel coronavirus from spreading. Shen Yunqiang, a rice farmer in Daan, a village in Heilongjiang Province in northeast China, is using a mobile phone app to get the tips. The variety of rice he planted last year sold for 2.4 yuan ($0.3) per kg, while the variety recommended by an expert on the app can sell at a higher price. He has decided to try the new variety this year.
In Jianshui, a county in southwest China, Xie Zhaochang, head of a rural cooperative, is happy to see his grapes flourishing. He thinks they can be sold a month later.
"At this time last year, many expert teams came to help us. This year they are giving us advice online," Xie Zhaochang told Xinhua. He said by controlling the amount of fertilizer, the ripening of grapes in the same field can be controlled.
Quality campaign
To ensure the quality of agricultural materials, MARA has launched the Spring Thunder campaign to crack down on fake and shoddy products.
"The campaign aims to tackle illegal additives, short-weighting and counterfeiting in six categories of products: seeds, pesticides, fertilizers, veterinary drugs, fodder and machinery," Huang Xiuzhu, Deputy Director of the Agricultural Product Quality and Safety Supervision Department of MARA, said at the press conference.
Du Yan, an official with the Ministry of Public Security, said the ministry is cracking down on fake and shoddy agricultural material sale and manufacturing. Public security departments have busted several groups making and selling fake seeds, fertilizers and pesticides. One prominent case was a biotech company in Hainan Province in south China, which was found to produce over 50 kinds of fake pesticides worth 19 million yuan ($2.7 million).
Copyedited by Sudeshna Sarkar
Comments to jijing@bjreview.com