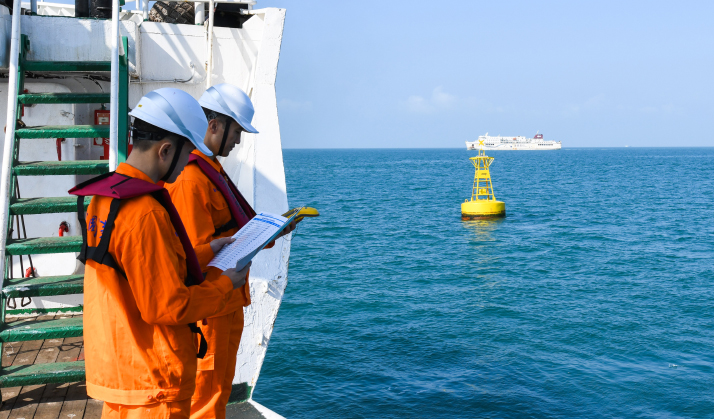 A patrol ship checks a buoy installed with a telemetry and telecontrol unit based on the BeiDou Navigation Satellite System in Qiongzhou Strait in south China on January 8, 2019 (XINHUA)
Wang Chang still shudders to recall the day his boat nearly sank in the tropical waters off Hainan Island in south China. On that day in April 2015, Wang left his home in Qionghai, a city known for its fishing industry, heading out into the open ocean in search of fish. In the middle of the sea, realizing his vessel was in danger, he activated an emergency call button on the boat, which is equipped with a communication system linked to the BeiDou Navigation Satellite System (BDS). The system is named after the Big Dipper constellation.
It was this button that saved Wang's life. When he pressed it, a signal was sent to the BDS information management platform at the port in Qionghai, and staff at the port immediately located the closest vessels and arranged for them to rescue Wang.
"Fishing in the sea comes with high risk," Wang told Hainan Daily. "Unexpected storms and lack of access to communication can make a fishing trip a life-or-death bet, which is why local fishermen pray to Mazu, the Chinese sea goddess, every time before they set sail."
Nowadays, fishermen can use BDS-enabled devices to get weather forecasts, which can help them avoid extreme weather, send short messages, and call for help if necessary.
China began developing the BDS in 1994. After going through three stages and with the final satellite launched on June 23, the system is complete. Even before its completion, it had saved lives. Wang's story is just one example of how the situation has largely improved after the BDS was installed on sea vessels.
"When the BDS was first introduced, the fishermen hesitated to install BDS terminals in the vessels," Cai Jianzhong, a fisherman from Fujian Province in south China, told Beijing-based PLA Daily. "Now BDS terminals have become our amulet."
Extensive application
According to figures released by the China Satellite Navigation Office (CSNO), by the end of 2019, the BDS had been installed on more than 70,000 fishing vessels in China, and with the help of the system, more than 10,000 fishermen had been rescued or assisted.
Fishing is not the only industry this new system has been applied to. The BDS has been helping industries such as agriculture and transportation and even the public sector.
Du Qingwei runs a rental business for unmanned tractors fitted with BDS terminals in Qingdao, Shandong Province in east China. He told local newspaper Dazhong Daily that such tractors have become increasingly popular among farmers.
Du said that guided by the BDS, the unmanned tractors can run in a straight line, with a 5-centimeter margin of error, a standard that a human driver is unlikely to reach consistently, and they can work around the clock. "This can increase production efficiency by 30 to 50 percent," Du said, citing statistical figures from his company. "This technology has turned a new page for agricultural production."
In Inner Mongolia Autonomous Region, BDS terminals have been attached to the collars of sheep and cattle, enabling herders to track their locations on smartphones. The system can also send alerts when the animals have wandered away from designated pastures. The herders, freed from time-consuming herding work, have more time to develop other businesses.
In urban areas too, BDS-enabled facilities have saved labor. In Beijing's Olympic Park, automatic sweepers work all day long to clean the streets, saving cleaners from the strong sunshine in summer and freezing weather in winter.
"The BDS has been applied in many areas in our life, often in an unnoticeable way," Xu Ying, a researcher from the Academy of Opto-Electronics at the Chinese Academy of Sciences, who participated in the development of the BDS, told Shanghai-based news portal ThePaper.cn, "When you hail a taxi with a phone, ride a shared bicycle, or track the exact location of the deliveryman carrying your package, you might be using the BDS."
Statistics from the CSNO show that by the end of 2019, more than 70 percent of mobile phones registered in China had been equipped to receive BeiDou signals. "Many smartphone users know the names of the mapping apps they use, but have no clear idea what navigation system is supporting the mapping service," Xu said. "That explains why many, though using the BDS, are not aware of it."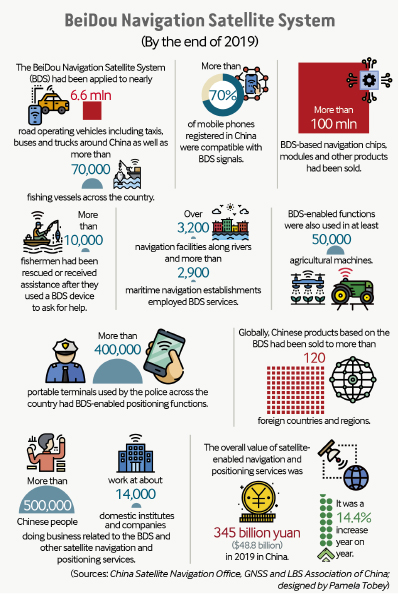 Big roles
Not everyone is aware of the important role the BDS has played in providing assistance in some major rescue events. In 2008, Sichuan Province in southwest China was hit by one of the largest earthquakes in history. With local communications infrastructure in tatters, it was the BDS that helped People's Liberation Army soldiers land helicopters and equipment for rescue work.
This year, the BDS has played an important role in fighting the novel coronavirus disease (COVID-19). It has provided highly precise positioning services when two field hospitals, Leishenshan and Huoshenshan, were built in Wuhan, Hubei Province. The BDS helped speed up the construction of these key hospitals. Drones based on the BDS have been utilized to spray disinfectant in parks and other public areas, helping to contain the spread of the coronavirus.
The BDS has also been used by the Ministry of Transport to send epidemic prevention and other information to more than 6 million vehicles equipped with BDS terminals. The China Post Group has installed 5,000 BDS terminals on vehicles delivering epidemic prevention materials, and conducted real-time supervision to ensure timely delivery of the materials.
In May, a team of Chinese surveyors remeasuring Mount Qomolangma, the highest peak in the world, installed an antenna for the BDS on the snow-covered peak to help survey the mountain's height.
China has also recently established a disaster relief platform equipped with 45,000 BDS terminals. Local governments can report disasters through the platform as they occur. Civil affairs departments can monitor the locations of disaster relief staff, vehicles and their operational condition through it.
By the end of 2019, BDS products had been exported to more than 120 countries and regions, and applied in various sectors including precision farming and construction of digital infrastructure and smart ports. These applications have benefited communities in Southeast Asia, South Asia, Eastern Europe, West Asia and Africa.
The launch of the last satellite on June 23 marks the completion of the in-orbit construction of the BDS. "From now on, the focus will be on application and promotion of the BDS," Xu said.
It will continue to enhance its services including high-precision positioning and short message communication for global users, she said.
Figures from the CSNO show that the overall value of satellite-enabled navigation and positioning services in China in 2019 was 345 billion yuan ($48.8 billion), a 14.4-percent increase year on year. "It is estimated that the output value of China's satellite navigation industry will surpass 400 billion yuan ($57.9 billion) in 2020," Ran Chengqi, Director of the CSNO, told Xinhua News Agency. In this growing market, the BDS will have a bigger role to play.
(Print Edition Title: Digital Big Dipper)
Copyedited by Garth Wilson
Comments to yuanyuan@bjreview.com