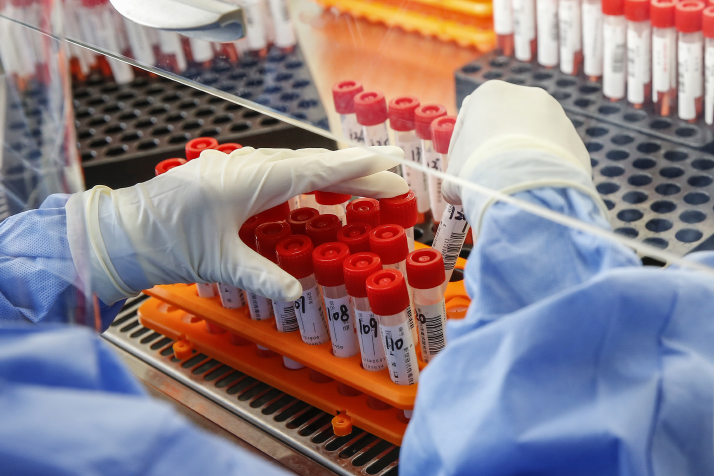 A medical worker arranges samples for nucleic acid test at a hospital in Beijing on July 3 (XINHUA)
Nucleic acid testing is an essential means to trace and contain viruses, especially the novel coronavirus. A cost-sharing mechanism for the mass tests should be created, including reagent procurement, institutions and labor services. Policies such as test prices and medical insurance payment should be improved.
Beijing has put considerable effort into preventing the disease from spreading by cutting off the source of transmission and testing those infected, in which nucleic acid detection plays a significant role. According to containment regulations, all people who worked in or visited the Xinfadi wholesale market where a cluster of infections occurred recently, and other markets should be tested, as well as those working in the catering and delivery industries.
Residents in middle and high-risk areas, frontline personnel for epidemic prevention work and staff of services sectors such as transportation, banks and supermarkets, are also required to be tested.
The municipal government has included drugs and medical services related to COVID-19 treatment and testing in medical insurance reimbursement. Since May 19, the cost of mandatory testing for designated groups such as delivery workers has been borne by municipal and district governments.
During the regular phase of epidemic prevention and control, some citizens have asked for voluntary testing, which can be met with the improved capability. Public hospitals will charge fees according to government guidelines, and the fees will be paid by the individuals. On June 25, the price for voluntary tests went down from 180 yuan ($25) to maximum 120 yuan ($17.10) at all the city's public medical institutions.
With the government's guidance in price and medical insurance, Beijing will optimize its cost-sharing mechanism and strengthen its test capability.
This is an edited excerpt of an article originally published in Beijing Youth Daily on June 29
(Print Edition Title: Enhancing Testing Capability)