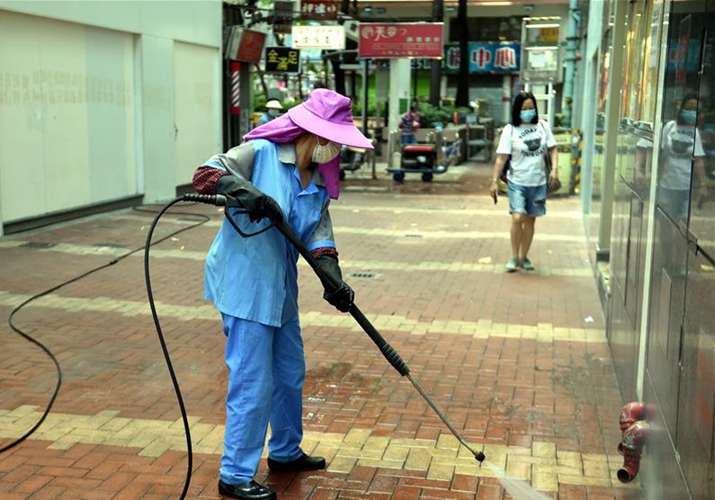 A staff member cleans a street in Hong Kong on July 29 (XINHUA)
Hong Kong's Center for Health Protection (CHP) reported 149 additional confirmed cases of COVID-19 on July 30, hitting a new daily high in Hong Kong.
The newly reported cases, including four imported cases and 145 local infections, brought the total number of COVID-19 cases in Hong Kong to 3,151. It has been the ninth straight day when the daily new cases in Hong Kong surpassed 100.
Among the 145 local cases, 84 are related to previously confirmed cases, mostly clusters concerning gatherings of families or friends, while the source of infection of the other 61 cases remained unknown, Chuang Shuk-kwan, head of the CHP's Communicable Disease Branch, said at a media briefing on July 30.
Since the recurrence of local infections on July 5, Hong Kong has seen a surge in the number of COVID-19 cases. The total number of confirmed cases rose from over 2,000 to over 3,000 in just over a week.
According to Hong Kong's Hospital Authority, as of 9 a.m. local time on July 30, 1,660 patients with confirmed infections had been discharged from hospitals after recovery, while 1,168 confirmed patients are currently hospitalized, including 39 in critical condition and 32 in serious condition. The number of deaths from COVID-19 remained at 24.
The hospital authority announced on July 30 that the community isolation facility at the AsiaWorld-Expo, a venue near the Hong Kong International Airport, will be open in two to three days mainly to receive patients aged between 18 and 60. About 500 beds are available in the first phase.
Chui Tak-yi, the Under Secretary for Food and Health of the Hong Kong Special Administrative Region (HKSAR) Government, said at the press conference on July 30 that a string of anti-epidemic measures have been stepped up, including prohibition of dining-in services in restaurants all day and mandatory mask-wearing in all public places from on July 29.
Chui said, however, after implementing the dining-in restriction, the HKSAR Government has realized the difficulties faced by some people who have to work outside and decided to adjust it and allow restaurants to provide dining-in services in day time starting from July 31, while the number of customers should be limited to no more than half of the seats in the restaurant and no more than two people per table.