People wear masks in the Central area of Hong Kong Special Administrative Region on July 27 (XINHUA)
With sporadic confirmed cases of the novel coronavirus disease (COVID-19) popping up again, the possibility of another wave of the epidemic has risen in the country.
On July 29, the Chinese mainland reported 102 locally transmitted cases, 96 in Xinjiang Uygur Autonomous Region in the northwest, five in Liaoning Province in the northeast and one in Beijing.
After Beijing swiftly contained a cluster of 335 locally transmitted cases reported from June 10 to July 6, there were no new locally transmitted cases. But the respite lasted only a little over a week.
On July 15, Urumqi, capital city of Xinjiang, confirmed the first case of its cluster, followed by Dalian, a coastal city in Liaoning, which began to report its cluster from July 22.
Zeng Guang, chief epidemiologist for the Chinese Center for Disease Control and Prevention (China CDC), said China has entered a "new normal" virus prevention mode during an interview on July 29. There needs to be vigilance against an outbreak, but at the same time, attempts should be made to minimize the impact on people's normal work and life.
"The epidemic is sneakier than we expected," Zeng said. "It didn't show any signs of stopping or receding this summer as many experts predicted earlier this year. But I believe more precise and effective anti-virus measures can bring these re-emergences under control."
Scattered cases
On July 10, a 24-year-old woman working at an electronics retail center in downtown Urumqi, who had symptoms including a sore throat, was taken to a designated hospital. She was confirmed with COVID-19 on July 15.
Three people who had contact with her were found to be asymptomatic cases, while a man who flew from Urumqi to Zhejiang Province in east China was also discovered to be asymptomatic.
The number of confirmed cases in Xinjiang has continued to rise, reaching 414 by July 29. Most of the new infections have been traced to a wedding party held in early July, but the actual origin is still unknown.
Since July 18, the local government has launched a free mass nucleic acid test campaign across the city. Zhang Wei, head of Urumqi's health commission, said at a virus control and prevention conference on July 27 that the spike in the number of confirmed cases is due to the improved efficiency of this testing and medical consultation. "Current infections and asymptomatic cases were largely found through testing among people under medical observation," Zhang explained.
A week after Xinjiang's new case, Dalian reported its new case of a 58-year-old man working at a seafood processing factory.
On July 16, he had a fever and fatigue and took some medicine, which didn't help. On July 21, he went to the fever clinic in Dalian Municipal Central Hospital and was confirmed with COVID-19 the next day.
The man lives alone, had not left the city in 14 days and had had no contact with any confirmed COVID-19 cases. The next day, two more cases with symptoms emerged along with 12 asymptomatic cases, prompting the city to launch an epidemiological investigation into the patients' close contacts. By July 29, there were 57 new confirmed cases in the city, 30 from the same seafood factory.
Wu Zunyou, chief epidemiologist at the China CDC, told China Central Television on July 29 that the damp and cold environment at the factory may be favorable to the survival of the virus.
Li Lizhuo, a doctor from the Beijing-based Xuanwu Hospital of Capital Medical University, echoed Wu's conclusion, adding that since many seafood products are imported from countries where the epidemic situation is more severe, these products are at high risk of being infected during processing and transporting.
The virus in Dalian didn't stay local. Within a week, it spilled over into nine cities including Beijing, which had just quelled its recent cluster and had reported no confirmed cases for 20 consecutive days.
On July 27, the capital confirmed a new case, a person who had contact with an asymptomatic person from Dalian. In the following two days, the patient's two close contacts became confirmed cases. They all live in Changping District in Beijing. As a result, the public health emergency response in the residential community where they lived was raised from Level 3 to Level 2.
The other eight cities infected by the new infections in Dalian stretch from Heilongjiang Province in the northeast to Fujian Province in the southeast. Fuzhou, capital city of Fujian, announced it would enter a "wartime mode" after the discovery of an asymptomatic COVID-19 case from Dalian.
In Hong Kong Special Administrative Region (HKSAR), the situation has grown acute since July 19, when 108 new cases were reported, including 83 domestic cases and 25 imported ones, which set a record for daily new cases in the city. In the following eight days, there were over 100 daily new cases each day. As of July 29, the total number of confirmed cases in Hong Kong surpassed 3,000, far exceeding the 1,755 severe acute respiratory syndrome cases in 2003.
Microbiologists attributed the resurgence of the virus to negligent border testing and quarantine measures in HKSAR. Yuen Kwok-yung, a Hong Kong microbiologist, told Global Times that from March to June, the virus didn't spread widely due to strict anti-epidemic measures. But in July, these measures were relaxed and many people stopped wearing masks on trains, buses, vans and taxis.
In response, Hong Kong Executive Chief Carrie Lam announced stricter measures to deal with the worsening situation. Residents are required to wear masks in public and some civil servants are to work from home. A seven-day ban on dining in restaurants between 6 p.m. and 5 a.m. issued on July 15 was extended to 14 days. In addition, starting from July 20, the regional government is providing only urgent and necessary services.
The HKSAR Government is offering free nucleic acid tests to people classified as being of high risk, including taxi drivers, restaurant workers and property-management employees.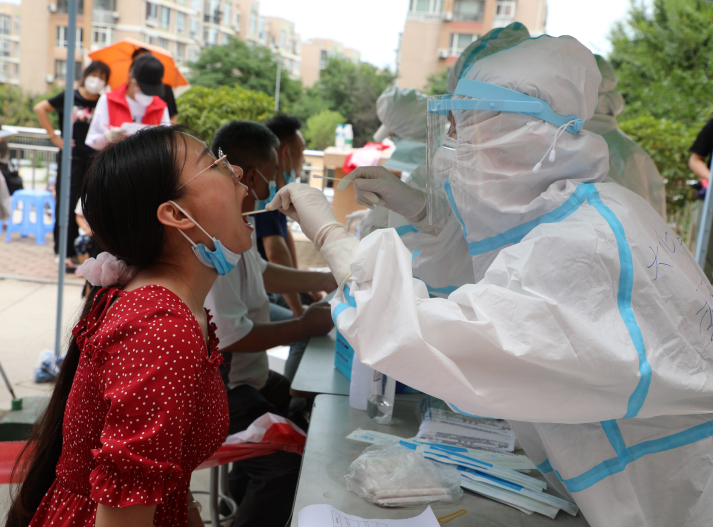 Medical staff take throat swab samples from residents in Dalian, Liaoning Province in northeast China, on July 26 (CNSPHOTO)
New normal
In addition to dealing with locally transmitted cases, China has also been dealing with imported cases. Since the first imported case in the mainland was reported on February 26, these cases have never stopped. As of July 29, a total of 2,059 imported cases had been reported on the Chinese mainland. Of these, 1,981 people were discharged from hospital, and no deaths have been reported.
Zhang Wenhong, Director of the Infectious Disease Department at Huashan Hospital in Shanghai, said there is a high probability of a new global wave of the epidemic in the fall and winter, warning that people should remain vigilant.
At a news conference on July 28, Ou Xiaoli, chief of social development at the National Development and Reform Commission, announced that China will strengthen its public health system to better cope with major public health emergencies.
"All secondary hospitals and above will optimize their layouts for fever clinics, including increasing social distance between patients waiting to see doctors, and be fully equipped for disease screening," Ou said, adding that the Central Government has doubled the budget for investment in public health emergency projects this year.
Intensive care units in all hospitals must be equipped with or be prepared to provide negative-pressure wards and operating rooms. Hospitals and clinics nationwide will be guided to build reserves of materials such as surgical masks, protective suits and goggles to meet the initial needs of any possible outbreak.
(Print Edition Title: A Lingering Epidemic)
Copyedited by Rebeca Toledo
Comments to yuanyuan@bjreview.com