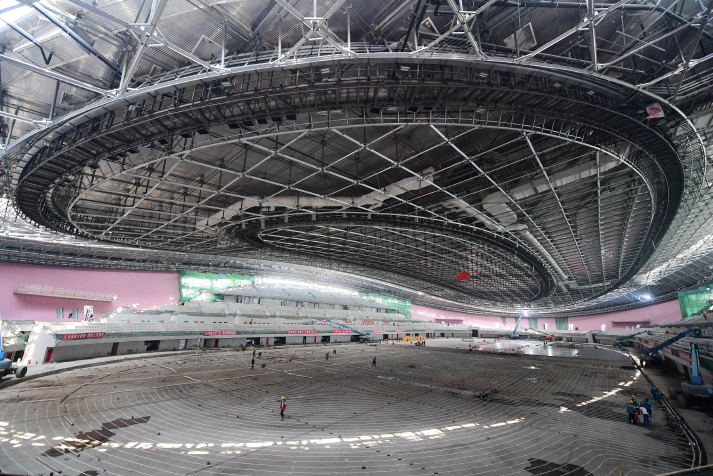 The National Speed Skating Oval, one of the venues for the Olympic and Paralympic Winter Games Beijing 2022, under construction in the capital on July 22 (XINHUA)
Five years since winning its bid for the 2022 Winter Olympics, Beijing has stepped up its efforts to host a green Games with sustainability at the core of preparations.
With China resuming normalcy in all walks of life after the peak of the COVID-19 outbreak, Beijing has picked up its preparation for the 2022 Olympics with construction and renovation of facilities, with planning for Games-time management and designs for post-event operation well on track, according to organizers and construction regulators.
"We've resumed all preparatory work and are on schedule. We are confident that all competition venues needed for the Games will be done within this year," Ding Jianming, Deputy Director of the Beijing Major Projects Construction Headquarters Office, said on July 30.
Selected on July 31, 2015 as the world's only city to host the Winter Olympics after having staged the Summer Games, the Chinese capital is sparing no efforts to deliver on its promise to host sustainable Games with lasting legacies in all three zones—the city's downtown area, its northwest Yanqing District and co-host Zhangjiakou, Hebei Province.
As a highlight of the sustainable approach, Beijing has taken advantage of the 2008 Games' legacy to re-purpose five venues used for the Summer Olympics downtown, such as the iconic National Aquatics Center, to host competitions and ceremonies in 2022.
The aquatics center, built for swimming in 2008 and known as the "Water Cube," has been transformed into an "Ice Cube" for curling after a yearlong renovation project, which involves filling the main pool with removable steel structures and making ice sheets above.
This is an edited excerpt of an article originally published in China Daily on July 31
(Print Edition Title: Green Games on Track in Beijing)