China-produced sedans at Tesla's Gigafactory in Shanghai on January 7 (XINHUA)
It occupies less than 4 percent of China's land mass, but produces about one quarter of the nation's GDP. The Yangtze River Delta, which has spearheaded China's economic development for over three decades, is exploring a new development pattern amid grave and complex domestic and international circumstances.
When the government decided to set up the Shanghai Economic Zone to promote regional economic coordination in the early 1980s, the Yangtze River Delta city cluster comprised only 10 cities: Shanghai, four cities in Jiangsu Province and five cities in Zhejiang Province, all adjacent to Shanghai. Since then, the cluster has been expanding. In the early 1990s, with the opening of Pudong New Area in Shanghai, the number of cities in the cluster increased to 15.
In 2016, a development plan for the delta mapped 24 cities into the cluster, including most cities in Zhejiang and Jiangsu and half of those in Anhui, with Shanghai, one of the most developed cities in China, in the lead.
In March 2019, Premier Li Keqiang made it clear in the government work report that the integrated development of the Yangtze River Delta be upgraded to a national strategy.
An outline of integrated development of the Yangtze River Delta, jointly issued by the Communist Party of China Central Committee and the State Council, was published on December 1, 2019. It spelled out targets, requirements and measures to boost integrated development of the delta and build a regional cluster of high-quality development. The outline officially clustered the whole province of Anhui, along with Shanghai, Jiangsu and Zhejiang, into the delta.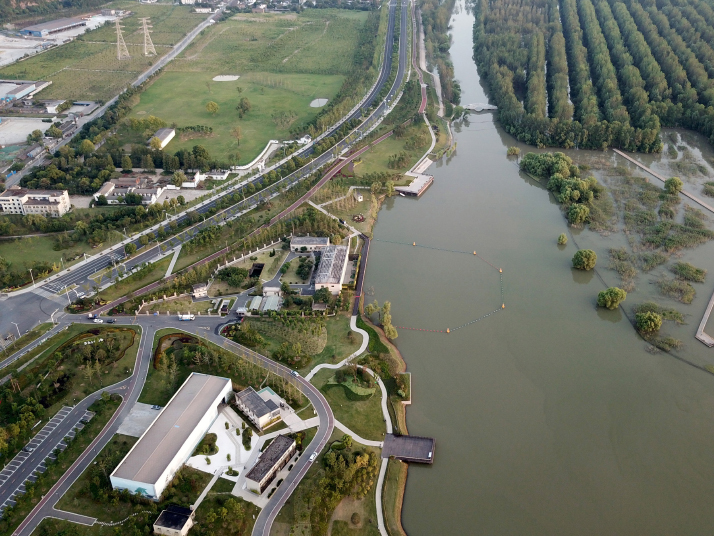 An aerial photo of the Xuejiawa ecological park in Ma'anshan, Anhui Province in east China, on August 15
(XINHUA)
New step forward
During an inspection tour to Anhui, President Xi Jinping presided over a symposium in Hefei, Anhui's capital, on August 20. He called for stronger awareness of the status and function of the Yangtze River Delta in China's economic and social development in order to promote the region's integrated development.
The spread of the novel coronavirus disease as well as unilateralism and trade protectionism are creating many uncertainties in the international arena, leading to a global economic downturn and a shrinking international market, China is striving to establish a dual circulation development pattern. This refers to the domestic market playing a leading role and domestic and foreign markets boosting each other.
Xi stressed that the entire delta region, in addition to providing quality products, should also serve as a source of high-level technologies for the country. Efforts should be made to improve the business environment and attract talent and enterprises from home and abroad. The president also called for efforts to promote trade and investment facilitation and make the delta region an important bridge between domestic and foreign markets.
On the same day, Lin-gang Special Area of the China (Shanghai) Pilot Free Trade Zone celebrated its first anniversary. Tesla's Gigafactory, situated in Lin-gang, expects to finish its second-phase construction by the end of the year. It also announced that following the made-in-China Model 3, the second Tesla vehicle made in China, the Model Y, will roll off the production line by the beginning of 2021.
Tesla's development epitomizes the effect of Lin-gang's efforts to increase efficiency and simplify the administrative process.
From signing a contract to obtaining construction permits, the process took Telsa only five months. Now the duration is even shorter. It took Lanwan Jinping New Energy Technology Co. Ltd. only four months to launch its new-energy project in Lin-gang. The area has attracted a large group of international and domestic companies including Caterpillar, Siemens, ABB and Kalmar.
The Shanghai Municipal Government released a three-year plan on August 20 to accelerate the development of Lin-gang Special Area. Some 358 projects in the fields of integrated circuits, artificial intelligence, high-end equipment, biomedicine and aviation have signed onto the area, with a total investment value of up to 271.3 billion yuan ($39.2 billion) over the past year. About 1,500 new hi-tech enterprises and institutions are preparing to launch projects whose total output value is expected to reach 600 billion yuan ($86.6 billion) by the end of 2022.
Moreover, Zhejiang, boasting the nation's most vibrant private economy, plans to invest over 200 billion yuan ($29 billion) in the construction of major integration projects for the region this year.
A 2,400-square-km integration demonstration zone at the border of Shanghai, Jiangsu and Zhejiang is a major project in the region. According to its blueprint, the new demonstration area will be a new research and development base featuring cutting-edge technologies, an economic booster and a livable area with over 60 percent of the area covered by water and green areas by 2035.
In his speech, Xi emphasized again the importance of green development, as well as the enhancement of basic public services in the region.
Last but not least
Although Anhui is a latecomer to the cluster, its advantages lie mainly in its prominent universities and institutions, which can bolster research in cutting-edge technologies, according to a plan released by the Anhui Provincial Development and Reform Commission on January 16. Infrastructure construction, especially express railways, has made Anhui an attractive location for entrepreneurs.
For example, Huanting Intelligent Technology Co. Ltd., which focuses on production and sales of industrial robot systems, moved to Xuancheng in Anhui from Shanghai this year.
"It takes only an hour by express train from Xuancheng to Hangzhou, Zhejiang's capital, where many of our clients are," Wang Anli, a deputy general manager at the company, told Xinhua News Agency. "It's almost the same from Shanghai to Hangzhou but costs in Xuancheng are much lower than in Shanghai."
Today, there are 24 express railways in the delta with their total length exceeding 5,000 km. On some lines, passengers can simply board scanning a QR code with their smartphones, without having to buy tickets in advance.
Zhong Lan, an official from the Anhui Provincial Development and Reform Commission, said more infrastructure, including high-speed railways and expressways, will be built to connect cities in the region, while local people will be able to enjoy more shared high-quality medical and educational resources.
Zhang Xiaojun, Vice President of Huami Corp., a smart wearable device maker headquartered in Hefei, said the integrated development of the region has brought many favorable changes for small and medium-sized companies.
Zhang said firms in Hefei had difficulty in finding enough talent in the city, but now with the integrated development of the Yangtze River Delta, it is easier for them to hire from other places in the region. "This is how the Yangtze River Delta region serves as a good talent pool," he said.
(Print Edition Title: A Delta's New Vision )
Copyedited by Rebeca Toledo
Comments to yuanyuan@bjreview.com