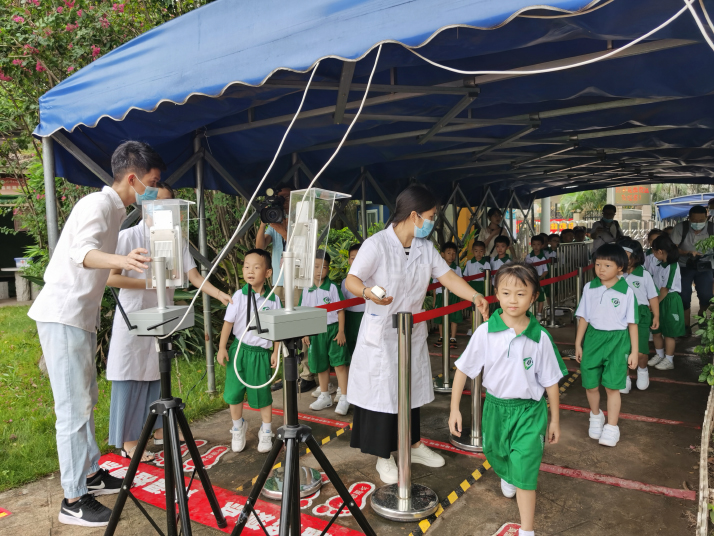 Students at a primary school in Guangzhou, Guangdong Province in south China, get their temperature checked before entering school on August 31 (XINHUA)
For years Peng Weixu, a sixth grader at the Gezhi Middle School in port city Dalian in northeast China, had worshipped Superman and Ultraman, the fictional superheroes who have spawned a spate of films and TV series. But now he has new heroes.
When the school reopened on September 1, Peng had an unusual first class. It was an interaction with Zhang Kuijun, a traditional Chinese medicine doctor from the Dalian Municipal Central Hospital, who had been to Wuhan, the city in Hubei Province, central China where the outbreak of the novel coronavirus disease (COVID-19) epidemic was first reported, to help with the medical treatment.
Zhang shared his experience of working in a temporary hospital in Wuhan for nearly two months, which awed Peng. The boy told Xinhua News Agency that after learning how medical workers like Zhang had so selflessly and courageously fought the epidemic, he felt they were the real superheroes.
A different learning
Many other schools also chose to mark resumption of classes by inviting medical workers to talk about their experience and insights when they took part in the battle against COVID-19 to inspire the younger generation to cherish life and shoulder their responsibilities.
In Beijing, Sun Jingya, a nurse from Peking University First Hospital, told her "anti-epidemic story" at the Shangyuan Central Primary School in suburban Beijing on September 1. During the epidemic, Sun had worked at a hospital in Wuhan.
China Central Television's program First Class of the New Semester, aired at the beginning of every school year, featured medical experts who have contributed to epidemic control this year.
One of the guest speakers was Zhong Nanshan, the 84-year-old respiratory disease expert who had been at the forefront of the battle against severe acute respiratory syndrome in 2003 as well. The veteran doctor, who received the Medal of the Republic, China's highest order of honor, this month, talked about how he decided to study medicine and wanted to save lives like his doctor parents did.
He also talked about the inspiring work done in Wuhan: "At 10 a.m. on January 23, Wuhan was put under lockdown. The lockdown of the heroic city for 76 days helped reduce infections by at least 700,000. People's lives are the most important human right. We have saved so many lives, which is the best manifestation of our respect for human rights."
Wang Rui, a medical student at Peking University's medical school in Beijing, expressed his admiration for Zhong through video link during the program, saying he would try to become a doctor like the octogenarian.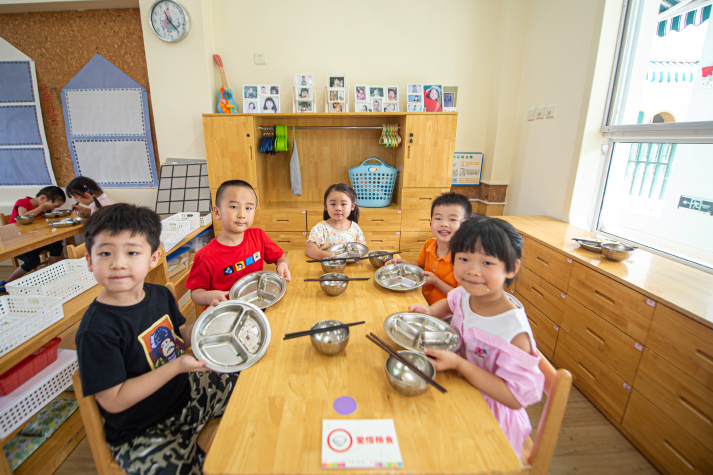 Children at a kindergarten in Hangzhou, Zhejiang Province in east China, show off their empty plates after lunch. In the new semester schools are drumming it into students not to waste food (XINHUA)
School resumption
With the epidemic brought under control in China, the Ministry of Education (MOE) held a press conference detailing safety measures and teaching work on August 9 and as of September 1, the usual time for the autumn semester to start, kindergartens and primary and secondary schools in 30 provinces, autonomous regions and municipalities resumed classes.
The MOE announced a staggered reopening for different schools between August 15 and October 10, and the Beijing Municipal Education Commission gave a detailed guideline for epidemic control. Wang Dengfeng, an MOE official, said the schools should keep health records for every student, even if they have no illness, while university students and teachers should not leave their campus unless necessary.
In Xinjiang Uygur Autonomous Region in the northwest, which experienced a recent outbreak in July, schools resumed in a staggered manner from September 7.
University students returning to the capital had to take nucleic acid tests, with the expenses borne by their universities. Students and staff in Beijing schools continue to wear masks on campus for the new semester, removing them only for outdoor activities, and serving chopsticks are used during meals.
This resumption after the summer holidays marks the full reopening of educational institutions.
Following the outbreak of COVID-19 in January, schools nationwide had switched to online classes for the spring semester. In March, some schools in Qinghai Province in northwest China took the lead to return to physical classrooms, followed by others.
In the spring semester, 200 million students—about 75 percent of the total—had been able to return to school, and no infections were reported from the resumption, the MOE said.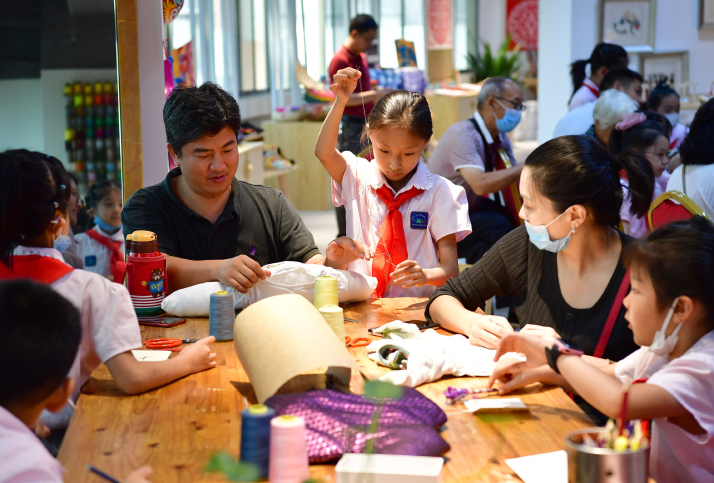 Students and parents at a primary school in Xi'an, Shaanxi Province in northwest China, make pillows as the first lesson of the new semester on September 5. These pillows will be gifted to children in remote areas (XINHUA)
Innovative measures
As classrooms start getting back to normal, it's a kind of "new normal" for students, who need to follow new routines.
At the Baijiazhuang Primary School in Wangjing, an area in northeast Beijing, students are required to have their temperature checked and disinfect their hands before entering the classroom every day. Different classes have been asked to arrive and leave at different times to avoid crowding.
Like other universities in Beijing, the Beijing University of Chemical Technology has advised students not to leave the campus unless necessary. Those who need to go out can apply and get approval online.
At the university canteens, two students eat at a table for four. They also need to scan a QR code on the table for record.
In south China, which suffered floods in summer, fighting floods was the keyword in some first classes in the new semester.
Shexian, a county in Anhui Province, east China, was ravaged by flood in July. As a result, the college entrance exam in the county was interrupted. The soldiers deployed for flood control built floating bridges overnight so that students could take the deferred examination on July 9. When the local schools opened, flood-fighting stories were shared in the first class.
Over 300 firefighters from Zhejiang Province, also in east China, went to the city of Tongling in Anhui to help with flood fighting and emergency rescue. The Experimental Primary School in Yian District, Tongling, was one of the places where they were berthed. During their stay, they would jot down details about their work on the blackboards in the school and encouraging words for the students.
When the school reopened, teachers used the blackboards to illustrate to the children the grit and hard work of flood fighters, and encourage them to be grateful and contribute their share to society and the country.
Food for thought
Both COVID-19 and the floods, which affected agriculture and food production for some time, have created greater awareness of the need to prevent wastage, especially food wastage. A Clean Plate campaign has been launched to save food, which calls for eating up food on one's plate after a meal, without leaving any to be trashed. The campaign also became a topic in the first class.
In the Sixth Primary School in Ningdu, a county in Jiangxi Province in east China, fourth graders were taken to the rice fields to appreciate the place that produces the food put on their table and the work of farmers. Students recited a Tang Dynasty poem, "Who knows that for our food on the plate, every grain comes after hard toil?" Besides, researchers were invited to tell them about rice planting and the importance of not wasting food.
Li Yuxuan, a student of the school, told the press, "I know now how rice is grown. In future, no matter where I am, I will take only the amount of food I can eat and not waste any."
The principal of the school, Tang Shuying, said the school will hold more activities to teach students about grain planting so that "the traditional virtue of saving food takes root in the children's heart."
At the height of the epidemic, online education played a key role in keeping classes going virtually. Realizing the strength of online education and in preparation for future emergencies, the MOE will continue to develop online learning.
It has chosen 90 districts to pilot integration of offline-online education. It has also developed courses for primary and secondary schools to be used in the autumn semester and is working with China Education Network TV (CEN TV) for video courses that can be accessed at the national cloud education platform.
Besides, students in remote and impoverished areas will still be able to access classrooms in premier schools through satellite links so that they can take classes taught by outstanding teachers in the capital through CEN TV broadcasts.
(Print Edition Title: Learning Life's Lessons)
Copyedited by Sudeshna Sarkar
Comments to jijing@bjreview.com