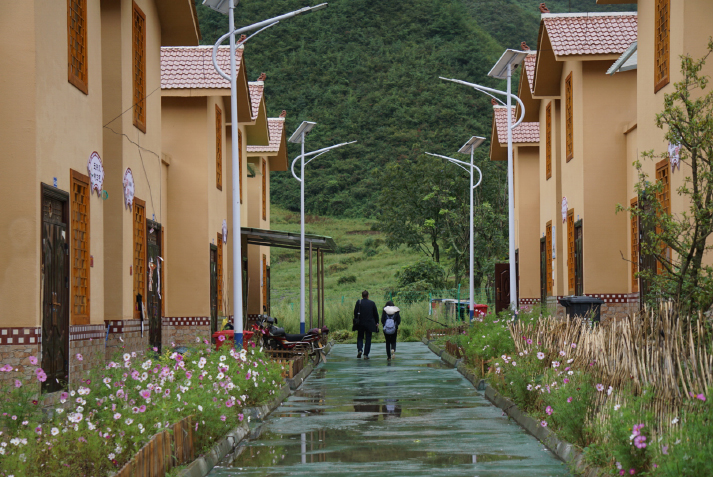 New houses in Qingshui Village in Liangshan Yi Autonomous Prefecture in Sichuan Province, southwest China on September 10 (XIA YUANYUAN)
Anyone who visits the new home of Jize Munai is greeted with a welcoming ritual. Once comfortably seated, the guest is shown a large photo of his old house that hangs proudly on a wall. Jize, 48, believes this photo tells the story of how his family has transitioned from a very difficult past to a modern life.
The photo shows him with his wife and three children in front of a dilapidated bungalow, which has a wooden roof and mud walls. The ramshackle yard was home to the family livestock.
Nestled on a mountain about 2,000 meters above sea level, Xujiashan Village, in Ganluo County, Liangshan Yi Autonomous Prefecture, was home to Jize, his community and his ancestors. The prefecture with a sizeable population of Yi people is also one of the country's most impoverished areas.
Seven counties in Liangshan are among the 52 still to shake off their impoverished status. And as China moves to eradicate extreme poverty by the end of 2020, the prefecture is one of the main battlegrounds in the fight against poverty.
Because most of Liangshan's population resided on mountains, the construction of safe housing and supporting facilities was an important part of its poverty alleviation program so that they could move to areas with more hospitable conditions.
Modern housing
Many residents have moved into modern houses adjacent to lush forests. Recalling the tough time in the past, Zhang Guiqing, Secretary of the Communist Party of China Xujiashan Village Branch, said, "In the past, villagers trekked across dirt roads littered with animal dung… And when rainstorms hit, floodwater rushed down from the mountains, damaging their fields."
Surrounded by mountains, the village of over 300 residents had endured isolation and poverty for generations.
The transformation took place in 2016, when road construction began. A 4.1-km-long road connecting the village to the outside world was completed a year later, changing the way villagers move about.
In 2019 villagers moved into 65 modern steel structure houses, which have spacious rooms with basic furniture, and are close to facilities, in sharp contrast to the old mud-walled dwellings a few hundred meters away.
"We used to live in adobe houses and have never seen such nice houses [built close to] a clinic and restaurant," Jize told Beijing Review.
"In fact, the most comfortable thing is that I can take a hot water shower, while in the past, I could only bathe in cold water," Mahai Amozhi, a villager, said. "The new house has a kitchen, bathroom and toilets, all with running water!"
To solve the housing problem, the local government invested 22.77 million yuan ($3.3 million) in the project, with support from the Central Government.
According to Zhang, on average, each villager is entitled to 35 square meters of living space, so Jize's family of five got a 175-square-meter new house.
At the end of 2019, Xujiashan successfully put poverty behind them. The per-capita net income of farmers in the village increased from 3,000 yuan ($435) to about 11,000 yuan ($1,594) annually as their stockbreeding program expanded.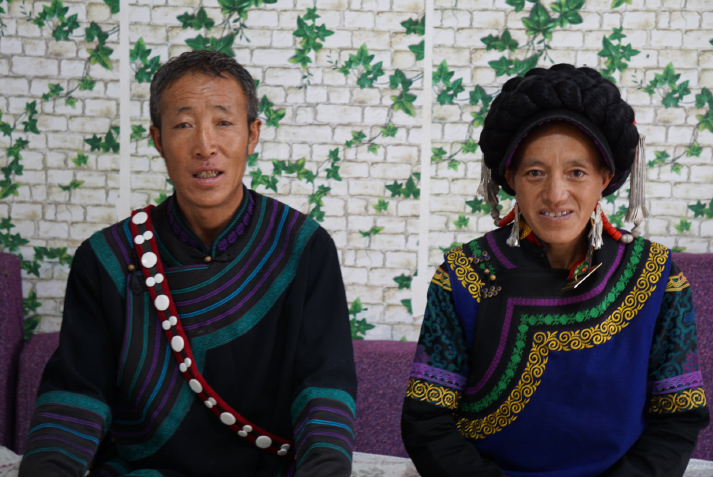 Jize Munai and his wife in their new house in Xujiashan Village in Liangshan on September 10 (XIA YUANYUAN)
Healthy lifestyle
Villagers in Daganyi in Ganluo didn't get new houses, but instead improved their lives by renovating their existing houses.
"This is my new kitchen, equipped with a rice cooker, a refrigerator and a microwave oven," said Muji A'he, a 58-year-old Yi , enthusiastically showing his new appliances. In the past, Muji cooked on a pot over a fire.
Apart from setting up new kitchens, at the beginning of 2019, the local government also helped residents of Daganyi build much-needed facilities, including flush toilets, taps and biogas digesters that process waste into biogas.
After the construction of roads and houses was complete, the village focused on the improvement of the environment to raise the happiness index.
"If the environment is more beautiful, the happiness index will be higher," Wang Xiaoji, head of the Poverty Alleviation and Development Bureau of Ganluo, said.
In 2017, all villagers finally moved out of poverty. "We encourage our poor households to have a dream. The dream does not need to be too big, as long as it means one can live a good life," Wang said.
Like the villagers in Daganyi, many people in other parts of Ganluo have seen their dream of having a new home come true. Since 2018, the county has improved the living conditions of 23,600 households through the housing project.
Protecting local culture
Despite the housing improvements, there have been critics who said that such projects may lead to a loss of Yi people's traditional architectural culture.
In fact, protection and inheritance of ethnic minority traditional architectural culture is one of the key points emphasized by the local government.
In Xujiashan, Yi colored murals on the walls of the new houses are an example of cultural retention and sensitivity. And in order to preserve the culture in Gumo Village, Zhaojue County, the local government retained three old houses with Yi ethnic architectural features, converting these into a small museum to present the ethnic culture to visitors and so that it is not lost to locals.
Apart from the Yi ethnic group, Liangshan is also home to a large group of Ersu Tibetans, a branch of the Tibetan ethnic minority. Walking into Qingshui Village, the new houses are surrounded by fields of galsang flowers which means good times or happiness in Tibetan. It symbolizes the good living conditions of Ersu Tibetan families in Qingshui after they moved into their new village.
The mountainous Qingshui, at an elevation of 2,300 meters, has a population of 781 people in 214 farming households. In October 2019, all villagers relocated to 147 new houses. The new houses have distinctive elements of Ersu Tibetan architecture.
"Cultural heritage is the greatest wealth we have. In the future, we will help villagers develop homestays based on ethnic culture and develop tourism. It helps to increase villagers' income and also protect ethnic culture," Wang Minghai, head of Qingshui Village, said.
(Reporting from Liangshan Yi Autonomous Prefecture, Sichuan Province)
(Printed Edition Title: Transforming Lives)
Copyedited by Francisco Little
Comments to wanghairong@bjreview.com