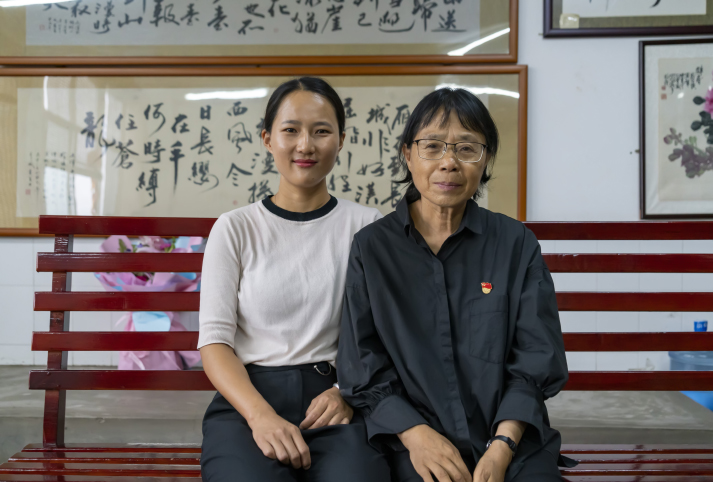 Zhang Guimei with Chen Fayu, a 2012 graduate from the Huaping High School for Girls in Lijiang, Yunnan Province in southwest China, on July 4. Chen is a police officer now (XINHUA)
In worn-out clothes and a pair of glasses, Zhang Guimei looks solemn. Her faltering steps and pale face indicate that she is not well. "I was diagnosed with a few diseases over the years, but I've never had time to deal with them," Zhang said.
Nothing has stopped her since she stumbled onto a new career 12 years ago—helping girls from impoverished families in the southwestern province of Yunnan obtain higher education.
In 2008, she founded the Huaping High School for Girls, China's first free high school for girls, in the mountainous city of Lijiang and served as its principal. More than 1,600 graduates from the school have been admitted to colleges and universities.
"She helped open a window to a new life," Chen Fayu, a 2012 graduate, said. Chen enrolled in the Yunnan Police College and now is a police officer. "I wouldn't be who I am today without her strict requirements in school. We called her a dragon, but we also called her mom."
"Education is the only way for the locals to rise out of poverty, especially girls," Zhang said. "An educated woman can make a difference for her family."
A tough project
Zhang calls Yunnan her second home. She followed her sister to the border province, far from her family in Heilongjiang Province in the northeast, in 1974 at the age of 17. After having worked in different industries and functions, she finally became a teacher.
In 1990, Zhang and her husband moved to his hometown Dali Bai Autonomous Prefecture in northwest Yunnan and began teaching at a middle school.
But an unexpected tragedy changed her life. In 1994, her husband passed away from stomach cancer. Zhang applied to relocate to a remote school in Huaping County, which is part of Lijiang, hoping to move away from old memories.
However, less than a year after her move, she was diagnosed with uterine fibroids. She couldn't afford surgery to remove them and the county's women's federation initiated a donation campaign for her. The local residents, mostly living below the poverty line in those days, were finally able to raise enough money to get her treatment.
After recovery, Zhang worked even harder to return the generosity she had received. She found a growing number of local girls dropped out of school after the nine-year compulsory education covering primary and junior middle schools due to financial difficulties.
"Some families believed it was useless for girls to receive advanced education," Zhang said. "They were forced back home for either early marriage or farm work."
She visited the family of a few dropouts and promised their parents that she would provide free high school education for their daughters. She sometimes even gave them money from her own pocket as financial support.
Zhang's idea for a free high school for girls in Huaping popped up in 2002. She took it for granted that this project would quickly receive widespread support but the fundraising proved challenging. After years of efforts, she collected only 20,000 yuan ($3,000) and almost decided to give up.
In 2007, she was elected a deputy to the 17th Communist Party of China National Congress and traveled to Beijing for the event. A journalist interviewed her and reported on her free high school project.
The coverage was a turning point. The governments of Lijiang and Huaping allocated a total of 2 million yuan ($296,000) to support Zhang's plan.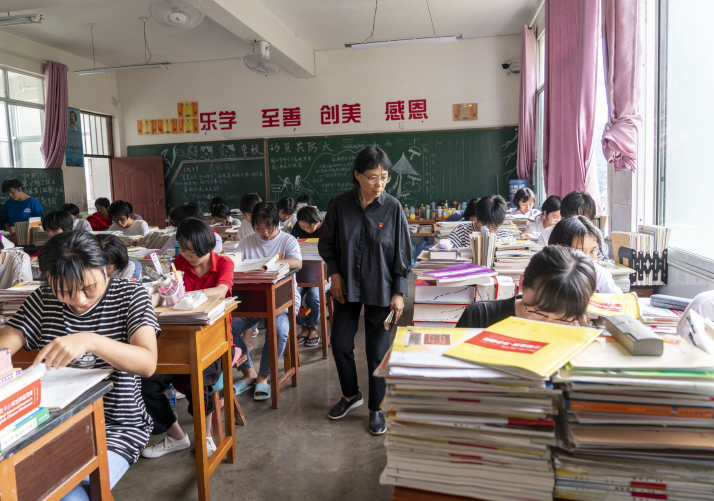 Zhang Guimei inspects a class at the Huaping High School for Girls on July 4 (XINHUA)
A tough role model
However, opening the school was just the beginning of new challenges. Since the school's campus had no walls due to limited funds, Zhang had to constantly drive away snakes and other animals to protect the teachers and students.
Moreover, most of the first 100 students had a weak academic foundation. After one semester, six students dropped out, while nine of the 17 teachers resigned due to the harsh living and working conditions.
Zhang finally managed to persuade two of the dropouts to return and vowed to spare no efforts to keep the 96 students in school until they graduated.
In 2011, the first graduates from the school took part in the national college entrance exam and 69 of them were admitted to colleges and universities. Over the ensuing years, the girls have been accepted by prestigious universities in China. This year, among the 159 graduates, 150 enrolled in universities.
To get her students to study in a disciplined manner, Zhang personally monitors their schedule since the school's establishment. She lives on campus. Beside her pillow, she has a flashlight, a bullhorn, a mobile phone and some painkillers. She sets her alarm for 5:15 a.m., gets up, and staggers through the corridors of the dormitory to wake up the students with her bullhorn.
"They call me a dragon because I am so harsh with them," Zhang said. "But so far, this has been the only effective way to get them into university. When kids in urban areas struggle not to lose at the starting line, these girls don't even know where the starting line is."
Zhang Hongqiong, a teacher at the school, said Zhang Guimei has devoted everything she has to empowering the students for their future. "Education may not be the only path for everyone, but it is the only one for these girls," she said.
Zhang Guimei's persistence has led to many different avenues of support. The Yunnan Normal University has launched various assistance projects and agreed to send 46 future graduates as trainee teachers to the school each year.
But the arduous work has taken a toll on Zhang Guimei's health. She has been diagnosed with bronchitis, arthritis and hypertension.
"I don't know how long I can keep doing this work," she said. "I hope graduates from my school will be able to get into the best universities in China and more girls from impoverished families can change their life with education."
(Print Edition Title: Girl Goals)
Copyedited by Rebeca Toledo
Comments to yuanyuan@bjreview.com