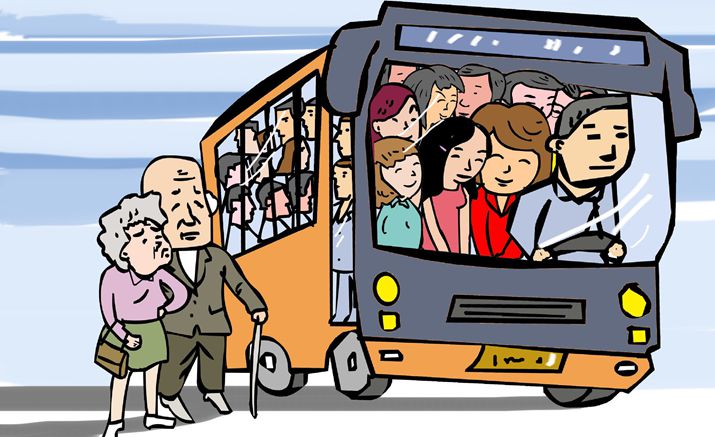 (LI SHIGONG)
For years, Shanghai residents above the age of 70 were able to enjoy free public transportation by using their ID cards to ride on buses and the city's metro system. Since late June, however, this policy has been replaced with a subsidy for people aged 65 and above. According to the new policy, those eligible can receive 75-600 yuan ($11-90) depending on their age, with 65-69 year-olds receiving 75 yuan per month and those aged 100 and older receiving 600 yuan per month.
Recent years have seen an increasing number of complaints from commuters about elderly passengers straining public transport resources—especially during rush hours.
After Shanghai announced that senior residents would become ineligible for free public transport services, the policy change triggered a sharp decline in the number of elderly people traveling during rush hours. This measure has thus been applauded throughout many cities, whose younger residents hope that their localities will also adopt the practice.
Meanwhile, some argue that cutting this benefit pushes senior residents to the wayside, claiming that the elderly should be encouraged to go out for the sake of their health. Shanghai's response is that the elderly now have more freedom to decide whether to spend the money on public transport or on other things. The previous policy, for example, did nothing to help those who did not move frequently. Such subsidies now offer them more options, demonstrating that the government is keeping up with the times in terms of how to take care of the old.
A considerate change
Free public transport for the elderly is a common practice in many cities throughout China. Superficially, it is a reflection of the traditional concept of respecting and caring for the elderly, but it is actually squeezing the already limited public resources available and is economically inefficient. It can only add more pressure to strained public transport systems as more and more people age. For this reason, support was raised several years ago in favor of canceling this measure.
Tang Jiachen (Beijing Times): If a service is offered free of charge, this may attract those who don't even need it to use it. Many problems can be avoided through cash subsidies. The sharp decline in the number of elderly passengers on buses and the metro in Shanghai serves as a good example.
Despite calls to cancel free public transport for the elderly, no city dared to take action for a long time. Shanghai has set a good example for others wishing to follow suit. Of course, it is important to remember that some may be affected adversely by this new policy, so it is also necessary to help those in need.
Qiao Shan (Beijing Youth Daily): Some people have interpreted this news as Shanghai abandoning its senior residents. Some even say that this policy should have come earlier so that the elderly would not have taken up so many seats on public transport during rush hours. However, the fact is that people above the age of 65 are now receiving a monthly subsidy of 75-600 yuan as compensation for the cancellation of their free transport privilege.
Through this subsidy, the elderly now have more freedom to travel as they please by bus, taxi or other means. If they want to spend the money on food, that is also up to them. Respecting the elderly and making life easier and more convenient for them should be encouraged society-wide. Everyone is destined to become old eventually. Respecting today's elderly will help generate customs that will help future generations as they themselves age over time.
It is not only society's responsibility, but also the government's obligation to maintain this tradition. Meanwhile, it's important to point out that the methods employed to care for the elderly should always keep pace with the times. The government's services to the elderly should stay in line with society's progress. Shanghai's changes now serve the elderly in a more considerate way.
Liu Yuanju (The Beijing News): On the first day that the policy of free public transport for those above the age of 70 was rescinded, a sharp drop in the number of elderly passengers on buses and trains in Shanghai was registered. This fact implies that there is no outright demand for the elderly to use public transport frequently.
Many senior residents use public transport during peak hours in the morning because they want to buy cheaper vegetables at markets in other communities or to exercise at a faraway park. Therefore, once the service is no longer free of charge, they are apt to stop using it. As a result, many young people have appealed to their own cities' governments to adopt similar measures.
The question now is: Does this mean that the Shanghai Municipal Government is turning its back on the elderly? Of course not. Although free rides are no longer available, the local government has offered monetary subsidies to those who need to use public transport.
The merit of providing cash subsidies is that people tend to spend money on things that they urgently need, while free public transport is unlikely to meet everyone's specific needs. For example, for those old people who cannot move easily, free transport serve no purpose.
In today's big cities, public transportation is being strained by swelling populations, particularly during rush hours. Therefore, this new policy is not only beneficial to the elderly, but also a source of relief for transport systems.
Downside of subsidies
It's true that public transport should first ensure that people are able to take buses and trains during rush hours to arrive at work on time. However, the elderly also need to travel. Senior citizen benefits encourage them to travel around the city so that they can partake in more activities, making them more likely to stay healthy.
Li Shenmiao (Shenzhen Evening News): The point here is that having more healthy elderly people is a benefit to society. From this perspective, canceling their right to free public transport is not a good policy. The reason behind the previous policy is not just to cut the cost of living for the elderly, but also to encourage them to travel around.
Why has the number of elderly passengers dropped after the policy was canceled? It's not that the elderly don't need to go out, but that most of them have the habit of saving money. They like to take advantage of favorable policies, and when the policy is no longer available, they will give up unnecessary travel.
In the past, in order to encourage the elderly to use public transport at non-peak times, they were only able to travel for free outside rush hours. If senior residents took buses during rush hours, they also had to pay. This proved to be effective in relieving transport pressures and also ensured smooth transportation services for the elderly. The current new policy of offering monetary subsidies needs to be tested further.
Copyedited by Bryan Michael Galvan
Comments to yanwei@bjreview.com