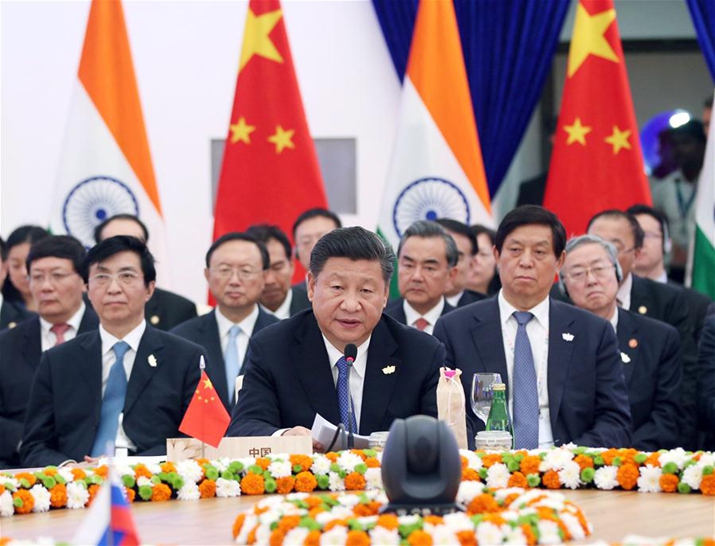 Chinese President Xi Jinping speaks at the eighth BRICS (Brazil, Russia, India, China and South Africa) summit in the western Indian state of Goa on October 16 (XINHUA)
A five-point proposal laid out by President Xi Jinping during an annual BRICS summit in the western Indian state of Goa, which concluded on October 18, will help consolidate confidence and chart out the direction for future cooperation, observers said.
The proposal included cooperative programs such as building an open world, mapping out a shared development vision, coping with the most pressing global challenges, safeguarding fairness and justice in the international community, and deepening partnerships within the emerging economy bloc.
"It is clear that China's proposal will inject new confidence and impetus into the BRICS partnership," said Zhu Jiejin, deputy director with the Center for BRICS Studies at Shanghai-based Fudan University.
China will host the ninth BRICS summit in the southeastern city of Xiamen in September 2017.
China expects to work with all parties concerned to implement the consensuses reached at previous summits, deepen their partnerships, and write a new chapter for BRICS cooperation, Xi said.
"The summit in Xiamen is seen by many as a milestone for BRICS cooperation as its members strive for strong, sustainable, balanced and inclusive global growth," Zhu said.
The International Monetary Fund said earlier this month, in its latest issue of "World Economic Outlook," that in emerging market and developing economies, the growth posted for 2016 will accelerate for the first time in six years.
As BRICS nations are leaders among emerging-market economies and developing countries, and also important members of the G20, joint efforts by these nations will help defend their interests in the global governance system, amplify their voice on global issues and restructure the world economic order, said Wang Lei, an associate professor with the School of Government with Beijing Normal University.
China's proposal
"The five-point proposal, with an emphasis on 'working together' and 'common development,' reaffirms China's stance on practical cooperation with other BRICS countries," Zhu said, adding that the proposal also outlined the cooperation direction for emerging economies over the next decade.
As a developing country, China's cooperation with other BRICS countries on its diplomatic agenda has always been a priority, with President Xi attaching great importance to the cooperation mechanism over the past years.
"Xi's remarks showed China's consistent determination to enhance cooperation with other BRICS countries, and that it is responding to the external skepticism about whether the bloc has lost sway over recent years," said Wang.
In fact, BRICS nations maintained economic growth momentum under the BRICS cooperation mechanism, with China expecting 6.7 percent economic growth while India's is expected to exceed 7 percent in 2016.
As this year marks the 10th anniversary of the BRICS cooperation mechanism, Xi reviewed the development of the bloc over the past decade, saying the BRICS cooperation platform was now an international mechanism of major influence that actively pushed forward global economic governance reform.
Since the first meeting of foreign ministers from Brazil, Russia, India and China on the sidelines of the general assembly of the UN in 2006, BRICS has offered a new path for those seeking global economic growth.
Back to 2009, leaders from China, Russia, India and Brazil held their first official meeting under the mechanism in Yekaterinburg, Russia. In 2010, South Africa joined the group, and the acronym was changed to BRICS.
At the fifth BRICS summit, held in the South African port city of Durban on March 27, 2013, Xi said enhanced cooperation with other BRICS countries was a priority of China's diplomatic agenda. "No matter how the international architecture may evolve, we should stay committed to the principles of equality, democracy and inclusiveness," he said.
On July 15, 2014, at the sixth BRICS summit held in Fortaleza, Brazil, Xi noted BRICS countries should carry forward the spirit of openness, inclusiveness and win-win cooperation, and develop a closer, more comprehensive and more solid partnership.
"BRICS countries have played a significant role in reforming the governance structure of the International Monetary Fund by expanding representativeness, moreover, they have created new mechanisms to facilitate the building of a community of destiny," said Wang.
(Xinhua News Agency October 17, 2016)