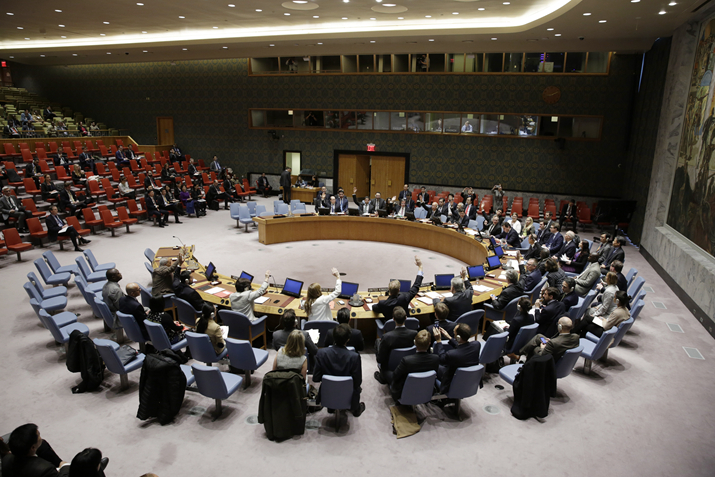 Representatives of the United Nations Security Council member states vote unanimously to adopt Resolution 2321 against North Korea in the UN headquarters in New York City on November 30 (XINHUA)

North Korea's ongoing nuclear and ballistic missile programs, and the consequent decision by South Korea to deploy the Terminal High Altitude Area Defense (THAAD) system, have constituted a significant challenge to peace and stability in Northeast Asia.
In view of the fact that North Korea again defied the international community's sanctions and conducted its fifth nuclear test this September, the United Nations Security Council (UNSC) strengthened sanctions against the country by unanimously adopting Resolution 2321 on November 30 after more than two months of consultation among member states.
Since 2006, North Korea and the international community have been locked in confrontation, in which the former repeatedly conducted nuclear tests against the latter's prohibition resolutions. Throughout 2016, the confrontation has escalated to boiling point as North Korea continues to press ahead with its nuclear tests, which unsurprisingly led to a new wave of denouncement and sanctions from the UNSC.
On March 3, the UNSC adopted Resolution 2270, imposing harsh economic sanctions against North Korea which aimed to cut off funds for the development of its nuclear weapons and ballistic missile programs.
Even though Resolution 2270 carried some of the toughest measures against North Korea, it failed to deter Pyongyang from pursuing nuclear capabilities. In less than 10 months, North Korea detonated its fifth nuclear bomb and fired two dozen missiles, causing great concern in the international community.
New resolution needed
To deal with North Korea's nuclear provocations is not easy. The member states of the Security Council have adopted different approaches, but no results have been achieved.
From the perspective of China, which is North Korea's largest trading partner and immediate neighbor, the sanctions should be precisely targeted at crippling North Korea's capability to develop its nuclear and missile weapons, rather than at harming the livelihood of North Korean citizens.
But from a U.S. point of view, fermenting the public's discontent with the economic hardship caused by the sanctions would force the North Korean leader to think twice about his nuclear ambitions.
The different approaches, coupled with other factors, prevent the UNSC from taking swift action. It took 82 days for the UNSC to work out its differences and pass Resolution 2321, marking the sixth round of sanctions against North Korea.
In comparison with the previous resolutions, Resolution 2321 tightens sanctions against North Korea in more ways. It puts a binding cap on North Korea's coal exports. The state can sell no more than 7.5 million metric tons of coal a year, or earn no more than $400 million in sales (whichever is lower) effective from January 1, 2017. This decision will certainly inflict additional pain on North Korea since coal exports, which account for about a quarter of its total foreign trade volume, will be slashed by more than 60 percent or about $700 million in 2017 compared with the amount in 2015.
In addition to coal, gold, titanium, vanadium and rare earth metals that have already been banned for export, copper, nickel, silver and zinc have been added to the list, while the export of statues has been banned too. These measures, also aimed at drying up North Korea's revenue sources, will further reduce its capability to earn hard currency overseas.
Resolution 2321 does not carry significantly new measures against North Korea. Only one aspect stands out: It contains specific clauses for supervising coal exports. Each member state that procures coal from North Korea should notify the UNSC 1718 Committee on the volume of such procurement. This clause will improve the transparency of coal trading between North Korea and UN member states.
Such an addition helps to settle disagreements over the livelihood issue among key members of the UNSC. It may become a template for sanctions against any individual state which violates UNSC resolutions. If North Korea continues to carry out nuclear tests in the future, the UNSC may expand the binding cap to other items critical to North Korea's trade, such as labor or crude oil.
One issue leads to another
In the wake of North Korea's fourth nuclear test, South Korea decided to deploy the THAAD system on its territory, which China and Russia believe will threaten their national security and undermine stability in Northeast Asia. The dispute over the THAAD deployment has affected relations between China, South Korea and the United States.
Nonetheless, while the THAAD issue remains unsettled, it is hoped that China and the United States could shelve their dispute and forge common ground in their dealings with North Korea's nuclear ambitions, despite a time-consuming and painstaking negotiating process. Passing Resolution 2321 clearly sent a strong message to the world. Even though UNSC member states may have their differences with regard to certain proposals, they remain unswerving in their joint opposition to North Korea's nuclear and missile provocations and their commitment to the denuclearization of the Korean Peninsula. In the meantime, the reckless build-up of its nuclear arsenal will not be tolerated and the country will have to bear grave consequences. It is also a testament to a united front among major countries in the UNSC, despite their differences.
Other options?
It is natural that the international community stands up to North Korea's nuclear and missile provocations, but it must be emphasized that this issue is not new and has complicated the security situation in Northeast Asia for a long time.
The United States once tried to deal with the problem on a bilateral basis by using sticks and carrots as embodied in the 1994 Agreed Framework. However, the absence of mutual trust between Washington and Pyongyang led to the failure of this approach.
Beginning in 2003, China hosted and chaired six-party talks (among China, the United States, Japan, Russia, South Korea and North Korea). Though some progress was made, these talks were suspended due to North Korea's second nuclear test in 2009.
Since then, the international community has had to adopt an increasingly tougher stance in response to repeated nuclear testing in order to pressurize North Korea. This defensive and incremental approach is not necessarily wrong, but it is far from creative. If history serves as a guide, there are hardly any cases in which heavy-handed pressure alone forced a unilateral concession in any major international dispute.
The UNSC sanctions might hurt North Korea, but they also serve to toughen the country's resolve to develop nuclear weapons. In response to Resolution 2321, North Korea claimed "the 'sanctions resolution' that denied outright the sovereignty of the DPRK and its rights to existence and development will trigger off its tougher countermeasures for self-defense."
As North Korea rapidly tries to obtain nuclear warheads, the international community needs to be determined to put up a real diplomatic fight. Simultaneously, an exit option, with a bigger carrot that can persuade North Korea to reconsider its actions, should be planned. It is time for the international community to dish out these carrots: For starters, the United States could try to arrange a peace treaty which North Korea desperately needs.
The author is an associate professor at the School of International Studies, Renmin University of China
Copyedited by Dominic James Madar
Comments to liuyunyun@bjreview.com