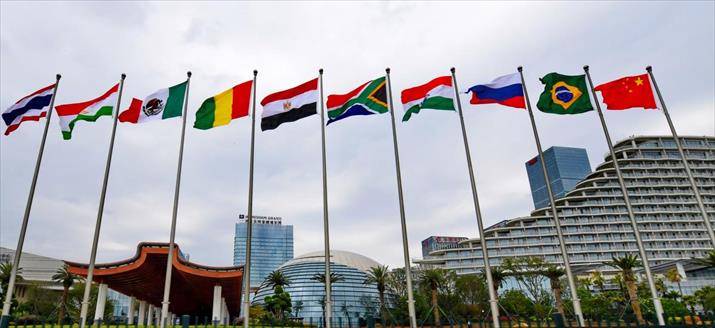 This year's BRICS summit includes five leaders from other countries in addition to the BRICS' heads of state (XINHUA)
Editor's Note: From an economic idea to a cooperation platform for major emerging economies, BRICS has drawn worldwide attention over the past decade. During the Ninth BRICS Summit in Xiamen, Beijing Review and China Today interviewed ambassadors and scholars from both China and abroad. The following are edited excerpts of what they had to say about BRICS:
Some say BRICS is just a round table for talks because it has no binding rules for members or mechanism to take unified action as a whole. Some Western media even predict the decline of BRICS. What do you think of BRICS?
Liu Zhiqin, Senior Fellow, Chongyang Institute for Financial Studies, Renmin University of China: The increasing mutual trust between BRICS members has promoted their cooperation and exchanges. The BRICS group has become a new model of multilateral cooperation on common development.
In Chinese, BRICS is not merely a set of bricks; we Chinese add the adjective "golden" to describe the bricks, which reflects China's positive expectations for cooperation ties. Gold can endure over time. China hopes BRICS cooperation can withstand various difficulties and challenges. Therefore, BRICS countries must maintain unity and be candid to each other. In this way, they can push their common development to a new height and better promote the reform of world economic governance.
As a Chinese saying goes, unity is power. BRICS must maintain a stronger partnership to tackle challenges in a changing world.
He Wenping, Professor and Director of African Studies at Institute of West-Asian and African Studies, Chinese Academy of Social Sciences: BRICS serves as a good platform for major emerging countries to have their say on global economic governance. There have been various views since the cooperation mechanism was established. Media outlets, especially those from the West, take a pessimistic view of the future of BRICS. They overlook BRICS members' efforts to undertake reforms in their domestic economies.
In the face of challenges, BRICS countries have put forward new development strategies. For example, China launched the Belt and Road Initiative to promote broad international cooperation on common development. Russia is building the Eurasian Economic Union. South Africa announced its ocean development strategy. China's Belt and Road Initiative is well received by countries across the Eurasian continent, Southeast Asia and Africa.
Georgy Toloraya, Professor of Economics, Moscow University of International Relations, Executive Director of Russian National Committee on BRICS Research: All five BRICS countries hope to reform and improve the current global governance. Over the past 10 years, BRICS has signed many documents and action plans. The five countries are implementing cooperation at the level of over 35 governmental departments or sectors.
It needs to be pointed out that BRICS is not a framework for economic integration. BRICS countries are different in national conditions, political systems and geographic environments. They are also in different phases of development. Diversification is one of the most unique features of BRICS. So it is natural that they have different ideas on some issues. But, the key to BRICS' success is that all parties pursue common interests on the basis of dialogue and consultation. Even complicated disputes and contradictions shall not hinder the five members from discussing action plans that are good for all.
What efforts should BRICS states make to enhance their cooperation in the future?
Liu Zhiqin: A sound bilateral relationship will better serve BRICS' growth.
In particular, I believe the China-Russia relationship is an important pillar of BRICS. The two nations should expand their economic and trade cooperation, providing driving force for BRICS' development. In 2016, trade between China and Russia reached nearly $50 billion. Both Chinese and Russian leaders vowed to make the bilateral trade reach $100 billion by 2020. Such an ambitious target shows their strong confidence in bilateral cooperation. This is also a positive signal for BRICS. Closer China-Russia ties have been important for the healthy development of BRICS in past years.
Furthermore, BRICS should strengthen its voice to maintain world economic order, including on the World Trade Organization (WTO) rules for solving trade disputes. Today, some developed countries are inclined to resort to protectionist measures in trade disputes. All BRICS countries have suffered discriminatory policies by the West, which have intensified unfairness in the world trade system. So, BRICS should unite to say no to such unilateral actions.
He Wenping: BRICS countries have respective advantages in deepening industrial and technological cooperation. As we know, China is making rapid progress in nuclear energy, aerospace, computing and manufacturing. Russia is a world power in heavy industry. Brazil is developing its own aircraft manufacturing industry. India is called "the office of the world," famous for abundant IT and management human resources. South Africa is a financial center in Africa. All these five countries consider how they complement each other's advantages. In fact, there are still wide gaps for them to fill even though they have signed many intergovernmental cooperation documents.
Some may be over-optimistic about BRICS cooperation in putting forward the proposal to build an economic union. I think this is too early to consider. Currently, BRICS should work hard to deal with their economic problems first and then explore more ways to improve global governance for the interests of developing countries.
Georgy Toloraya: BRICS now should implement cooperation on the New Development Bank (NDB) and other economic collaboration strategies that they have reached. Currently, the trade between China and the other four countries is much bigger than the trade between the four countries themselves. For the healthy development of BRICS, its members must truly and effectively participate in multilateral cooperation in the future.
The NDB is the first major organization arranged under the BRICS framework. In the aspect of finance, politics or strategy, the NDB is a good attempt to supplement current global financial institutions, as it aims to meet the needs of developing countries.
China has proposed to expand the dialogue between BRICS and other developing countries. What implication does the BRICS Plus proposal have for BRICS? What opportunities does it bring to other developing countries?
Yaroslav Lissovolik, Chief Economist of Eurasian Development Bank: The state leaders of Egypt, Guinea, Mexico, Tajikistan and Thailand were invited to attend the Dialogue of Emerging Market and Developing Countries. In the past, the host nation of the BRICS Summit would invite neighboring countries to a meeting as a means to implement the idea of BRICS expansion. China this time enlarged the circle of friends from the local neighborhood to the whole world.
It is necessary to point out that BRICS Plus doesn't mean the simple expansion of the group's members. BRICS hopes to expand cooperation with more developing countries. The idea of BRICS Plus will help developing countries find new ways to reach international cooperation. The mechanism of BRICS Plus can become a new platform to promote South-South cooperation and dialogues.
Each BRICS member is also a member of other cooperation organizations like the Shanghai Cooperation Organization, Eurasian Economic Union, South American Common Market, Southern African Development Community and South Asian Association for Regional Cooperation. All members of these regional organizations could develop widespread partnerships with BRICS. So, BRICS Plus could establish links with other mechanisms and organizations consisting of developing countries and eventually promote South-South cooperation globally.
Furthermore, BRICS Plus is helpful to reconcile regional organizations and multilateral arrangements in world economic affairs. Through expanding its partners, BRICS will boost a new round of globalization and create a new model for the world's multi-polarization and cooperation between civilizations.
Ali Asghar Khaji, Iranian Ambassador to China: Since its founding, the BRICS cooperation mechanism has represented a new cooperation concept and played an important role in raising a voice in the international community on behalf of the developing world. The Iranian Government showed its support for the BRICS Plus proposal when it was first put forward. As an important developing country in the region of North Africa and West Asia, Iran is poised to strengthen its cooperation with China under the frameworks of the Belt and Road Initiative and BRICS Plus. In addition, we also hope China as a leading developing country can play a bigger role in advancing cooperation among developing countries on such aspects as economy, security and social development.
Leela Mani Paudyal, Nepal's Ambassador to China: BRICS, as an economic platform, engages with more and more developing countries that have opportunities to benefit from the economic development of BRICS countries. We're quite optimistic about that. That would provide a good opportunity and prospects for countries like Nepal. We'll find more markets for our products, and we'll benefit from the capabilities that BRICS countries have. We'll see opportunities to share the technological advancements they've made. So, we'll also be able to give our economy the new technology they developed. It would be a new opportunity for countries in the region, particularly developing countries.
Gonzalo Sabate, Vice Ambassador of Argentina to China: For Argentina, it would be a good thing to be involved with BRICS. We're in the G20. We'll organize the G20 Summit next year; China did the G20 last year. We're at the appropriate level of development to be in the BRICS group.
Copyedited by Chris Surtees
Comments to baishi@bjreview.com