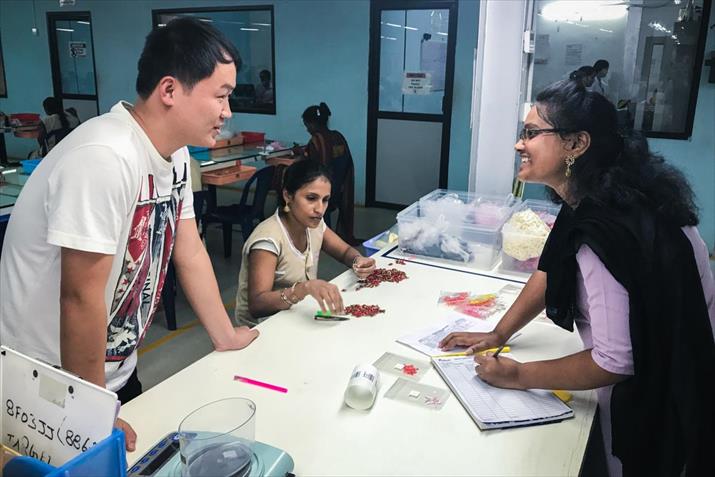 Chinese and Indian colleagues discuss production details at the Indian branch of Chinese accessory supplier Yaoming Zhidai in the city of Visakhapatnam on July 31 (XINHUA)
In Sino-Indian trade, India is most conspicuously known for being a huge market for electronic goods manufactured by China. Of course, that's not all that China exports to India—there are also organic chemicals, boilers, milk, fuel and oil.
In 2014, China edged out the United Arab Emirates to become India's largest trade partner. By 2015, China already accounted for 15.8 percent of all Indian imports, adding up to a total of $61.5 billion. This means that, bilateral political climate aside, the Chinese and Indian economies are inextricably linked to each other.
Trade is only one of the ways money moves between countries in the modern world, though, and it's a second route that's been gaining momentum of late: private equity and venture capital.
In 2015, Chinese companies collectively invested $3.38 billion into Indian startups. This period marks an inflection point in economic relations between China and India. No longer content just to supply goods to India, China now wants to place bets on India's growth. Chinese tech giants have invested more in Indian startups in the last two years than they did in the entire preceding decade. Is this sudden interest an anomaly or a trend?
Tracking the deals
Barring a few exceptions, most of the funding coming from Chinese tech giants into technology-based Indian startups in the past two years has been in the mobile, transportation, e-commerce, ad-tech, pharma and energy sectors.
In September 2015, Alibaba invested $680 million in One97, the parent company of Paytm, a popular Indian mobile payment app that consumers can use to pay utility bills, book movie tickets, flights and hotels, and even do their shopping. Later, in collaboration with Taiwan-based Foxconn and Japan's Softbank, Alibaba also invested $500 million in Snapdeal, a popular online shopping portal that competes with Amazon India and local competitor Flipkart.
Tencent is the other tech giant that has made multiple strategic investments, starting with $120 million in Practo, an app that aggregates information about doctors and diagnostic labs in India—much like a search engine for medical services. The second investment by Tencent in partnership with Foxconn was worth $175 million, for Hike, an Indian messenger app that competes with WhatsApp, Telegram, and other mobile instant messaging apps.
These initial investments by Alibaba and Tencent started a veritable chain reaction of funding that has since carried over to other industries as well.
Chinese ride-hailing company Didi Chuxing, known best for beating Uber in China, invested $900 million in Indian cab-sharing company Ola, in an attempt to further break Uber's monopoly and extend its own global dominance by teaming up with Lyft and GrabTaxi.
Then, last year, communications company Miteno Communication Technology acquired Media.net, an Indian ad-tech company, for $900 million. Started by serial entrepreneur Divyank Thurakhia, Media.net is a popular display ad network that competes with the likes of Google, AOL, Yahoo and many others in the online advertising space.
So far, though, the biggest completed deal has come from Shanghai Fosun Pharmaceuticals, who put in an unprecedented $1.27 billion to acquire a majority stake in Indian pharmaceutical company Grand Pharma.
More than just money
All these deals, completed between 2015 and now, represent the larger chunk of investments that have rolled in. All of those that have received the most media attention, as you may have noticed, have a minimum deal size of $100 million. Needless to say, there are many other, smaller deals happening much more frequently.
"It's not just about big Chinese players hedging their bets on the biggest firms in the Indian ecosystem. While PayTm and Ola are solid examples, things like Fenqile funding KrazyBee for microcredit operations slip under the radar," said Anmol Soin, founder of the Initiative for Policy Research and Analysis. "It's not just about how the money can help them move ahead. With technological know-how, customer analysis, use cases and digital infrastructural support, the big Chinese players can accelerate the growth of much smaller Indian firms," he added.
One of the main reasons for this surge in interest is that Chinese giants want to replicate their own models of success in the nascent Indian market, where things are just beginning to gain traction in the world of startups.
For instance, Alibaba is not only bringing in its money when it invests in Paytm and Snapdeal, but also its expertise from its e-commerce operations in China, where it handles business for over 25 million unique visitors each day on its website. So, in a sense, both these startups operate in spaces that are familiar territory for Alibaba.
For Tencent too, the reasons for investing are somewhat similar. The landscape is familiar, and India has a huge and growing base of data-connected mobile users. In addition, services that already have some traction are only expected to grow in size and revenue in the future.
Didi Chuxing has its own reasons, and the investment works for them on so many levels: They gain a slice of the Indian private transportation market, they can assist Ola with the technology they've built and the business practices they've learnt in China—and, last but not least, the arrangement helps Didi Chuxing build a network strong enough to rival Uber.
Another reason behind the general trend of increased funding is that traditional means of investment just don't promise the same kind of returns as a successful startup venture—at least in theory. The idea is to catch them young and capitalize on the exponential growth. There are, of course, no guarantees, and the risk is higher, but so is the reward.
A prominent Singapore-based investor said, "A lot of Chinese investors that I know believe that the tech market in China is overvalued, and they're already exposed to Silicon Valley too, whereas in India you still have the scale but not the valuation. Another reason for this inflow is that, historically, Chinese firms have never really made a lot of money in India, and generally, tech has a cleaner image in terms of less corruption and more efficient dealings with the government, so this may be the best place to start making inroads here."
Traditionally, language has been one barrier that has impeded business collaboration between the two countries, but that seems to matter less and less now as both sides understand the scope of business and opportunities.
No signs of slowing down
It's not just that the money is coming in; that's only half the story. The other half is about the increasing acknowledgment of and support from stock exchanges and regulatory agencies, and new initiatives aimed at making it easier for Chinese investors to fund Indian startups.
The Shenzhen Stock Exchange is the largest stock exchange in China, according to trade volume. This April, it announced that it was creating a platform called The Tech 2.0, with the aim of helping Chinese investors to fund Indian technology-based startups.
The platform will help with decentralizing information, and will more seamlessly connect Indian startups with private equity and venture capital investors in China. There are platforms such as Let's Venture and Equity Crust in India that enable venture funding, but they're outside the purview of regulatory authorities.
Back in 2014, the Securities and Exchange Board of India proposed a platform similar to the Shenzhen Stock Exchange, but it failed to take off due to a lack of takers and traction. The landscape has obviously changed in the last few years, and Shenzhen is now even open to partnering with Indian exchanges.
In addition to support from exchanges and regulatory agencies, ground investor initiatives are also picking up the pace. In March this year, the Chindia TMT Dialogue Conference organized by Chinese accelerator and venture fund ZDream saw 40 Indian investors and entrepreneurs travel to China and visit companies like Alibaba, Baidu, Xiaomi, Tencent and Huawei in order to better understand the country's business climate.
As the two largest economies in the Asia-Pacific region, there is immense potential for strategic collaboration outside of trade for China and India. For decades, Chinese investors seeking to invest in the information technology, agriculture and pharmaceutical sectors in India have been thwarted by the political barriers that exist between the two nations. Fortunately, the last two years have gone some distance in showing that market economics does not necessarily subjugate itself to politics.
Increasing interest from Chinese investors, the growing startup culture in India, and support from regulatory agencies are factors that are finally coming together to ensure that this trend is only moving upwards. n
The author is a writer and marketer based in India
The article first appeared on the China-India Dialogue magazine
Comments to yushujun@bjreview.com