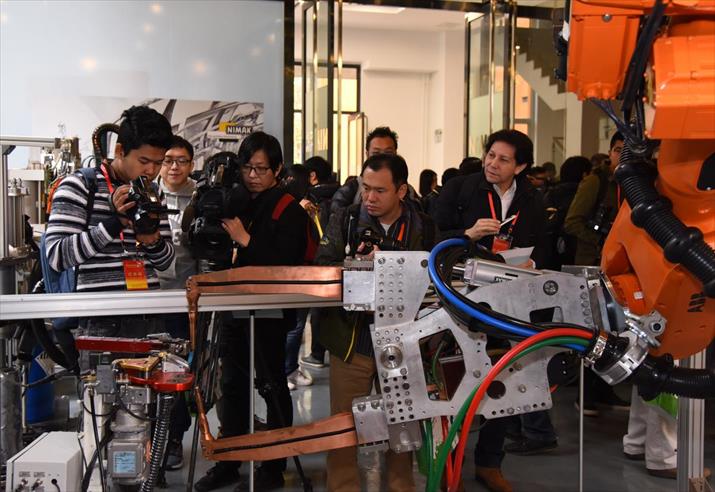 Journalists watch automatic welding performed by an industrial robot produced by a factory of German company Nimak at Xianghe Robot Town, home to a cluster of industrial robot technology companies, in Hebei Province on October 21 (JIN ZHICHAO)
The 19th National Congress of the Communist Party of China (CPC) attracted 1,818 journalists from abroad to cover the event in Beijing on October 18-24. Most of them have been based in China or visited China on several occasions. They have witnessed the changes of Chinese people's lives in the past five years. What topics are they most interested in? What has impressed them the most? Some foreign journalists shared their views with Beijing Review reporters Li Fangfang and Yuan Yuan. Here are some excerpts of their remarks:
People's livelihoods
Peter Arusi, South Sudan TV
The most interesting part of my China visit is [seeing] how China meets its people's needs. People are happy and satisfied. China is trying to alleviate poverty, to bring poor people up to a certain level.
Carlos Penaloza, Director General of Radio Internacional, based in Spain
I'm very impressed by the report delivered by General Secretary [of the CPC Central Committee] Xi Jinping, particularly the part about making people's lives better and better in the following three decades.
Chinese people have left me with deep impressions. They have a positive attitude toward life and hold high expectations for the future and for the country. They have supportive social welfare, and children live a peaceful life.
Meanwhile, senior people also live a good life here, which could probably be a driver of China's rapid development, because seniors represent wisdom. We should take good care of senior people and set up a role model for our children. Thus people will have a strong sense of belonging to the country and will pass it down to the next generation.
No matter what a country's system is, the key issue is whether people are happy or not.
Diego Vinicius Martins, China correspondent with Iberia Internacional, a Brazilian media house
China's technological development makes people's lives more convenient. If you have an account on [the social media app] WeChat, you can buy something to eat and book train tickets. The first time I heard about WeChat in Brazil, I saw it as a copy of WhatsApp. But when I arrived here, I found it's not a copy because the features of WeChat are different; you can do more things.
All the achievements [in the past five years] are due to the leadership of the CPC as well as the uniqueness of China's system. The banking system is different in my country. In Brazil, we have private banks and state banks, but they never talk to each other. There's no such thing as a service like the WeChat wallet, where it's not important whether I know the other person, I can just pay them.
Socialist system
Peter Arusi
In the past, other countries have tried unsuccessfully [to sustain socialism]. With China, I believe putting Chinese characteristics into socialism has really changed the picture and definition of socialism in general; you can no longer define socialism as in the past, because it has been transformed.
China's global presence
Diego Vinicius Martins
I'm impressed by the "new era," when China is going to have more presence in the world. Now I think the big question is not can China do this, but how can China do this.
Ernst Herb, Asia Correspondent with Economic Business Press, based in Switzerland
China is a big economy, and that's why it's very important for the whole world. At this congress, many important things were discussed, and probably some policies that will affect the global economy will be implemented. That's why we, as journalists from outside China, are very interested in this event.
Cyprien Kapuku, Le Potentiel newspaper in the Democratic Republic of the Congo
The congress is of great importance to the world. China now has the ability to promote global common development. That's the reason why a large number of overseas reporters came to Beijing to follow and report this event.
Jack Mwewa, Times of Zambia newspaper
China has made great achievements in past years, and the ties linking China and Africa have been tightened a lot as well.
Now in Zambia, people are eager to hear news about China, and many have started learning Chinese and Chinese culture.
Bereket Sisay, Ethiopian News Agency
In Africa, the image of China is always connected with construction and trade, as China has undertaken many construction projects and [done lots of] business in Africa. The cell phones we use in Africa are mostly from China.
Abdul Gombe, Leadership newspaper in Nigeria
We can hear a lot of news about China in Nigeria, but most of it is about the big picture, such as government policies. The speech made by General Secretary Xi Jinping also drew a big picture in various aspects.
Points of interest
Diego Vinicius Martins
We think politics is less important than the economy, but China is different. First you have to think about politics, and then about the economy. So when you have decisions made at the Party congress, they are going to be reflected in the economy. The important thing is whether [China's] politics is going to create economic opportunities or challenges for Latin American countries.
My biggest mission here is to explain how China's politics works, how the congress works and its importance to Brazilian people and our economy.
Ernst Herb
I'm particularly interested in the investment climate in China. I'm impressed by some of the projects I have seen here.
Cyprien Kapuku
Nowadays, African people know China for its economic growth. But we journalists should present the leadership of the CPC, as the achievements in the past five years are inseparable from the outstanding leadership of the CPC.
African countries attach great importance to this congress, and we hope to see more actions to further strengthen [our bilateral] relationship.
Jack Mwewa
For the achievements that China made in the past five years, I'm very interested in the anti-corruption campaign and the poverty alleviation program, especially the latter. China has lifted more than 60 million people out of poverty in the past five years. This is really a big thing.
Bereket Sisay, Ethiopian News Agency
General Secretary Xi Jinping said in his report [at the opening session of the 19th CPC National Congress] that by 2020, China will lift [another] 40 million people out of poverty. What measures China will take to accomplish this goal within three years, and what Africa can learn from this in poverty alleviation, are of great interest for us.
I also want to know what economic policies China will take in the following five years to maintain the robust GDP growth. At the same time, Xi mentioned many times that "beautiful scenery is [like] gold and silver mines." So, how will China both protect the environment and develop its economy?
Abdul Gombe
I am more interested in the lifestyle of ordinary people in China, such as how they find their wife or husband, how they bring up their children, how they find a job, what is their social life like, etc. It is true that we can get such news from the media in Europe and the United States, but we want to access this from our own perspective.
I am specifically interested in talking with young people, especially college students, about their ideas and vision for the future. I am curious about the enrollment of young people in the government. I hope we can have more exchanges at this level in the future.
Chand Manish, India Writers Network
I have been to China many times. China is now a large economy that so many countries in the world are linked to.
The 19th National Congress of the CPC has laid out a plan for China's development. The world is watching for the policy changes and messages from the congress. This is very important for the world.
I am very lucky to get a close view of the congress this time. Xi launched a fight against corruption in the past five years and made remarkable achievements in this regard. Corruption is a problem for many Asian states. How he tackled this problem can be a lesson for other Asian countries.
Copyedited by Chris Surtees
Comments to ffli@bjreview.com