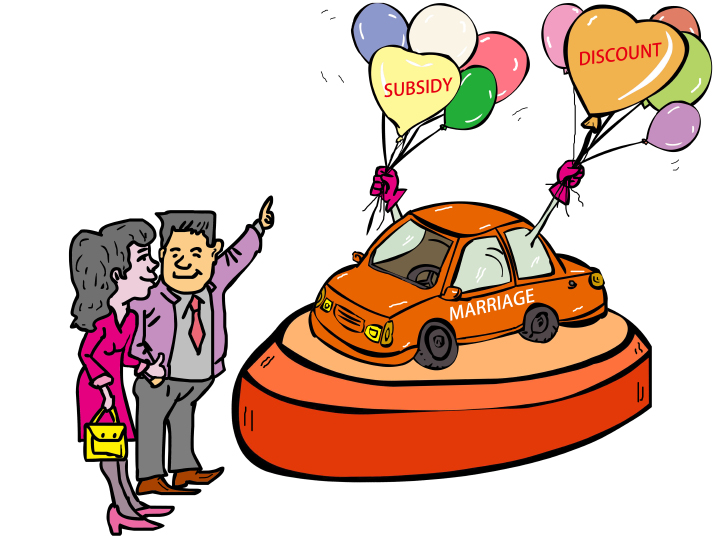 (LI SHIGONG)
Every gram of gold will be subsidized by 3 yuan ($0.48), purchase of every car will get 500-yuan ($79.41) cash back and wedding photos now enjoy a discount of 5 percent. These discounts make up part of the marriage subsidy provided to newly married couples in Taiyuan, capital of north China's Shanxi Province.
An organization affiliated with the China Association of Social Workers (CASW) recently announced that it plans to provide 95 million yuan ($15 million) in the form of cash incentives to newly married couples. Since last June, more than 1,000 couples have received this kind of subsidy for weddings.
Although many observers doubt how much the marriage subsidy can relieve the expensive cost of weddings, the topic has attracted a lot of attention, as people are choosing to marry later and to have children later for various reasons.
How to make marriage appeal to the younger generation and relieve the problems associated with low nuptiality, such as a sharply declining birth rate and its negative impact on economic growth, has become a critical issue in today's society.
Encourage marriage
Fu Qing (Nanfang Daily): Nowadays, the number of people choosing to start a family late is on the rise. Despite targeted policies such as the universal two-child policy, the cancelation of holiday for couples who marry and have children late, and the extension of maternity leave, the expected baby boom has not arrived. There are two main reasons for this. The number of women at child-bearing age is declining and the number of people choosing to marry and have children late is growing. Marriage, which is regarded in China as the precondition for giving birth to a child, is faced with many challenges.
Opinions on marriage are becoming diversified today. Young females are becoming more economically independent than before. Consequently, getting married around 30, which used to be considered late, has become a common phenomenon. Mounting social pressures have also cast a shadow across marriage. A large number of Chinese parents lose their personal freedom and capacity for fun in order to support their children's education and development. And although some young people are in fact eager to get married, the lack of house or car, which are seen as the basic conditions for marriage in most parts of China, makes matrimony unattainable for this group too. After all, weddings cost a lot.
Favorable policies will help to boost the birth rate, but they are incapable of motivating young people to get married earlier. The marriage subsidy aims to embolden the young to do so.
Lu Yemei (Eastday.com): The marriage subsidy is good news for young couples particularly because it will help to provide a decent wedding.
Besides, it's reported that this subsidy is not provided by the government, but by a certain marriage subsidy fund, with donations from private businesses. This is a positive step. Once the pilot program has proven effective, it can be implemented across the country.
More social efforts
Chu Xudong (news.hebei.com.cn): The marriage subsidy is undeniably a good method of encouraging young people to tie the knot. However, its impact is limited. The so-called subsidy is a nice token gesture, but for those families in economic difficulty, it can do little to help. Betrothal gifts, houses and cars, all of them cost tens of thousands of yuan, even millions.
Weddings should be conducted in accordance with couples' economic situation. If they are rich, they may choose pomp, but if they are not, they should find a frugal way of holding the event. The most important thing is the love between the two young people, not an expensive celebration.
But is it really money that has prevented the marriages of so many people? Actually, in many places, local customs dictate that weddings must be held in a luxurious way. Many young people have picked up these cultural ideas. They believe that it is shameful if they don't have an extravagant wedding.
To encourage marriage, a subsidy is not enough. Young people must also be encouraged to change their thinking on marriage and try not to be misled by the worship of money.
Hu Siyuan (The Beijing News): Young couples can apply for a marriage subsidy that is operated in accordance with market rules. This system is being practiced in Shanxi Province and is obviously more feasible than subsidies from the government.
However, compared with the countless expenses of getting married, this subsidy is of more symbolic significance than real economic benefit. Nowadays, weddings and their associated costs require a lot of money. Sometimes it is these expenses that deter young people from getting married. In this sense, the marriage subsidy acts as a kind of encouragement.
Rocketing house prices and the pressures of work as well as all kinds of administrative burdens which must be undertaken after having a baby are discouraging young people from getting married. More and more people now choose to get married late.
Willingness to have children is also diminishing. The universal two-child policy launched in January 2016 has so far failed to reverse the decline of the country's birth rate. Actually, in metropolises like Beijing and Shanghai, the birth rate is much lower than the international level. Negative demographic results from a low birth rate might even slow down social modernization.
It's safe to say that high expenses and the cost of getting married are the key reasons for the younger generations' choice to marry late and in some cases relinquish the idea of family life. To rectify the current situation, it is crucial to lower the cost of getting married and having children. Therefore, more measures like the marriage subsidy should be welcomed.
Improve public services
He Yonghai (Yanzhao Evening News): In my opinion, the marriage subsidy is nothing but a way to encourage or force people to spend money in a certain place. The so-called subsidy is a kind of bait. While possibly benefiting some people, the marriage subsidy practiced in Taiyuan is probably just a way to boost certain businesses' profits.
In most cases, the designated businesses are not the ones that will provide satisfactory services to consumers. Most people hate this kind of consumption because it is usually opaque and connected with poor services and high charges.
In the face of changing wedding consumption patterns, young couples need to obtain real benefits. The marriage subsidy should try to distance itself from commercial operations and focus on real public welfare.
Ding Shenyi (Eastday.com): The declining marriage rate is often blamed on the heavy financial burden, but economic concerns are not the only reason. Many young people tend to marry late and are reluctant to have babies because it is difficult to get decent jobs and many can't afford the surging housing prices. In addition, children's preschool education and healthcare are also major problems. In this sense, the marriage subsidy is at most a supplement, but the biggest stumbling block to marriage is outdated public services. It is important not to be blinded by this kind of marriage subsidy.
At the same time, it is hoped that such subsidy programs will be implemented in more areas across the country. After all, it's not totally useless even though only a small fraction of young people of marrying age can benefit from it. Currently, a marriage subsidy fund has been established in five Chinese cities. However, the most important thing is supportive public services. For instance, young people should be given greater access to decent jobs and a more rational housing system needs to follow. Preschool education as well as children's welfare benefits should also be promoted to relieve the young of the material and psychological pressures related to marriage. In such a scenario, even without any subsidies, young people will once again look forward to getting married.
Copyedited by Laurence Coulton
Comments to baishi@bjreview.com