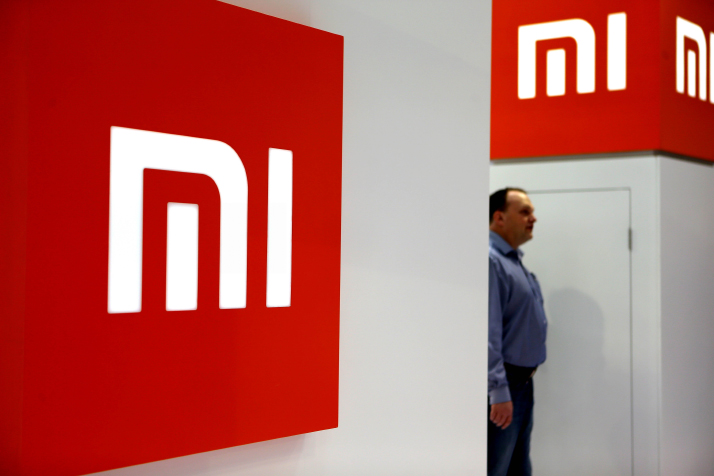 Xiaomi's booth at CeBIT 2015, a trade fair showcasing IT and communications products and solutions, in Hanover, Germany (XINHUA)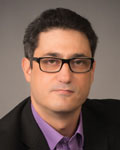 Since it was announced earlier this year that Chinese smartphone and technology giant Xiaomi was planning to go public, the tech world, investors, and those who closely follow the development of China's economy and globalization have been abuzz. There has been speculation over what this major IPO will mean for Xiaomi; for Chinese capital markets; the coming wave of new Chinese tech IPOs; and China's growing leadership, influence and role as an exporter of new technologies.
The IPO planned for the Hong Kong exchange may raise $10 billion or more and value the company at around $100 billion. It would make it the largest IPO of the year and the largest since Alibaba Group's 2014 IPO.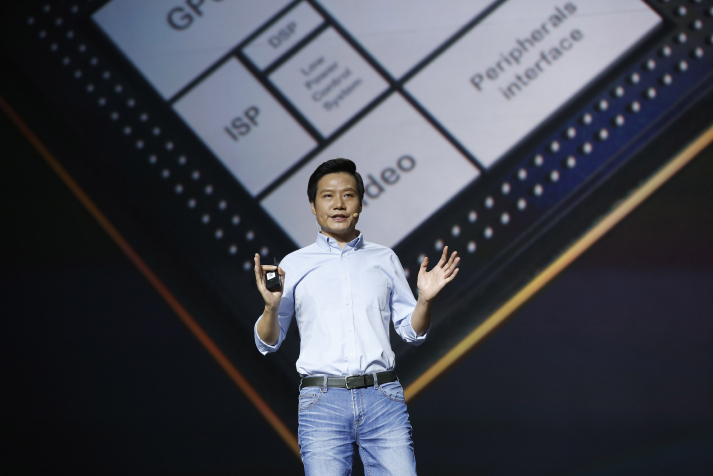 Lei Jun, Xiaomi's Chairman, speaks at a product launch in Beijing on February 28, 2017 (XINHUA)
From a grain of rice
Xiaomi was founded in Beijing in 2010 with the goal of building a homegrown Chinese smartphone that could perform at a high level to compete with popular smartphones from Apple, Samsung and others at a price point that would appeal to Chinese consumers seeking value and performance all in one package.
The company released its first smartphone in 2011 and it was an instant hit. It focused on selling phones at prices that were almost on par with the cost of the components and assembly. Another method the company used to keep prices low was to start as a digital native. It only sold via its website, thus keeping overhead low by eliminating the costs of stores and labor. The big idea for the future was that the phone, as the hardware, would be the low-cost point of entry for the long-term plan of selling apps, entertainment products, software and services.
The phones gained market share at an almost unbelievable rate. Xiaomi became the No.1 smartphone seller in China in 2014. In the ensuing years, Xiaomi established itself as a major player in the smartphone world, producing dozens of new phone products and offering services across a wide variety of categories. It is currently the No.4 smartphone maker in the world and in addition to the frequently updated series of phones, Xiaomi produces tablets, laptops, apps, wearable cameras, software, e-commerce services and even a drone with a 1080p 4K camera.
In recent years the company has been recognized by respected publications and organizations for its commitment to innovation.
In 2015, it was listed No.2 on the "50 Smartest" in the MIT Technology Review, which noted that "the fast-growing smartphone vendor is maturing beyond its original 'cut-price Apple' model with ideas like flash sales over its mobile messaging platform." Xiaomi was recognized as No.3 on the list of Most Innovative Companies in 2014 by Fast Company "for reinventing the smartphone business model in the world's largest mobile market." That same year, Xiaomi was No.35 on the list of the Most Innovative Companies put out by The Boston Consulting Group, a global management consulting firm.
Rise, fall, rise again
But these high-flying good times came to an abrupt end. Over the course of 2015 into 2016, Xiaomi dropped from being the No.1 seller of smartphones in China to No.5 and lost market shares to bigger and more global brands as well as new local startups. One pundit opined that Xiaomi had gone from being a "unicorn" to a "unicorpse."
A combination of slumping sales overall in smartphones due to peak penetration; bumps in the company's supply chain, services and apps that did not function to peak performance; plus new competition and less-than-expected sales in services, had the company on the brink of irrelevancy and failure.
However, the company used the moment of crisis to rethink and reset the strategy for the future. The three pillars of the new strategy are:
• Services. The aim is to design, rollout and sell services at an accelerated pace. This now includes offering consumers thousands of movies, TV shows and other live video content, gaming, and a micro-lending service, among others.
• Stores. Opening stores became a new focus. In line with the New Retail and O2O (online to offline) models being pioneered by Alibaba and JD.com, Xiaomi stores focus on experience as much as on products. Realizing that buying phones or Xiaomi TVs was a low frequency event that did not keep people coming back, the company built stores that offer a huge array of tech peripherals, related products, experiential brand touchpoints and new market-demand-driven products such as its "connected" air purifiers, which only took two months to become the No.1 seller in China. The stores also feature fitness devices, games, smart rice cookers, pillows and smart home devices. By offering services, experience, connectedness, tech-driven shopping experiences and new hardware and software, the company now has the makings of its most important turnaround play—building an ecosystem.
• The Xiaomi ecosystem. In a New Retail world, as Alibaba's Jack Ma puts it, "the combination of online, offline, technology and logistics for a single value chain" is critical to success at home and abroad. Xiaomi has embraced the idea that it must build its own ecosystem.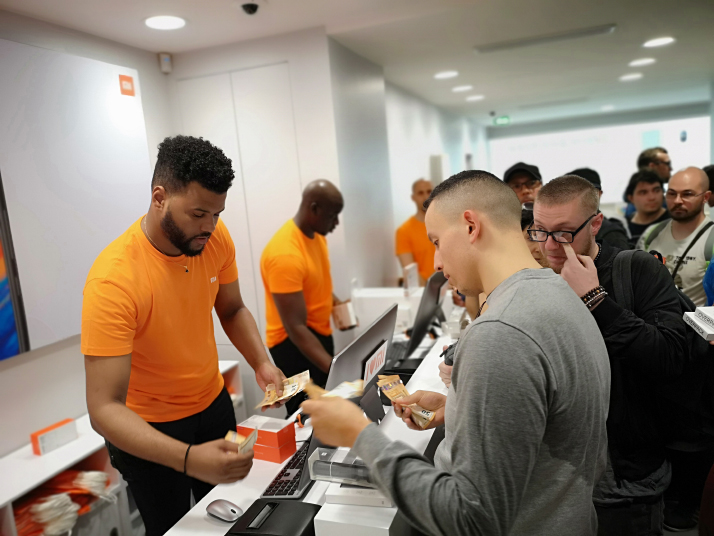 Customers purchase products at a newly opened Xiaomi store in Paris on May 22 (XINHUA)
Worth $100 billion?
The story of the rise, fall and rise of Xiaomi is at the heart of the differing opinions about the potential for a successful IPO and long-term success for the company as it tries to compete with the established titans of technology, telecom, retail and entertainment in China, and eventually globally.
There are critics of the "New Xiaomi" and its claims to a higher valuation. Many say that it still has to "earn its way" into such a large valuation, that the razor-thin margins on hardware (which still account for 80 percent of its sales) have not yet produced compensating margins and profits in services and that there is a hype machine setting unrealistic goals for the IPO.
However, what is positive about Xiaomi's upcoming IPO and its future is that it has reshaped the company by:
• Building a connected hardware, software, services and New Retail model for business;
• Making innovation, customer centricity, customization and customer contribution central to its mission, with an especially unique fan base that is directly involved in helping the company design new products, add features and come up with fixes; and
• Focusing on globalization and utilizing a suite of components, technologies and services that are transferable to overseas markets.
With that said, it is hard to say at this point how the IPO will be priced, whether it will be over or under priced in the long run, and where it will land after the first days of trading. But the upside is that Xiaomi is based on global expansion, a huge patent portfolio, a budding ecosystem and some of the most loyal and engaged fans/consumers in the world.
Where, when and why to list
Xiaomi built its reputation, perceived market valuation and potential capital raise on the strength of its commitment to innovation, focus on technology, a strong ecosystem and the development of a loyal and involved customer base.
We can view the excitement surrounding the potential offering as a sign of justified optimism of what is to come from Chinese company IPOs in 2018.
One challenge that well-funded Chinese unicorns currently have is deciding where to list. Hong Kong is making a strong bid to become the market of choice for Chinese IPOs due to cultural familiarity, time zone compatibility, new reforms and the ability to attract executives with more of a home-court advantage mindset.
As reported by CNBC earlier this year, "A possible IPO of Xiaomi on the HKSE later this year would play into pending reforms." The changes come after the Hong Kong exchange lost the mega $25 billion IPO of e-commerce giant Alibaba to the NYSE in 2014 over issues related to the controversial dual-class voting structure.
"Alibaba became the largest global IPO, and its market cap astounded the Hong Kong exchange and woke it up to the need to make changes," said Venture Capital investor Hans Tung from GGV Capital, a leading early investor in Alibaba.
New York exchanges such as the NYSE and NASDAQ have been the top choices in recent years for IPOs as Chinese technology, e-commerce and service companies look to broaden their appeal and globalize. But with recent regulations making it easier and more favorable for Hong Kong listings and for companies listed on foreign exchanges to re-list on Chinese mainland exchanges through depository certificates, the balance of venues for new listings could change dramatically this year and into 2019.
Key Chinese companies to keep an eye on for hotly anticipated new public offerings include ride-hailing app Didi, which is looking for further globalization; Bytedance, the company behind the news app Toutiao; and Alibaba's Ant Financial Services Group.
As the CNBC report put it, "Exchanges are eager to attract a crop of venture-backed Chinese tech titans to go public, and their private equity and venture capitalist backers certainly don't mind getting liquidity from their sizable investments made several years ago in China's emerging technology players."
These factors are sure to play a role in where companies decide to list and how they will perform. Recent downturns in the list prices for JD.com, Vipshops and Sogo must be used to balance the conversation around the coming IPO storm.
What is not in doubt is that Chinese companies focused on technology, e-commerce, the sharing economy, gaming and telecom will be listing at greater rates than ever before and that there is an eager institutional and private investor audience eager to get onboard and ride the wave of new ideas and prosperity these companies can produce with their infusions of new capital.
Ultimately, the global investing community will judge the need and capacity for a big surge of new Chinese innovation-driven IPOs and Xiaomi may well be the bellwether for what happens over the next two years.
The author is vice president of China practice at the global consulting firm Tompkins International and author of China's Super Consumers
Copyedited by Rebeca Toledo
Comments to zhouxiaoyan@bjreview.com