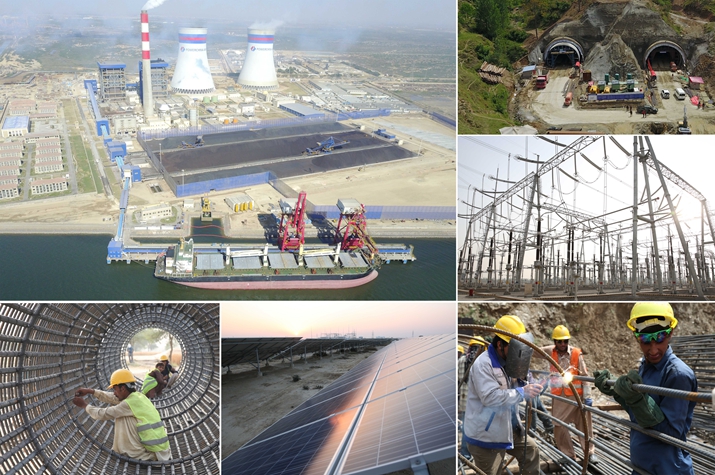 Belt and Road projects located in Pakistan (XINHUA)
The China-proposed Belt and Road Initiative is going to be one of the most transformational economic development plans to date, a senior Wall Street investment banker said at a recent Belt and Road event.
If done well, it will bring a lot of positive changes to many of the countries along the routes in many areas including economics and politics, said Zubaid Ahmad, founder and managing partner of Caravanserai Partners LLC., during a panel discussion at the New York-based China Institute on June 20.
Ahmad indicated the reason he holds this view is because of the massive economic development marvel the country has accomplished in the past four decades since it adopted its reform and opening up policy.
In 35 years, said Ahmad, China has managed to take a country of 1.3 billion people out of a rural, poor and agrarian economy and transformed it into an industrial, urban economy. "It has never been done before in the history of mankind. It took the U.S. and European hundreds of years to get to [that point]."
At the same time, he said, "what we have to realize is that if you accomplish this marvel in such a short period of time, there are going to be mistakes. They had no one to verify [plans with], because no one had [ever] done it before."
From that perspective, "the Belt and Road Initiative is going to be the most transformational economic development plan that has ever been implemented," Ahmad added.
He also said that he thinks the objective of the initiative is in line with China's goal to "rise as a responsible global power that promotes development, peace and prosperity globally.
"No one is saying it's going to be done perfectly, but I would say that having spent a lot of time with people on this initiative in China, that it is a sincere objective," he stressed.
The Belt and Road Initiative also aims to integrate underdeveloped western Chinese provinces and autonomous regions, which are adjacent to some countries involved in the initiative, into the global economy. "In this case, the objectives of China are also mutually inclusive with some of the objectives of the recipient countries," Ahmad explained.
As for environmental concerns about the Belt and Road Initiative, Ahmad cited China's power projects in Pakistan as an example, saying that half of them were hydropower and green projects. China has also introduced smaller coal-fired projects with new technologies that can significantly reduce emissions.
China focuses on market-based transactions, which include positive governance and more transparency, he said, adding that China also works in conjunction with local countries' own environmental issues as best as possible.
Ahmad founded Caravanserai Partners in April 2017, and his banking firm particularly targets opportunities in markets that are an important focus of the Belt and Road Initiative. "I've been a banker on Wall Street for 30 years. When I decided that I wanted to try a different cause, I decided to focus on this particular initiative," he said.
Prior to his new venture, Ahmad was Vice Chairman of Citi's Institutional Clients Group. He has spent a significant amount of time in both China and recipient countries since 2013 when Chinese President Xi Jinping proposed the initiative of jointly building the Silk Road Economic Belt and the 21st Century Maritime Silk Road.
(Reporting from the New York City)
Copyedited by Rebeca Toledo
Comments to yushujun@bjreview.com