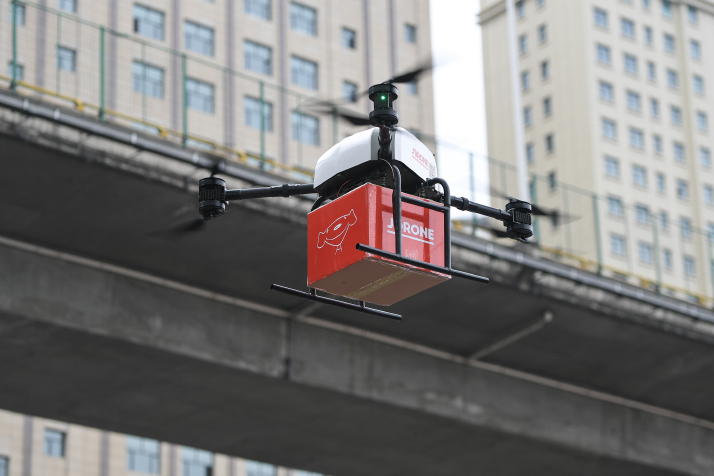 JD.com's delivery drone takes off in Xining City, Qinghai Province (XINHUA)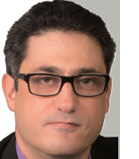 The announcement that Google will invest $550 million in JD.com is a first between a major U.S. technology company and a heavyweight of Chinese e-commerce.
This groundbreaking partnership is important for the long-term consumer ecosystem and tech-driven commerce as a whole, as well as the shared ambitions of both companies in the short term. More significantly, the deal is a result and harbinger of the future goals of a select group of global "super companies" who envision a single global consumer and services market driven by consumption, cross-border trade and technology.
But the real import of the deal is what it tells us about the current new-retail dominance of Amazon and Alibaba, and the response to that dominance by global companies seeking to compete with them. It is also a story about the future of global commerce, cross-border consumption and a global economy driven by China, digital commerce and global logistics.
A strategic investment
Parent company Alphabet's Google unit has invested $550 million for what amounts to a 1-percent stake in JD.com. This is undoubtedly a strategic investment and not one driven by short-term financial incentives.
Google has explored numerous avenues toward establishing a greater presence in China. The company's CEO Sundar Pichai has made two trips to China in just a few months in pursuit of stronger relationships with key players and new partnerships.
Google has not only faced roadblocks in China in recent years, but also in the U.S.—it has yet to develop a fully realized consumer-facing business model that will take it beyond advertising and Internet searches and allow it to start competing with Amazon in both the U.S. and the global digital commerce space. Google Shopping is still largely skeletal, in need of flesh and bones.
The initial commercial manifestations of the deal will allow JD.com to advertise its products on Google Shopping via ads for retailers' products and brands that will appear above the organic search results on Google.com, and will allow shoppers to search for products on its smart assistant devices. The latter function is especially important as voice-activated shopping on mobile devices is to play a major role in how people search for, find, research and buy everything from groceries to luxury handbags in the not-so-distant future.
From JD.com's perspective, the deal is the latest in a series of sensible and low-risk agreements focused on helping the company to compete with Alibaba at home and abroad, and to expand its global presence, creating an attractive and integrated ecosystem in its own right. These are areas in which Alibaba and Amazon already have a big head start.
According to a report from the Wall Street Journal, JD.com has struggled to compete with Alibaba in China's online shopping market. JD commanded about 25 percent of China's business-to-consumer Internet retail market in the first quarter of 2018, behind Alibaba's Tmall platform, which held a 60 percent share, according to industry researcher Analysis. A year earlier, JD.com's market share was almost 27 percent.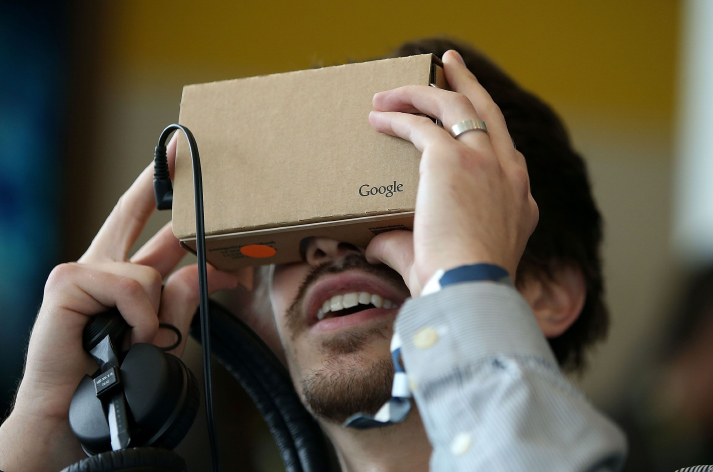 An attendee trys out Google Cardboard during the 2015 Google I/O conference on May 28, 2015 in San Francisco, California (XINHUA)
More than shopping
Of the tens of thousands of publicly listed companies in the world, only seven have a market capitalization of $500 billion or more: Microsoft, Facebook, Alphabet, Amazon, Apple, Alibaba and Tencent. What they all have in common is that they are technology companies who have not traditionally been in competition with one another, almost always selling their own specialty products and services without treading on each other's toes in domestic markets and abroad. This is no longer the case.
These super companies are now focused on integrating technology, data, retail, entertainment, travel, information and logistics to position themselves as the only company people need to build, schedule and purchase an ideal life. They want to provide us with the perfect combination of services, products, and technologies for a life free of commercial friction and endless choice, and an ecosystem focused on allowing consumers to buy what they want, wherever, whenever and however they want to buy it.
They are all looking for the right combination of products, services and technologies that will produce the four Cs of convenience, customization, customer-centricity and customer contribution (crowdsourcing brand positioning, product development and new services, overtly and behind the scenes).
In this new era of digital commerce, we are all simultaneously the customer and the product, the consumer and producer. This drive to deliver on the four Cs is the foundation of new retail.
Super companies are attempting to construct a complete commercial ecosystem by building, investing in or acquiring distinct habitats replete with marketplaces, devices, services, social media and entertainment. The point is to be ubiquitous in the life of the consumer, which will in turn produce the network effect, according to which the more members there are in the ecosystem and the more complete the ecosystem becomes, the more people will use it, and in turn the more valuable the ecosystem becomes. This is the future that the Google-JD partnership is geared toward.
In this environment, Google cannot rest on its laurels as the most profitable advertising platform in the world and JD.com cannot be satisfied with being one of the world's biggest e-commerce companies. The terms "e-commerce" and "channels" will go extinct in the era of uni-channel, uni-marketing and uni-logistics evolution.
Amazon and Alibaba have blazed the trail in new retail and the promise it holds for providing consumers with all of the products, services and technologies they need and want for an ideal life. Increasingly, it has become clear that perhaps the only, or best, way for the five other super companies, as well as other giants in retail, technology and e-commerce, to compete with Alibaba and Amazon is by forming alliances and partnerships and making strategic investments and acquisitions.
Google is the latest major company to invest in and partner with JD.com. Chinese social media, gaming and tech giant Tencent, America's largest retailer Walmart and Europe's largest retailer Carrefour, among others, are all invested in and connected to JD.com and with each other through JD.com.
For Google the deal is a logical step toward its ambition to compete in and carve out a market share in industries beyond search engines and advertising, and to become a major player in digital consumption. Google is moving quickly in this direction, having now inked partnerships with JD.com, Target, Carrefour and Walmart to name a few.
Partnering with JD.com, like Walmart's acquisition of Jet.com two years ago, gives Google an instant education in mass digital commerce, the Chinese new/smart retail revolution, logistics fulfillment excellence and access to the most important new consumer market in the world.
Digital globalization
There is a much larger context in which the deal and the future of the consumption of products, services, entertainment and information must be understood, and it is therefore worth reviewing two important phenomena: digital globalization and new retail.
In a 2011 speech I introduced my theory of Globalization 2.0 and the coming Digital Globalization. In short, the era of modern globalization, 1.0, had come to an end and the new era would be distinguished by three mega drivers of business and consumption: the re-emergence of China as a global power, consumer society and technological innovator; the evolution of digital commerce; and the importance of global, regional, local and hyper-local supply chain and logistics infrastructure and excellence.
In 2016, I wrote that the world was entering yet another new era—the beginning of the digital global commerce epoch. The world progressed from a flatter, smaller, reasonably well-connected world to a fully integrated, wired and interdependent world of consumption, business enablement and commerce.
One of the most striking outcomes of digital globalization is new retail. Alibaba's Jack Ma coined the phrase in 2016 to describe what he defined as "the combination of online, offline, technology and logistics into a single value chain."
New retail, or as JD.com calls it, "smart retail," is a reality in China and its structures, habitats, tools, technologies, and ubiquitous nature are now being exported around the world. JD.com is racing toward a future of smart and unstaffed stores, artificial intelligence-driven customization, logistics-driven revenue creation, cross-border commerce and a more global footprint.
I believe that Google is seeking to build momentum, infrastructure and partnerships to create its own shared ecosystem for digital commerce and new retail.
This is the context in which the Google-JD.com partnership was undertaken. Google's massive presence in the daily lives of billions of people around the world, media and advertising expertise, and data science excellence combined with JD.com's retail, e-commerce, logistics, and Chinese market know-how have the potential to make a major impact on digital global trade and consumption and China-U.S. relations in the years ahead.
The author is vice president of China/Asia Pacific strategy and global digital practices at consulting firm Tompkins International
Copyedited by Laurence Coulton
Comments to zhouxiaoyan@bjreview.com