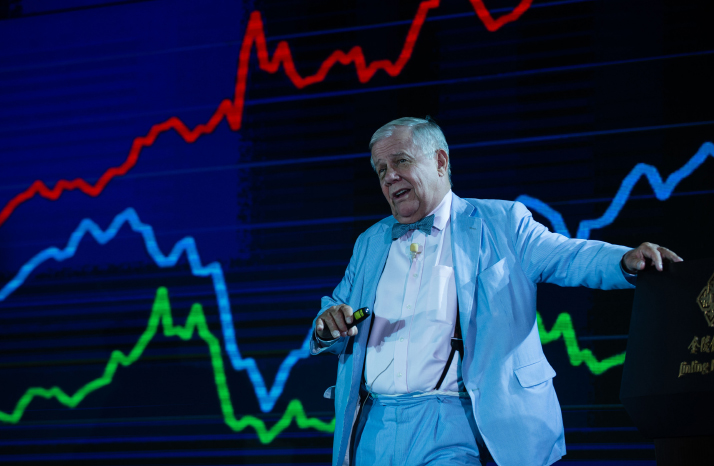 Jim Rogers
World-renowned investor Jim Rogers has said that he is not in favor of the decision of U.S. President Donald Trump to raise tariffs on Chinese goods, and has appealed to both sides to stop the trade war.
The United States imposed extra tariffs on another $16 billion worth of Chinese goods from August 23. This follows the move by the Trump administration to impose additional tariffs on $34 billion of Chinese products starting on July 6.
In a tit-for-tat response, China imposed tariffs on the same amount of U.S. products, taking effect at the same time as the U.S. measures.
Describing how the business sector would be affected, Rogers said: "The ones subject to tariffs are already seeing price hikes and slower business; but this is just starting. Higher prices, less demand [are inevitable] at least partly because of uncertainty."
To force China to bow to U.S. trade aggression, the Trump administration added to the tensions by threatening to impose a 25-percent tariff on an additional $200 billion worth of Chinese imports.
Rogers, a 75-year-old American businessman and co-founder of the Quantum Fund, described Trump as a serious protectionist, adding that "There is no evidence that any trade war has ever succeeded."
Despite trade frictions, China's foreign trade surged by 12.5 percent in July, compared with the 4.3-percent increase in June, with exports growing 6 percent and imports surging 20.9 percent, according to China's General Administration of Customs. In particular, China's exports to the U.S. rose 5.6 percent year on year and China's imports from the U.S. grew by 4.3 percent.
In July, imports from Russia, Canada and Viet Nam jumped 25.7 percent, 25.8 percent and 28.2 percent respectively, suggesting that China is trying to find alternative sources for imports to cope with the fallout from the trade war.
Escalation of the spat between the United States and China has also impacted stock markets on both sides.
"The market is down a lot, but so what? This happens all the time in markets," Rogers said, adding that in his opinion the Chinese stock market would rebound when the U.S. market rallies.
The problems with the Chinese stock market are the result of more than just the trade war. China's top securities regulator has recently been making moves to seek more stability. On August 8, the China Securities Regulatory Commission released a statement saying that the authorities would continue to deepen reform of the listing system and promote mergers and acquisitions of listed companies. China's share prices rebounded the next day.
Rogers has long been optimistic about China's economy and national strength and in his own words he has yet to see anything that makes him doubt his faith in China. "What has happened in last five months that is so momentous as to make me change my mind?" he asked.
Rogers has visited China as a tourist many times since 1984, including on a motorcycle tour in 1988. During that time, he realized that China would be the next great economy and began to make financial investments in the country's markets during the late 1990s.
He even moved his family from the United States to Singapore to provide his daughters with access to a Chinese environment. Now, he is very bullish about the Chinese agriculture sector.
The Chinese word weiji—normally translated as "crisis"—is one of his favorites. He understands that, in Chinese, it implies that disaster and opportunity are the same thing. So, for the current tensions between the world's two biggest economies, he offers this suggestion: "Be worried. Get prepared. And stop the trade war."
The article was first published on China.org.cn
Copyedited by Laurence Coulton
Comments to zhouxiaoyan@bjreview.com