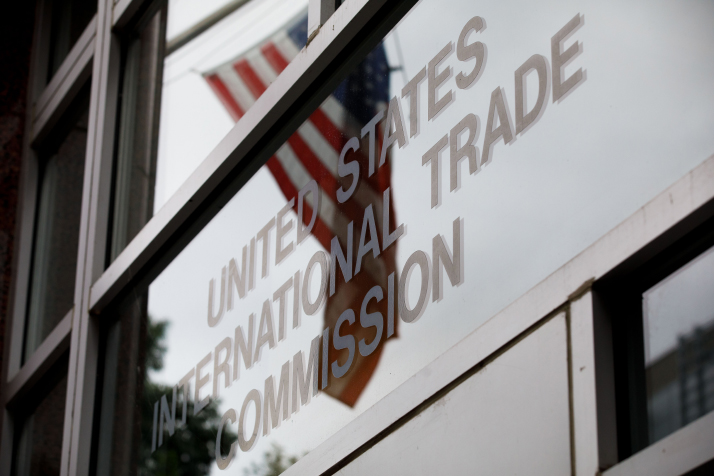 The U.S. International Trade Commission in Washington, D.C., where public hearings regarding proposed tariffs on approximately $200 billion worth of Chinese products were held on the working days between August 20 and 27 (XINHUA)
After imposing a 25-percent tariff on $50 billion worth of Chinese goods earlier this summer, the Office of the U.S. Trade Representative (USTR) is now considering taxing another group of Chinese products worth four times as much at the same rate. These proposals have invoked an intense reaction from the public, with the USTR forced to double the number of days devoted to public hearings from three to six. Hundreds of representatives from a wide range of American industries said at the hearings in Washington, D.C. in August that the proposed new tariffs on Chinese imports would raise the price of countless products and damage U.S. companies and consumers, with around 90 percent of all attending representatives opposed to the U.S. Government's tariffs. Edited excerpts of some of the grievances aired at the hearings follow:
Edward Brzytwa, Director of International Trade with the American Chemistry Council (ACC): On behalf of chemical manufacturers producing goods in the United States, we respectfully request that the administration remove all chemicals and plastics products from U.S. List 3, which includes a significant number of products in HTS Chapters 27 to 29 and 31 to 39, equating to $16.4 billion in imports from China.
Before I explain the impact of these tariffs and China's retaliation on our industry and the supply chains that underpin U.S. manufacturing, I would like to note the ACC's disappointment that the administration did not heed our request in July to remove approximately $2.2 billion in Chinese imports of chemicals and plastics from U.S. List 2.
Previously, we notified the administration that the tariffs on List 2 substances would hurt our industry's ability to do business in the United States. We cautioned that they would jeopardize nearly half of the $194 billion in announced investments and chemicals manufacturing that have been announced over the past decade, and we explained that the cost in the United States will go up not just for our member companies but also the downstream industries that buy U.S.-made chemicals, including farmers and manufacturers.
If tariffs on the $2.2 billion in chemicals and plastics imports that appeared on List 2 would weaken the competitiveness of the U.S. chemicals industry, then the $16.4 billion in tariffs on additional products of chemistry in List 3 would have a potentially irreparable impact on our industry's economic structure and supply chain.
Manufacturing supply chains do not exist in a vacuum but move with the ebb and flow of market forces. They are complex and intricate and rely on interconnected networks and channels that work together as one to bring finished products to market. That is what makes supply chains vulnerable to the disruptive effects that tariff and non-tariff barriers to trade can have in the global marketplace. Supply chains are not plug and play. They cannot easily be reconfigured to meet the whims of U.S. trade policy. Forcing companies to reconfigure their supply chains would threaten the viability of their businesses.
We reiterate in the strongest possible terms that the best way to preserve the interests of the U.S. chemicals industry and indeed the entire manufacturing sector is by removing chemicals from the front lines of this trade war.
China's new $60-billion product lists issued in response to U.S. List 3 include 987 chemicals and plastics products. These tariffs will close off China's market to U.S. exports just when our industry was ready to supply China's large and growing demand for chemicals.
Trade flows between the United States and China will contract as tariffs are imposed on each side. Tariffs raise the price of imports and, as a result, quantity demanded will decline. How much demand falls off for each product impacted will be directly related to the availability of substitutes and alternative suppliers of the right quality, quantity and specifications.
Chinese customers may have alternatives more readily available, given their position within the Asian manufacturing hub. If that is the case, the negative impact from tariffs on the Chinese side will be less severe. Still, both sides lose when tariffs are introduced and supply chains are interrupted.
A surprising proportion of international trade is actually intra-company transfers. Imported inputs to the United States from China keep American firms competitive in the United States and in the global marketplace. Tariffs would erode the competitiveness of U.S. manufacturers and incentivize offshoring and trade diversion.
If U.S. manufacturers are less competitive, then they are unlikely to be in a position where they could increase domestic sales or exports to China or Europe or anywhere else.
A trade war will neither achieve a more balanced trading relationship between the United States and China, nor advance the interests of the U.S. economy, manufacturers and consumers.
Andy Missan, General Counsel of Fitbit: We believe that a 25-percent tariff on smart watches and fitness trackers imported from China will harm U.S. workers and consumers, undermine U.S. national security interests, stifle innovation and digital health, and fail to advance the administration's policy objectives.
Therefore, we request that 8517.62.00 be removed from the proposed list. At the very least, wrist wearable products under this subheading should be removed.
Fitbit is one of the world's leading wearable brands with more than 80 million devices sold. Our mission is to give millions of Americans the data, inspiration and guidance they need to improve their health while transforming the healthcare system and reducing healthcare costs.
Imposing tariffs on wearables will harm U.S. retailers, consumers and downstream industries. Over one third of wearable shipments in 2018 will occur in the fourth quarter and the overall global market is also expected to grow at over 200 million units shipped in 2022.
The proposed tariffs would make wearables costlier and, in many cases, inaccessible to consumers, making less expensive offerings from Chinese competitors more attractive and allowing them to gain market share. The resulting lower revenues for the companies that build these devices for the U.S. retailers that sell them could affect millions of American workers.
Nicole Vasilaros, Senior Vice President for the National Marine Manufacturers Association (NMMA): The NMMA is the largest marine industry trade association in the world. Our 1,300 North American members represent boat, engine, accessory and trailer manufacturers and make up nearly 85 percent of the marine products sold in the United States.
Boating contributes significantly to the U.S. economy, with $39 billion in annual sales, supporting 650,000 jobs and 35,000 U.S. marine businesses. Our industry provides a uniquely American-made product. Ninety-five percent of the boats sold in the United States are made in the United States.
I urge this committee and the administration to cease the implementation of tariffs on U.S. manufacturers, work with our allies instead and focus on negotiating a deal with the Chinese Government that is in the best interests of American consumers, workers and businesses.
From tariffs on raw materials and components to retaliatory tariffs that have frozen international markets for U.S. marine exports, the recreational boating industry continues to bear the brunt of the administration's trade policies.
China is now the fourth country to retaliate against U.S.-made boats, joining Canada, Mexico and the European Union, three markets that make up 70 percent of U.S. marine exports.
Compounding tariffs have led to the cancellation of millions of dollars of orders for new boats being built in American factories by American workers, resulting in employment changes, cancelled expansion plans and halted growth.
Nearly 350 marine-related products are being hit by this committee's Section 301 actions. The Section 301 tariffs have already increased the cost of smaller vessels by upwards of $2,000 to $5,000 , which, for
an elastic product like a boat, has negative consequences.
The enacted tariffs on marine products hurt the United States more than China by disrupting the profitability of U.S. businesses, employment opportunities and the affordability for American consumers.
The currently proposed list includes such items as boats, inflatable vessels, marine parts, trailer tires and fiberglass. Our U.S. marine manufacturers utilize the global supply chain to achieve economies of scale and deliver high-quality, affordable products to the 62 percent of boat owners with a household income of less than $100,000.
Furthermore, 95 percent of boats in the United States are small, towable boats under 26 feet. Hard-working, middle-class Americans tow their boats to the water every day. And the proposed tariffs on this list will make that experience significantly more expensive, targeting entry-level vessels and their transportation methods.
Fifty-six percent of boats made in the United States use fiberglass as their main building material. The proposed tariff on fiberglass increases the cost of manufacturing these boats, ultimately increasing the cost paid by the consumer. With small net margins and compounding tariffs, marine manufacturers are simply not able to absorb these costs.
Not only does the list propose tariffs on trailer tires, it also includes all components for use on trailers. A trailer manufacturer in Florida with 170 employees has indicated that if this next round of tariffs goes into effect, material costs will rise between 4 and 10 percent. These tariffs would add to the increased costs they are already experiencing due to domestic steel and aluminum tariffs.
As another example, a family boat business in Long Island, New York, with 30 employees would be significantly impacted by the imposition of these tariffs. This business has utilized a global supply chain to send small, inflatable fishing boats from China to the United States for final assembly, and sell them to consumers at an affordable price point. The business provides their employees with healthcare at no cost and prides itself on delivering high-quality products. Unfortunately, there is not nearly enough U.S. capacity to meet the demand for domestic fabrication.
Copyedited by Laurence Coulton
Comments to zhouxiaoyan@bjreview.com