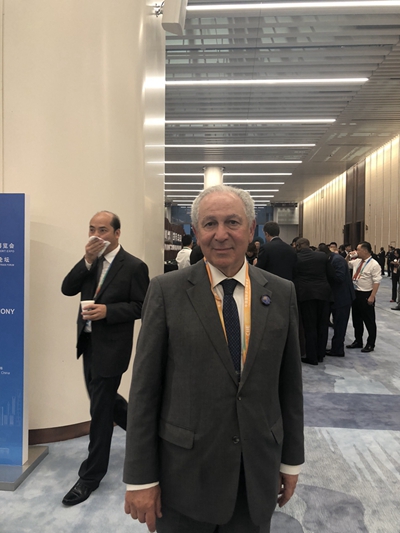 Aziz Mekouar, Ambassador of Morocco to China (DENG YAQING)
Chinese President Xi Jinping delivered a keynote speech at the opening ceremony of the first China International Import Expo (CIIE) in Shanghai on November 5. After the speech, Aziz Mekouar, Ambassador of Morocco to China, shared his views with Beijing Review reporter Deng Yaqing.
Beijing Review: Can you comment on Xi's speech at the opening ceremony of CIIE?
Aziz Mekouar: It was a very important speech. He confirmed the opening of China to the international community with the joint belief in free trade. I believe that all the attendees were very happy to hear that. Xi mentioned cooperation and openness several times in his speech. He confirmed what he has said before. He announced new measures for the opening of the Chinese market and the opening to investments and goods; he advocated open trade for the world.
What are your thoughts on the first CIIE?
I think it's a very important event. China has been one of the biggest export countries and will now become one of the biggest import countries. It's good for trade and for the world economy. Import and export, that is what trade is about; it creates great wealth for everybody. Free trade has lifted hundreds of millions of people out of poverty. The Chinese market is huge, with nearly 1.4 billion people. It's growing because the average salary is growing and people's income is growing.
What are your expectations of China's further opening up in the near future?
I hope it will lead to bigger cooperation and more trade and mutual investment between China and Morocco. It's good for the two countries. Morocco is a member of the Belt and Road Initiative, and we are working on it, which will boost relations between Morocco and China. And all the measures announced by Xi are excellent. They will promote trade and investment between China and other countries and bring benefit to the world.
Xi's speech once again affirmed China's opening up to the outside world, which is what the international community has always advocated. The first CIIE will be very conducive to the world economy and trade. Xi announced new measures to open the market and expressed support for free trade, which can bring enormous wealth to human society. In the future, China's market will become bigger as the per capita income continues to grow. China's further opening up will lead to more cooperation.
Copyedited by Rebeca Toledo
Comments to dengyaqing@bjreview.com