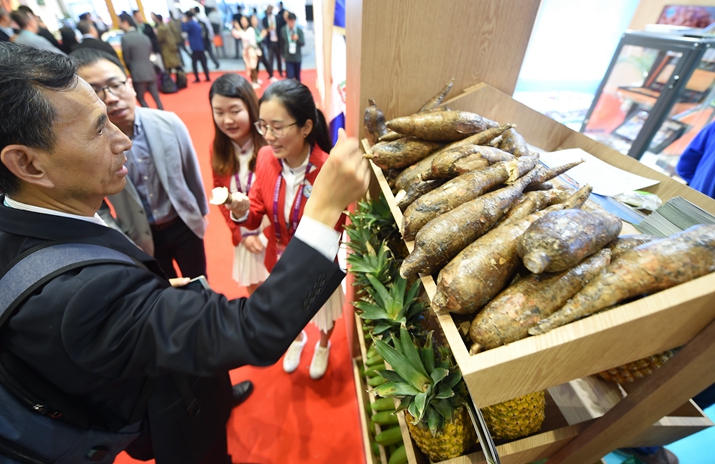 Visitors browse agricultural products from the Dominican Republic at the China International Import Expo in Shanghai on November 6 (XINHUA)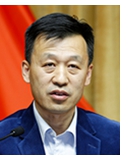 While establishing itself as a major trading nation, China is also trying to expand its import market. Holding an import expo is one of the strategic measures to achieve this goal. It is hoped that this growth in imports will contribute to establishing an open economy and stimulate global growth.
A significant expo
Since ascending to the World Trade Organization (WTO) in 2001, China has been working to live up to its commitments, lowering tariffs, reducing non-tariff measures and increasing trade liberalization and facilitation. While exports rapidly increase, the growth of imports has also seen marked expansion. China has become a major trading partner of more than 120 countries and regions. From 2001 to 2017, China's goods imports grew at an average of 13.5 percent every year, which was 6.9 percentage points higher than, or nearly double, the world average, making the country the second largest importer of goods in the world. During the same period, China's imports of services rose from $39.3 billion to $467.6 billion, an average annual growth of 16.7 percent, accounting for nearly 10 percent of the world's total imports of services. Since 2013 China has been the second largest importer of services in the world.
In recent years China has been expanding its import market in a bid to share opportunities with other countries. The China International Import Expo (CIIE) is a major step in the expansion plans.
The first CIIE was held at the National Exhibition and Convention Center (Shanghai) on November 5-10. Before the expo, China organized seven preliminary matchmaking events. It also set up an online exhibition hall and arranged four comprehensive service zones in order to provide top exhibition services. The expo provided free booths for the least developed countries in Africa. With more than 3,600 companies exhibiting their products and services, this unprecedented expo attracted 400,000 procurers from home and abroad. Many supporting events such as symposiums and product launches were held during the expo.
As the first national-level expo in the world focusing on imports, the 2018 CIIE was evidence of the latest round of high-level opening up in China. It is a significant move for the Chinese Government to hold the CIIE with a view of firmly supporting trade liberalization and economic globalization.
Besides the CIIE, China has adopted other measures to stimulate imports:
After significantly lowering import tariffs for investment and consumer goods as of November 1, China's tariff level was set at 7.5 percent, down from 9.8 percent in 2017.
China is enhancing cooperation with other countries involved in the Belt and Road Initiative. It sees the countries as a vital import market as it works to improve interconnectivity and accelerates the building of a network of free trade.
Within the WTO framework, China provides preferential market access to the least developed countries, offering zero-tariff treatment to 97 percent of the tariff items sold to China.
China is actively looking to expand imports through cross-border e-commerce platforms.
China is working to boost balanced foreign trade development by establishing national demonstration zones for innovation in import promotion.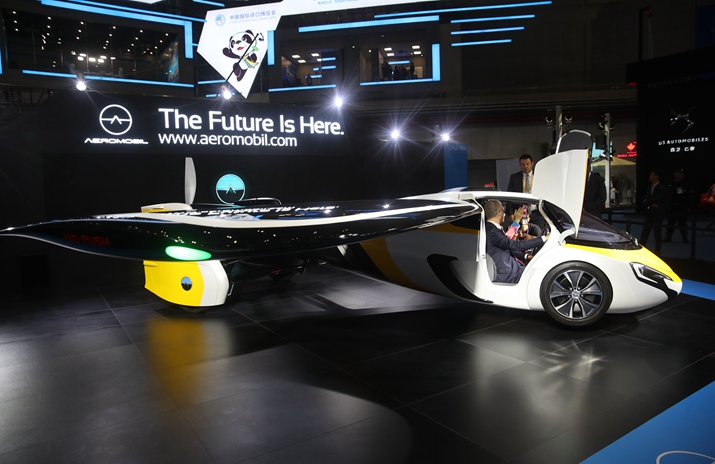 A flying car made in Slovakia on display at the China International Import Expo in Shanghai on November 5 (XINHUA)
Taking the initiative
Hosting the CIIE conforms to the requirement of China's economic and social development and fulfills the country's commitment to advancing global free trade and boosting world economic growth.
First, expanding imports satisfies the demand for upgrading the consumption structure.
The 19th National Congress of the Communist Party of China made it clear that as socialism with Chinese characteristics has entered a new era, the principal contradiction facing Chinese society has evolved. What China now faces is the contradiction between unbalanced and inadequate development and the people's ever-growing needs for a better life. In 2017, China's per-capita GDP surpassed $8,800 and its national income per capita reached $8,790, making it an upper middle-income country. As incomes grow, the upgrading of consumption is accelerating, leading to an increasing demand for high-end, high-quality, fashionable and environmentally friendly products. Services such as tourism, leisure, elderly care, entertainment, culture, sports, and finance are also on the up.
With the world's largest population, China is the second largest economy and the second largest consumer nation in the world. However, because the domestic supply structure falls behind consumption demand, expanding imports becomes a necessary option.
Second, expanding imports is part of facilitating the economic restructuring program.
The Chinese economy is now shifting from high-speed growth to high-quality development. In 2017 China's primary, secondary and tertiary industries contributed 7.9 percent, 40.5 percent, and 51.6 percent respectively to the country's GDP, with the proportion of the secondary industry continuing to decline while that of the tertiary sector surpassing 50 percent and further rising. This indicates that the stage of accelerated industrialization has come to an end and the country has entered a new era of economic restructuring. In order to pursue high-quality economic growth, China must increase imports regarding high-level and new technologies.
Third, expanding imports is driven by the need to further China's opening up.
During this process, China needs to solve trade imbalances to achieve sustainable and steady trade growth and improve the benefits of opening up.
Long-term trade imbalances are likely to cause more trade frictions and affect sustainable trade growth. Once a country's trade surplus is more than 4 percent of its GDP, it faces an imbalance of its current account. At the Group of 20 Summit held in Seoul in 2010, the United States suggested 4 percent as a standard for sustainability. During the 2005-09 period, China's current account surplus, particularly the surplus of trade in goods, increased rapidly, leading to a current account balance of more than 4 percent of GDP.
However, as imports grow, the proportion of China's current account surplus has been declining since 2010. In 2016 and 2017, the proportion stood at 1.8 percent and 1.3 percent respectively. Expanding imports will help alleviate excessive surplus and imbalances, and relieve trade frictions with countries that have a trade deficit with China in keeping with the principle of mutual benefit.
Fourth, expanding imports is an important measure in addressing trade protectionism.
When addressing its trade imbalance with China, the United States has adopted unilateralism and trade protectionist policies, tightening restrictions on Chinese investment in U.S. technology sectors, raising tariffs on Chinese products, and using "poison pill" clauses to restrict China from establishing free trade areas with other countries and regions. This has seriously damaged economic globalization and the multilateral trade system, impeding global growth.
In contrast, China has adopted a number of measures to expand imports, countering trade protectionism with further reform, strengthening protection of intellectual property, improving the business environment for foreign investors, and giving fair treatment to foreign-invested enterprises.
China will continue to share the opportunities brought by opening up with other countries, recognizing the value of an open and free trade landscape.
The author is dean of the Institute of International Economy at the University of International Business and Economics
Copyedited by Craig Crowther
Comments to dengyaqing@bjreview.com