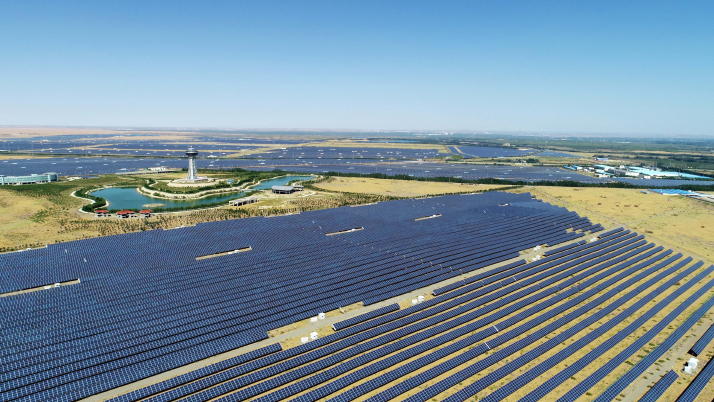 A photovoltaic industrial park in Zhongwei, northwest China's Ningxia Hui Autonomous Region, on the rim of the Tengger Desert (XINHUA)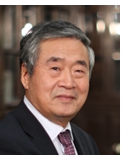 When representatives from around the globe meet in Katowice, Poland, for the annual UN Climate Change Conference, the world's attention will once again be on the 2015 Paris Agreement. The pact committed to limiting global warming to 2°C above pre-industrial levels, with 1.5°C being the preferred curb. The Katowice meeting in December is expected to come up with a roadmap for the implementation of the agreement.
China played a major role in the adoption of the Paris Agreement, committing to signing the pact early on in 2016. In the same spirit, China will continue to build bridges between different parties to help introduce measures to combat climate change. Specifically, China aims to help advance global collaboration for a comprehensive, balanced and effective implementation of the pact's provisions on issues such as mitigation, adaptation, funding, technology, capacity building and transparency.
Domestically, China has made addressing climate change part of its ongoing economic transition. The push for an energy revolution and a low-carbon shift in its development model will help lower greenhouse gas emissions­—but is also crucial for meeting new development goals of modernization.
New normal
China's economy has entered a new phrase, in which growth has slowed. The average annual GDP expansion from 2013 to 2017 was 6.9 percent, compared with 10.1 percent from 2005 to 2013. Now the priority is on quality. As economic restructuring and industrial upgrading accelerate, the output of energy-intensive products and raw materials has reached its limit or begun to fall. The average annual growth of total energy consumption has declined to 1.9 percent (2013-17) from 6 percent (2005-13). The consumption of new and renewable energy has increased about 10 percent on average annually, fueling a low-carbon shift.
Energy conservation and the adoption of alternative energy sources have led to a fall in carbon intensity­—carbon-dioxide emissions per unit of GDP—of more than 4 percent annually on average. It is much higher than the average level in developed countries. In recent years, China's total carbon dioxide emissions have stabilized or risen only slightly. As the economy rebounds in the coming years, total emissions may edge up but will not grow as rapidly as in previous years.
China has been aiming for carbon dioxide emissions to peak at around the year 2030, when the GDP is projected to grow at a relatively high rate of about 5 percent. For that to happen, carbon intensity at the peaking time needs to drop at a much higher annual rate than in developed countries. China must therefore redouble its efforts to save energy and exploit alternative energy resources.
China plans to cap its total energy consumption below 5 billion tons of coal equivalent by 2020 and 6 billion tons of coal equivalent by 2030. At the same time, it will step up the development of a low-carbon energy mix. According to plans, the power generated by non-fossil fuels will account for 50 percent of total power generation by 2030. Also, non-fossil energy will constitute more than 50 percent of total primary energy consumption by 2050. When carbon intensity decreases at a rate higher than GDP growth, the increased carbon dioxide emissions resulting from economic growth will be offset, allowing emissions to peak.
Currently, China's new and renewable energy sectors are flourishing with costs declining fast. The installed generation capacity of hydro, wind and solar power ranks first worldwide. But to meet the 2030 targets, the expansion must continue. From 2015 to 2030, installed non-fossil-fuel-based power generation capacity will have to increase by 1 billion kilowatts, equaling the current total installed power generation capacity of the United States.
Non-fossil energy supply should increase by 700 million to 800 million tons of coal equivalent, higher than Japan's annual energy consumption. Added investment in the power generation sector will surpass 10 trillion yuan ($1.44 trillion), thus creating a new driver of economic growth and numerous job opportunities.
Coordinated approach
China is committed to sustainable development while also addressing the threat posed by climate change. This strategy is three-pronged: first, change the economic development pattern; second, establish an energy supply and consumption system that is clean, low-carbon, safe and efficient; and third, build a green, regenerative industrial system. The goals are uninterrupted economic development, environmental improvement, energy security and lower carbon dioxide emissions.
The consumption of fossil fuels such as coal and oil is the main cause of both carbon dioxide emissions and the discharge of pollutants such as sulfur dioxide, nitrogen oxides and fine particles. Saving energy and switching to a low-carbon energy mix are effective ways not only of cutting carbon dioxide emissions, but also of boosting economic efficiency, improving the environment and safeguarding energy security.
China has resolved to make very significant progress against pollution in the coming years. Measures have already been widely adopted targeting pollutants discharged from burning fossil fuels. The country recognizes that it is imperative to cut coal and oil consumption at the source. In coastal regions, measures are in place to reduce coal consumption. For instance, electricity is being increasingly used instead of coal for residential and industrial heating, paving the way for rapid expansion of renewable energy-based power generation.
China advocates an ecological culture with harmony between man and nature. The goal of achieving a fundamental improvement in the environment by 2035 is consistent with the country's state commitment to the Paris Agreement.
The carbon emission trading market in China will expand from power to other sectors such as petrochemicals, construction materials, iron and steel, nonferrous metals, papermaking and aviation. The market will cover about half of domestic carbon dioxide emissions and have the potential to become the world's largest. Carbon pricing will gradually replace government mandates, enabling market forces to prompt companies to upgrade their technology and promote energy conservation and the development of new energy.
Worldwide synergy
At the Katowice conference, the parties will engage in the Talanoa Dialogue, a free-ranging discussion of ideas on actions, outcomes and challenges in dealing with climate change. China can share its successful practices in energy and economic restructuring, environmental protection, low-carbon cities, and energy-saving and emission reduction policies.
Although U.S. President Donald Trump withdrew the country from the Paris Agreement, the United States remains a party to the UN Framework Convention on Climate Change and should abide by its principles and obligations. Trump's action is unlikely to have a major direct impact on the agreement's implementation. The United States Climate Alliance, representing 17 U.S. states and territories, has announced that it will observe the agreement and fulfill its responsibilities. A number of companies and institutions in the U.S. have also expressed willingness to provide funding to help developing countries cope with climate change.
The Chinese Government, meanwhile, has been active in international climate cooperation. China has been emphasizing ecological progress and low-carbon development as it pursues the Silk Road Economic Belt and 21st-Century Maritime Silk Road Initiative, which aims to enhance connectivity along and beyond ancient Silk Road routes. At the same time, the country is working with other developing countries to defend the interests of the developing world.
Notably, those in the developing world have been calling on developed countries to honor their commitment to raise $100 billion a year in climate finance by 2020 to support developing countries. The funds will mainly benefit small island countries, the least developed countries and African countries.
The author is head of the Academic Committee of the Institute of Climate Change and Sustainable Development at Tsinghua University
Copyedited by Sudeshna Sarkar
Comments to yulintao@bjreview.com