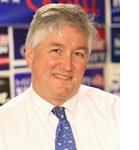 State Councilor and Foreign Minister Wang Yi's press conference on March 8 was one of the most anticipated meetings with reporters during the annual sessions of the 13th National People's Congress and the 13th National Committee of the Chinese People's Political Consultative Conference, or Two Sessions, in Beijing.
Given the headwinds created by U.S. President Donald Trump's trade war against China, Wang's press conference underscored both China's preeminence as a global power and its determination to maintain its rights while working with the U.S. for a consensus toward managed competition. Wang's statement that "China is ever closer to the world's center stage" made it quite clear that the country will play a critical role in multilateral global foreign and economic relations both now and in the future, and will never return to the foreign relations sidelines.
While Wang noted that China will resolutely protect its rights and lawful interests and will not tolerate infringements on its sovereignty and national dignity, he also said that China would not seek hegemony and would continue to abide by international law.
Addressing some rather difficult questions from both the domestic and foreign press, Wang discussed a wide range of issues, including accusations that China is creating a "debt trap" through the Belt and Road Initiative, Sino-European trade relations, the situation in Venezuela, Korean Peninsula denuclearization talks, and China-Africa cooperation. But the one area of Chinese foreign relations that was of keen interest to many reporters and observers was Wang's comments on Sino-U.S. relations.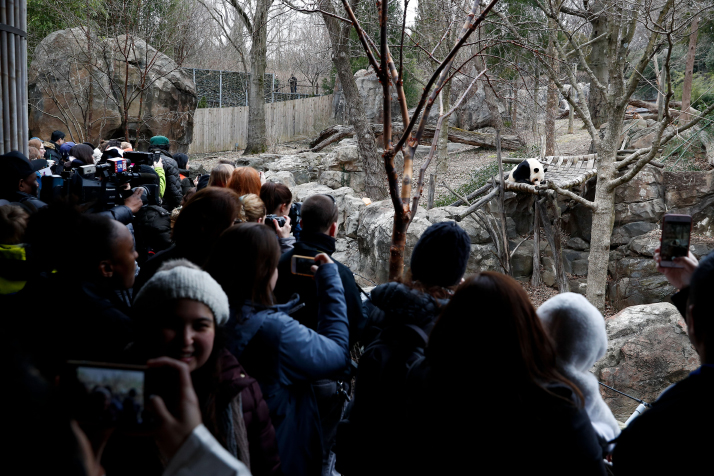 Visitors watch a giant panda at the Smithsonian's National Zoo in Washington, D.C., on February 23, the day the zoo held a housewarming event to celebrate the completion of a new visitor exhibit (XINHUA)
Spotlight on Sino-U.S. relations
Wang noted that China stands at a historic moment wherein reform and opening up continues to deepen at a rapid pace. This, in turn, presents a unique opportunity for improved relations with the U.S. Wang also stressed that cooperation is at the heart of the two countries' relations, which will not descend into confrontation. He noted that the interests of the U.S. and China remain "inseparable," and that negotiations to end the trade war have made substantial progress.
While observing that there were still some substantial hurdles to overcome, Wang warned against attempts by certain Trump administration officials to encourage separating the two nations' economies. "Some individuals vow to decouple our economies; this is just wishful thinking. Decoupling from China would mean decoupling from opportunities, from the future and in a sense from the world," he said.
While Wang did not name any specific Trump administration officials, it is fairly clear that his comments were aimed at protectionist hardliners who have sought so-called "strategic decoupling" of the Chinese and U.S. economies.
Wang's use of trade statistics served to both strengthen China's position in the trade dispute as well as to reinforce the strong, positive and mutually beneficial effects of Sino-U.S. economic ties. When one realizes that two-way trade totaled more than $630 billion and mutual investment more than $240 billion, as well as the fact that there were more than 5 million visitors in both directions in 2018, Wang offered a relatively positive outlook of Sino-U.S. relations. He rightly noted that this positive view is shared by broad sections of U.S. society, including most major U.S. corporations and all U.S. states, both of which support and are engaged in cooperation with China.
Wang also made it a point to mention that the 40th anniversary of the establishment of diplomatic relations between China and the U.S. is an important time for both sides to assess the past and plan for the future.
Even with Trump's needless straining of Sino-U.S. relations, Wang stated that while relations have seen "wind and rain" over the past 40 years, the two nations have made historical progress and China will stick to the path of cooperation with the U.S. He also indicated the need for the U.S. to give up its zero-sum game and cold war mentality toward China and work toward both respectful cooperation and healthy competition. Given the Trump administration's less-than-reliable views on both Sino-U.S. relations and economic globalization, such a change may be easier said than done in the present climate.
One topic that was also of interest was Wang's discussion about U.S. actions against Huawei and its executives. Wang observed that the case against the Chinese multinational telecom giant was a deliberate political move by the Trump administration designed to bring the company down and pledged China's support for the company. Wang stated that China has and will continue to take all necessary measures to resolutely protect the legitimate and lawful interests of both Chinese businesses and citizens.
His comments were based on a series of actions by the U.S. that seem intended to cripple Huawei and diminish China's chances of playing a leading role in next-generation telecom technology. Wang noted that China would uphold not only the rights and interests of any Chinese company, but the right to legitimate development as a nation. "It's the right of all countries in the world to raise their level of science and technology," he said, which served as an important expression of China's right to technological self-determination and a reminder to the U.S. that this issue will not be fading away.
Belt and Road opportunities
While not directly related to Sino-U.S. relations, Wang's comments on the Belt and Road Initiative were also noteworthy because of U.S. criticism of the project. Wang's comments on the initiative were a direct response to claims made by Western, particularly U.S., observers that it was designed to be a "debt trap" for participating countries or a geopolitical tool for China. Wang's remarks, emphasizing that the Belt and Road Initiative was, and is, an opportunity for broad economic development efforts that will improve the lives of millions of people, were both a strong and effective retort. He followed that up by saying that China will maintain an open, transparent and sustainable approach to Belt and Road cooperation.
This will be underscored in April by the second Belt and Road Forum for International Cooperation, which will have a specific focus on the global business community and be even bigger than the inaugural forum in 2017 in terms of the number of heads of state and delegations that are expected to attend from more than 100 countries. However, Wang did not mention if the U.S. would send a delegation. Thus far, there has been no response from the Trump administration, other than to criticize Italy for joining the initiative. This suggests that Trump and his officials are again taking a wait-and-see approach, much like they did in 2017 when they sent a last-minute observer delegation.
Rather than seeing the U.S. as an opponent, Wang made it a point to underscore the value of the interdependency of China and the U.S. throughout his press conference. While expanded bilateral trade might have been on the minds of many people watching the press conference, Wang's comments did much to serve as a reminder of the necessity for friendly relations, mutual respect and managed competition between China and the U.S.
The author is a professor of Political Science at the University of St. Thomas in Houston
Copyedited by Rebeca Toledo
Comments to yulintao@bjreview.com