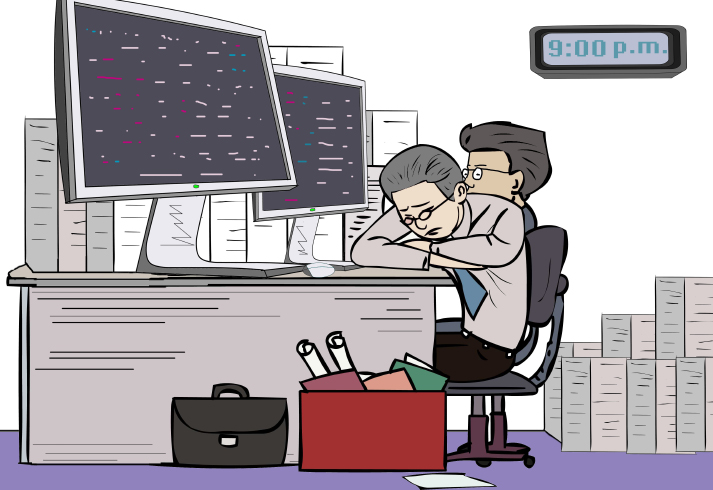 LI SHIGONG
In late March, a group of developers started an initiative on computer code-sharing platform GitHub, called 996.ICU, to complain that their 996 work schedule was a shortcut to the ICU. The term 996 refers to a draconian work schedule that is from 9 a.m. to 9 p.m., six days a week.
Jack Ma, founder of Alibaba, however, called the 996 schedule "a huge blessing." Richard Liu, founder and CEO of JD.com, said in a WeChat post that while he would never force his staff to follow a 996 schedule, people who slacked off were not his "brothers." Their remarks triggered further remarks and the controversial schedule has now developed into a nationwide debate.
Working with passion
Jack Ma (www.weibo.com): While the laws will decide whether the 996 schedule is right or not, have we really pondered over our own choices, the value of our lives and why we are fighting for something? Once you've got clear answers to these questions, you'll never feel regret or be torn between different ideas.
If you find a job you like, the 996 problem does not exist; if you're not passionate about it, every minute of going to work is torment. Just like in marriage, you never feel time is going too slowly if you are in a happy marriage, but you feel one day is as long as a year if it's not.
No one likes working in a company that forces you to do 996. It's not only inhumane but also unhealthy and unsustainable. The workers, their families and the law do not approve of it. In the long term, even if you pay a high salary, the employees will all leave.
However, there are many people who are working a 996 schedule, or even 24x7. Many entrepreneurs, successful or passionate artists, scientists, athletes, officials and politicians are keeping this schedule or even a more intensive one. They do it because they are extremely passionate about what they do. And because they put in more time and energy than others, they are also more successful than those who do not.
Why don't they choose something easier? It's not because they have no other choices but because they love what they do, which in their eyes is more important than money. Actually we need such people. Thanks to their hard work, our country has made outstanding achievements in the past four decades.
I am not defending 996, but do pay tribute to these fighters!
Everyone has the right to choose their way of working and living. They can choose to work in an easy way and refuse to put in more time and energy than others. That's ok. But they'll never feel the happiness and get the return from hard work that the others do. Sometimes, people fight hard for something without any results and it is distressing. But while fighting may not necessarily bring success, without fighting you'll definitely never succeed.
However, it's silly of companies to think that they can put their staff on a 996 schedule as long as they pay a high salary. Companies need to ask themselves whether their success or joy is shared by their staff, whether they are helping their staff to find joy in the work or just forcing a 996 schedule on them. A boss who believes all staffers are idling away has a problem.
Real 996 is not working overtime, or monotonous manual labor. Real 996 is spending time learning, thinking and making self-improvement. People who follow 996 have found their passion there and their happiness, not just money. Those who work on a 996 schedule just for overtime payments will not be able to do it for long.
Life is unfair. Some people are born with a silver spoon in their mouth and some are born extremely smart. But one thing is fair, that is, we all have 24 hours a day. How you spend the 24 hours shapes who you are. To chase a balance between life and work for every minute and fairness in everything will lead to bigger unfairness and imbalance in the long run. Life is both unfair and fair!
Lin Chang'an (The Beijing News): Many investigations have found that working overtime for long periods damages the balance between a person's work and life. Working overtime prevents a lot of young people from dating, having children or taking care of their children, and spending time with their parents.
It also triggers all kinds of occupational diseases, including damage to their psychological and mental health. Working overtime is partly to be blamed for frequent suicides and death by overwork in some sectors.
Fundamentally, companies force their staff to work overtime because they are pursuing larger profit margins. This is wrong thinking. Working overtime will affect workers physically and psychologically, which will in turn corrode their productivity and loyalty to the company. A worker's time can be divided into "health time" and "illness time." A long illness time will shrink health time. Too much working overtime will trigger job-hopping, too.
According to a 2018 report on job-hopping by 58.com, a recruitment platform, 35.8 percent of young white-collar workers were considering changing their jobs, more than 70 percent were sending out resumes. In sectors where overtime work is common, like in computers, the Internet and telecom, job-hopping after one year or even less is as high as 33.3 percent.
To regulate the 996 work schedule, invisible coercion must be tackled. At the present stage of China's economic growth, hard work is necessary but this does not mean economic growth has to be at the cost of sacrificing workers' right to rest.
There must be a legal system to safeguard labors' legitimate rights and interests, particularly to deal with all kinds of invisible coercion to work overtime. Companies should regard their staff as assets instead of a burden. Particularly, they should get rid of the wrong belief that more and more overtime work will expand their profit margins. Workers should also learn to protect their own rights by resorting to legal aid and keep a balance between work and family life.
Twisted logic
Jiang Meng (opinion.people.com.cn): The work is for 10 people, but the company employs only five. This will lead to a delay in delivering the goods. Then it becomes overtime work. While the staff is groaning under heavy pressure, employers make more profits.
There is a seemingly reasonable excuse for the 996 work schedule. Programmers are usually well-paid, so it seems they must work overtime to live up to their high salaries. However, this argument has no ground. They have high salaries because the emerging industry they are in has a high valuation. Also, programming is not an easy job and good programmers are extremely hard to find. Therefore, their high salary is not a gift from their bosses, but the result of market pricing. A high income should never be used as an excuse to violate workers' rights.
The so-called overtime work culture forces workers into a race. The logic is, when established enterprises are still working so hard, there are no excuses for startups to have a comfortable work schedule. When even talents are working hard, how can ordinary people slack off!
These arguments are a ploy to dismiss workers' legitimate rights under the pretext that it is the only way to success. China's economic growth momentum is turning to quality from quantity. High-quality and sustainable development depends on respect for talents and ordinary workers alike.
Ren Ran (China Youth Daily): The 996 schedule is in essence an overtime schedule, but many companies have labeled it a normal work timetable and made it part of their corporate culture. Those who accept this schedule are hailed as being passionate about their work, diligent and fighting for their dreams, while those who don't are denounced as slacking off. In this situation, people are unlikely to say no to such a work schedule.
An apparently easy solution is that tired workers can go over to other companies or even other industries. But this solution doesn't safeguard workers' legitimate rights, and also turns a blind eye to the fact that today, the 996 schedule is not limited to Internet companies alone. We hope that the labor authorities and regulators will ensure protection of workers' rights.
According to a survey by the Chinese Academy of Social Sciences in 2017, the average leisure time enjoyed by the Chinese was 2.27 hours a day. In comparison, citizens in Western countries like the United States and Germany enjoyed five hours' leisure daily.
In China, the rate of depression among workers is rising. Young people do need to struggle and fight for a better life, but when more and more of them are as busy as a programed robot, it's not necessarily a good thing for them, their employers and society.
Reducing pressure on the young does not mean simply shortening their working hours. It is not the responsibility of a single company or industry to address the issue, either. It's time to figure out how to relieve workers of the huge pressure from a social and macro perspective. The rebounding of the 996 work schedule is sending out a warning call to Chinese society.
Copyedited by Sudeshna Sarkar