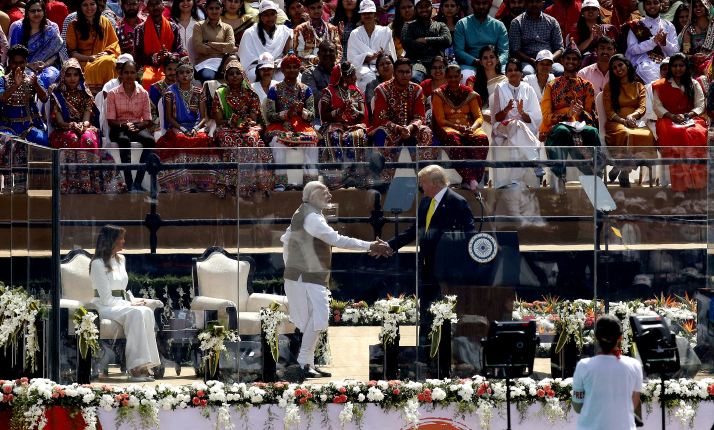 Visiting U.S. President Donald Trump and Indian Prime Minister Narendra Modi attend a gathering at the Motera Stadium in Ahmedabad, India, on February 24 (XINHUA)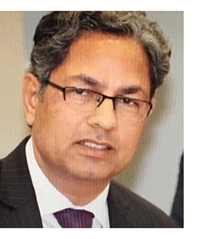 U.S. President Donald Trump's maiden visit to India on the last leg of his presidency has been a momentous event for both sides. This showcasing of his popularity in a country with the second largest population and fifth largest economy could improve his popularity in the presidential election with a large number of Americans being of Indian origin. It is certainly going to bring some excitement to India's economic slowdown in recent times.
The driving force of this high-on-optics visit was the two leaders highlighting their strategic convergence and their partnership in managing regional and global challenges like terrorism, energy security and peace and stability in the Indo-Pacific.
What was especially noticeable was that Trump, who is not very fond of international travels, took this 30-hour journey for a power-packed 36-hour visit to three Indian cities. Also, he was accompanied by the First Lady and his daughter and son-in-law, which maximized the impact of India's cultural diplomacy.
Both in Trump's discussions with Indian Prime Minister Narendra Modi about the Indo-Pacific and India procuring 5G technologies, China remained an undiscussed factor. Several telecom operators in India are already engaged in 5G trials with Chinese company Huawei though Trump has been trying to dissuade U.S. allies from engagements with Huawei.
On the Indo-Pacific, instead of seeing it as part of containing China's expanding footprint, India has clearly articulated engaging China into the discourse and not allowing it to become an exclusive club of a few countries.
India has also been at loggerheads with the U.S. on trade tariffs slapped by Washington, but unlike Beijing, New Delhi could not clinch any trade deal, even a limited one, during this visit.
Instead, India's expanding defense and energy procurement emerged as the defining feature of the Indo-U.S. comprehensive global strategic partnership. This visit saw the two sides sign deals worth $3.4 billion for procuring 30 helicopters in continuation of the gradual upsurge in India's defense purchases from the U.S. In 10 years, the scale of purchases has already crossed $18 billion.
Several other defense equipment, like drones, ballistic missile defense and integrated air defense systems, is likely to be added to this list in the coming years. India has become a major defense partner of the U.S. with transfer of advanced technologies that the U.S. shares with its NATO allies. This is clearly a U-turn from India once being the main target of U.S.-led technology control regimes.
In another volte-face, India, which imported no energy from the U.S. till 2015, last year bought gas and oil worth $6.7 billion, and this figure is expected to cross $10 billion in 2020. India has also offered to invest $2.5 billion in this sector and the Nuclear Power Corp. of India is negotiating with U.S. power company Westinghouse to buy six nuclear power reactors. The two are also working on sharing technologies for clean and efficient exploration, harnessing and use of energy.
"We are going to be doing a lot of business with India. They are sending billions and billions of dollars now to the United States"—is how Trump explained his takeaways from this visit on his return to Washington, D.C. New Delhi seems to have ensured that the complementarities emerging from the India-U.S. strategic partnership will not be allowed to take India's friendship with China hostage.
The author is a professor at Jawaharlal Nehru University, New Delhi, and adjunct senior fellow at the Charhar Institute, Beijing
Copyedited by Sudeshna Sarkar
Comments to yanwei@bjreview.com