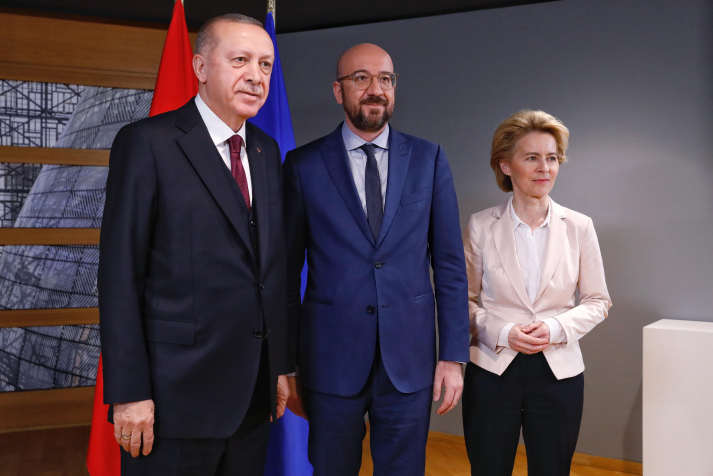 Turkish President Recep Tayyip Erdogan, European Council President Charles Michel and European Commission President Ursula von der Leyen (left to right) pose for a photo prior to their meeting in Brussels, Belgium, on March 9 (XINHUA)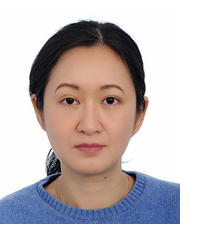 Tens of thousands of refugees and immigrants have been gathering at the Turkey-Greece border since the end of February, after Turkey announced it would not stop them from leaving the country. Turkey made the move after an airstrike in Idlib Province in northern Syria, blamed on the Syrian Government, killed 33 Turkish soldiers and Turkey anticipated an influx of new refugees from Syria.
As the refugees attempt to cross the border to enter Europe, Greece, Europe's southern gateway, is under tremendous pressure. If Greece fails to keep its border closed, all other European Union (EU) members would face another refugee crisis. While the EU is trying to assist Greece to cope with the pressure, most Greeks are pessimistic about the crisis ending soon. They believe the only solution is to end the conflicts and chaos in the Middle East, including in Syria.
Struggling to cope
Facing waves of refugees at the gate, European Commission President Ursula von der Leyen, European Council President Charles Michel, European Parliament Speaker David Sassoli, as well as Andrej Plenkovic, Prime Minister of Croatia, which holds the EU rotating presidency, visited the Greek border area to support Greece. Von der Leyen announced that the EU would provide Greece with 700 million euros ($780 million) and a rapid border intervention force consisting of 100 onshore and maritime border guards would be deployed in the border area.
However, except for money and guards, there is not much the EU can do. Moreover, it itself is now troubled by the novel coronavirus epidemic, negotiations with Britain for Brexit arrangements and an economic slowdown. Greece needs to fend for itself.
Police on both sides of the border have been firing tear gas shells at the crowds to stop them from entering and as a result, the refugees are stuck in the border area, unable to either move forward to Greece or retreat to Turkey.
The Greek Government has called many emergency meetings on the refugee issue, elevated its border defense to the highest level, temporarily shut down land crossings with Turkey, and announced it would suspend new asylum applications until April 1 and illegal immigrants will be deported immediately.
The Greek authorities believe illegal large-scale immigrations from Turkey have been carefully planned in an organized way, guided and encouraged by the Turkish Government. In 2016, Turkey signed an agreement with the EU to curb irregular immigration into Europe via Greece. However, Greek Prime Minister Kyriakos Mitsotakis said the agreement was dead, flouted by Turkey.
According to the deal, Turkey is to halt the flow of Europe-bound immigrants and refugees in exchange for up to 6 billion euros ($6.7 billion) in aid to manage the Syrian refugees on its territory, a fast-track EU membership and visa-free travel to Europe for Turkish citizens.
Mitsotakis said Turkey was consciously attempting to use immigrants and refugees as "geopolitical pawns to promote its own interests." The Greek public also thinks that the Recep Tayyip Erdogan administration of Turkey is once again using the refugees to "blackmail" the EU and North Atlantic Treaty Organization to force them to support Turkey's military operations in Syria.
However, Turkish President Erdogan blames the EU, saying it failed to respect its commitments and owes Turkey money. Presidential spokesperson Ibrahim Kalin has lamented that the visa agreement "never materialized. The updating of the Customs Union... was never realized. The new [membership] chapters were again, one of the issues that never materialized."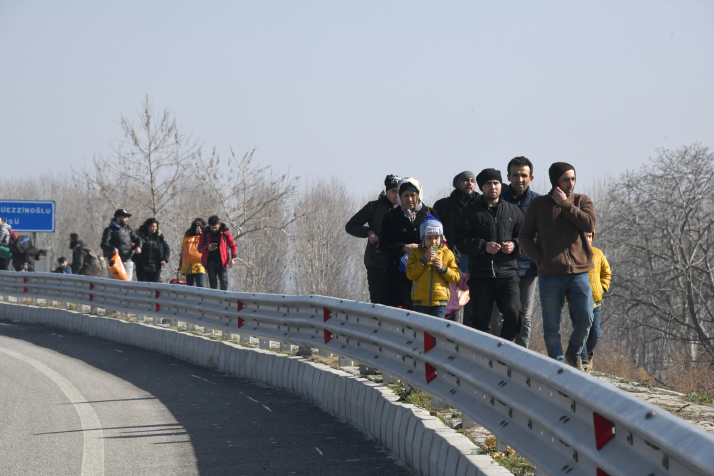 Refugees proceed to the Greek-Turkish border from Edirne Province in Turkey on March 1 (XINHUA)
Long-term issue
For refugees and immigrants from the Middle East and other parts of Asia, Greece has been the best route to cross over to Europe for a long time. Its over 200-km border with Turkey has served as their backdoor to enter Europe. But their number has been slashed since 2016, when four Balkan countries, Slovenia, Serbia, Croatia and North Macedonia, closed their borders. Besides, Turkey and the EU reached the agreement that the former would prevent refugee flows to Greece.
However, after three years' relative peace, Greece has been under another wave of refugees since last year with conflicts in Syria intensifying. The Greek Government updated the EU on this and its foreign minister also called on the Turkish ambassador to Greece to express strong dissatisfaction and concern, but there was little effect.
Last November, Greece issued a bill on rapid review of asylum rights of refugees and immigrants and repatriation, making it tougher to claim asylum in Greece. It also curtailed refugee and immigration activities in Greece. If they protest or refuse to be transferred from one refugee camp to another or oppose other arrangements, it would be considered as violation of asylum conditions. This act was opposed by 15 international human rights organizations.
According to official statistics, over 38,000 refugees and immigrants are now stranded on five islands in Greece, nicknamed refugee islands. The camps on these islands are crowded with poor living conditions. There are also repeated conflicts inside the camps and between the refugees and local residents.
Although the Greek Government has reduced the islands' value-added tax to pacify the locals, most of them think the arrival of refugees has seriously affected their livelihood, and protests have become increasingly intense.
At the end of February, the local governments and residents of two islands joined forces to resist the Greek Government's plan to build a new closed refugee camp. The conflicts between civilians and police lasted for days, spinning nearly out of control.
Moreover, the identity of the refugees is also in question. According to the Greek prime minister, the people who tried to enter Greece in the recent past did not come from war-torn Idlib, but had been living in safety in Turkey for a long time. He also accused Turkey of being "an official migrant trafficker."
There are about 1 million economic immigrants in Greece who are yet to have a legal status and the number has been growing for years. On the other hand, Greece has only 11 million permanent residents. According to EU laws, if illegal immigrants who have not been granted asylum are arrested, they will be repatriated to the first country they arrived in when entering Europe. This country is likely to be Greece, the gateway to the EU.
But as these arrivals' identities and backgrounds are difficult to check, Greeks are also concerned that they will pose a threat to social security and order and want the government to take tough action.
Most of the Greeks interviewed were pessimistic that the refugee crisis would end soon. Accomplishing a ceasefire in Syria or in other conflicted countries is not an easy task. Meanwhile, relations between Turkey and Greece are also complicated by their Aegean Sea territorial disputes.
Moreover, the EU members themselves haven't been able to agree on the refugee issue. While Western Europe, represented by Germany and France, has remained positive on accepting refugees, Central and Eastern European countries such as Hungary, Poland and Slovakia have rejected the refugee quotas for EU members and even closed their borders to prevent the refugees from entering. Therefore, it could still be difficult for both Greece and the EU to effectively solve the problem anytime soon.
The author is editor in chief of GreekReporter.com
Copyedited by Sudeshna Sarkar
Comments to yanwei@bjreview.com