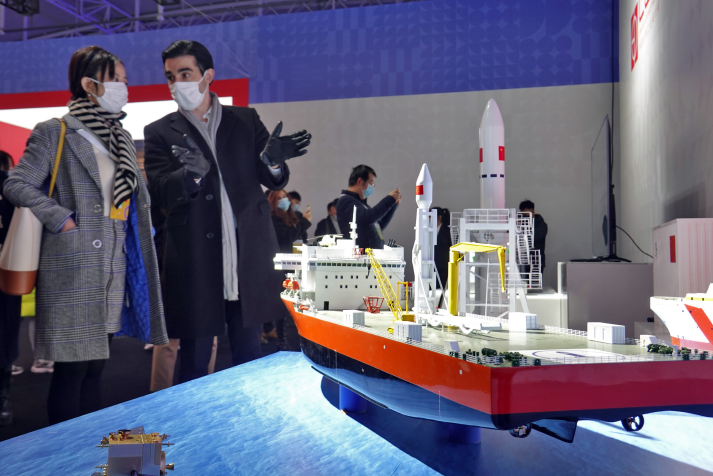 Visitors discuss a sea-based rocket launch system model at an exhibition in Yantai, Shandong Province in east China, on November 25 (XINHUA)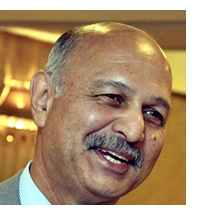 The third volume of Xi Jinping: The Governance of China follows the commemoration of the 70th anniversary of the founding of the People's Republic of China in 2019, and the 40th anniversary of the historic reform and opening-up policy, which has been transformative for contemporary China, in 2018. Also, it has been published on the eve of the centennial of the founding of the Communist Party of China in July 2021.
With the novel coronavirus pandemic shaking the world, a collective response to this common challenge has become
urgent. There are also inexorable shifts in the global balance of economic and political power from the West to the East, resulting in the relative decline of the West and the resurgence of the "Asian century."
At a crossroads
For the struggling humanity, there are two clear, contrasting choices: a new Cold War approach, based on a zero-sum-game mindset, combining unilateralism with a "might is right" mentality. Its hallmark is conflict and confrontation.
Opposed to this, the landmark Belt and Road Initiative proposed by President Xi offers an inclusive, win-win approach based on connectivity of countries, cultures and continents.
It is probably the most significant developmental and diplomatic initiative of the 21st century, driving globalization through developing the economy, energy, infrastructure, industries, ports and pipelines, roads and railways. It is an initiative designed for economic cooperation, not geopolitical or military alliance. It is an open and inclusive process that does not exclude any party, is not based on ideology and is certainly not a zero-sum game.
To the foreign reader, the third volume is extremely useful in understanding three separate but related processes: a vision for China's future, global changes and China's relationship with this changing world.
The vision for China's future is based on national rejuvenation, the greatest dream of the Chinese nation since the modern era began. Xi said the Chinese people have made continuous efforts for more than 170 years to fulfill their great dreams. "Today, more than ever before, we are closer to, more confident of, and more capable of making the goal of national rejuvenation a reality," he said in March 2018.
A key pillar of China's rejuvenation is to bring poverty to an end in this generation by a policy to always put the people first and work hard for the people's interests and happiness. The book has an upbeat message of optimism for a better tomorrow: "Our country is now in its best period of development since the advent of modern times."
Another pillar of this approach is to build China into a world leader of science and technology, which is integrated into an open, innovative and inclusive global economy, and seeks to promote green development. In promoting this vision of China, a key component is to increase China's soft power and the influence of Chinese culture in the world by improving its ability to engage international communication, so as to tell China's stories well, make the voice of China heard, and present a panoramic view of China to the world.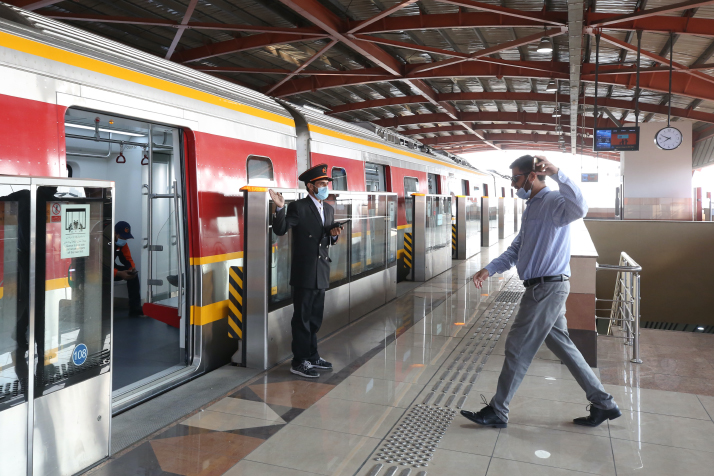 A passenger heads to the subway train in Lahore, Pakistan, on October 26. Pakistan's first subway line, built by Chinese companies, started running in the city that day (XINHUA)
Global context
Global change is the context that defines China's role in the world, which is undergoing momentous changes of a scale unseen in a century, with multipolarity an irreversible trend.
China today is the principal driver of globalization, opposing protectionism and trade barriers, which are being pushed by those who were once the torchbearers of globalization. In fact, those opposing globalization can rightly be likened to "locking oneself in a dark room," as Xi said in his speech at the World Economic Forum's annual meeting in Davos, Switzerland, in January 2017.
The pandemic has also demonstrated the need for closer cooperation, sharing of experiences, assisting each other by providing medical equipment and supplies plus cooperation in vaccine development and its wide dissemination for the global public good.
The Pakistan-China cooperation during the pandemic has been a model of good neighborly mutual assistance. Any effort to stoke up fears of the pandemic, or stigmatize or demonize on the basis of race, religion or ethnic origin is unacceptable and counterproductive.
Given this changing global context, China's engagement with a world in transformation is multifaceted, with the Belt and Road Initiative, a leadership role on addressing climate change, and new institutional linkages through organizations and mechanisms such as the Shanghai Cooperation Organization, BRICS and the Asian Infrastructure Investment Bank.
This global engagement is economic and diplomatic and cultural as well, with a confluence of interests where historical linkages and contemporary challenges converge. For example, at the Eighth Ministerial Conference of the China-Arab States Cooperation Forum in June 2018, Xi spoke of the Chinese and Arab civilizations sharing a long history of mutually reinforcing exchanges with the "need to delve deeper into different religions for ideas of greater harmony and positivity." They also need to work together "to cultivate a healthy cyber culture to oppose the spread of extremist content and hate speech through the Internet." The Conference on Dialogue of Asian Civilizations in Beijing in May 2019 was a major initiative in this regard.
No pushover
At the same time, basic international norms and fundamental rules of international behavior, as enshrined in the UN Charter, international law and the Five Principles of Peaceful Coexistence, should be adhered to. Attempts to interfere in China's domestic affairs by playing the Taiwan, Hong Kong or Xinjiang cards are part of an effort by the hawks in Washington for containment of China. But it won't find many takers in the international system as Asia or even the world cannot revert to the Cold War era of division, conflict and confrontation.
Many Western policymakers or "experts" who peddle this perspective have failed to read China right. China is no pushover. As an article in The New York Times published on November 18, 2018, The Land That Failed to Fail, wrote about China's reform and opening up when it began the unique experiment of implementing socialism with Chinese characteristics: "The West was sure the Chinese approach would not work. It just had to wait. It's still waiting."
The author is a Pakistani senator and chairman of the Senate Foreign Affairs Committee
(Print Edition Title: A 21st-Century Worldview)
Copyedited by Sudeshna Sarkar
Comments to yanwei@bjreview.com