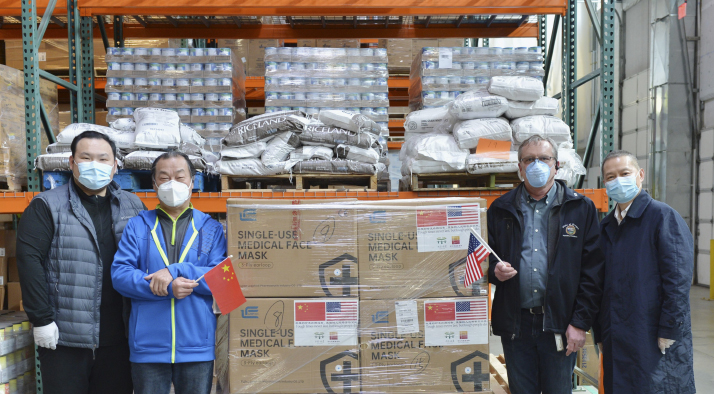 Chinese and U.S. representatives pose for a photo with masks donated by Fujian Province in southeast China to Oregon of the U.S. on April 27, 2020. Fujian and Oregon are sister provinces (states) (XINHUA)
This is a pivotal moment in the U.S.-China relationship. That is not just because the United States has elected a new president. While the administration of Joe Biden can be expected to conduct a careful reassessment of actions that the United States has taken against China over the past four years, there is little chance of returning to the earlier state of play.
In large part that is because the previous administration of Donald Trump raised a number of critical concerns over important structural tensions between the United States and China—namely, innovation policy, intellectual property rights, technology transfer, subsidies to state-owned enterprises and cyber security.
On all of these accounts, the allegations that the U.S. trade representative lodged against China in March 2018 were based on very weak evidence. But that is very much beside the point. The issues are of great and lasting importance on their own and will need to be addressed, one way or another, if this deep-rooted conflict is ever to be resolved.
Breaking the ice
The key to conflict resolution will lie in rebuilding mutual trust. This can best be achieved by a series of small steps rather than by the grand gesture of a major breakthrough.
The best place to start is with the low hanging fruit.
With Biden already delivering on his promise that the United States will move quickly to rejoin the Paris Agreement on climate change, there is good reason for optimism for the United States to rejoin China in a spirit of engagement and leadership in this critical area.
The same is the case with respect to global health. With the world still in the throes of a devastating pandemic, there is enormous opportunity for the United States and China to play a leadership role in grappling with the novel coronavirus (COVID-19) and its aftermath.
There is so much the two nations can do together—from joint scientific efforts in therapeutic treatments and vaccines to virological research to data sharing on COVID-19 incidence by demographic cohort to sharing best practices in contact tracing. By working together in the post-COVID-19 era, the United States and China can set a new agenda for collaborative global health practices.
There are a variety of other issues that the two nations can jointly tackle—from reopening diplomatic consulates (Chengdu and Houston) and a relaxation of newly stringent visa requirements to reversing the expulsion of media representatives and reinstating important educational exchanges.
But there needs to more than simply going after the low hanging fruit. While the issue-by-issue approach has the advantage of re-establishing collaborative dialogue—a major breakthrough in itself after nearly four years of charges and counter charges—that is not sufficient ground for lasting conflict resolution. A new strategy is needed to change the framework of engagement between the United States and China from distrust to trust, from conflict to cooperation.
Key pillars
Such a framework should have three key pillars—trade, structural challenges, and the very nature of the dialogue itself.
Trade: With China having accounted for fully 44 percent of America's total merchandise trade deficit over the past decade, the economic conflict between the two nations has long been framed as a bilateral trade problem. This is a major mistake. Trade imbalances between nations do not occur in a vacuum. They are an outgrowth of macroeconomic saving problems.
The United States, with its chronic shortfall of domestic saving, ran merchandise trade deficits with 102 nations in 2019. China, with its chronic saving surplus, ran merchandise trade surpluses with 159 nations in 2018. For that reason alone the current approach to the U.S.-China trade dispute is flawed, as are the tariffs that underpin it. There can be no bilateral fix for a multilateral problem. That has only led to trade diversion among trading partners—imposing higher costs on consumers and producers on both sides.
This flawed logic needs to be corrected by abandoning the recent tariffs and the so-called "phase-one" deal on Chinese purchases of American-made goods. What is needed is a saving agenda. The United States should attempt to increase saving while China should reduce it. That will be much harder for Washington than for Beijing, as U.S. saving is now under acute pressure with huge and rapidly expanding COVID-19-related budget deficits.
Structural agenda: The resolution of the economic conflict needs to move away from the misdirected fixation on the bilateral trade imbalance between the two nations and focus more on key aspects of the so-called structural agenda.
The structural agenda is a stalking horse for far bigger aspirations shared by both the United States and China—namely, fair and improved access to each other's markets in order to promote long-term economic growth. A bilateral investment treaty (BIT) is a time-tested approach that both nations have long embraced as a means toward that end. The United States has signed 42 such treaties, China has more than 100 in force. A decade of negotiations on a U.S.-China BIT were abandoned by the Trump administration just when a deal was in sight. Going back to the table on a BIT should now be an urgent priority for the Biden administration.
China's Comprehensive Agreement on Investment with the EU could show the way. In return for a relaxation of EU investment barriers faced by Chinese multinationals, the treaty calls for China to significantly reduce heretofore stringent joint-venture requirements for European multinationals; it also provides for an equalization of EU and Chinese subsidies for state-owned enterprises and it addresses thorny intellectual property rights issues, environmental concerns, labor rights and regulatory transparency.
These key provisions are very much aligned with the structural objectives long sought by the United States. The EU-China agreement could well provide a BIT-like template for a comparable U.S.-China breakthrough.
Dialogue: Prior to the Twitter-driven policy bluster of the past four years, the United States and China relied on traditional summitry to manage the bilateral relationship. Unfortunately, these summits—whether biannual (George W. Bush) or annual (Obama)—achieved little and most certainly did not forestall Trump's trade war.
Periodic summits don't do this important relationship justice. A better approach would be to establish a permanent secretariat, housed in a neutral jurisdiction, that has full-time responsibility for all aspects of the U.S.-China relationship.
The secretariat should be staffed by senior professionals from both countries, charged with data sharing, joint research, and joint policy white papers—all aimed at providing support for regular meetings between leaders of both nations. Under the auspices of the secretariat, implementation and monitoring of existing agreements would be jointly conducted, complete with a transparent dispute adjudication process that could also be used to address disputes bound to arise over contentious structural issues.
This combination—picking the low-hanging fruit of mutual interest in conjunction with a new strategy of engagement—is the best hope the United States and China have to repair the world's most important bilateral relationship. After a 30-month trade war that has now morphed into a tech war that is in the early stages of another cold war, it would be a historic tragedy to squander this opportunity. The time for a new and creative approach to conflict resolution is now. BR
The author, a faculty member at Yale University and former Chairman of Morgan Stanley Asia, is author of Unbalanced: The Codependency of America and China
(Print Edition Title: Conflict Resolution)
Comments to yanwei@bjreview.com