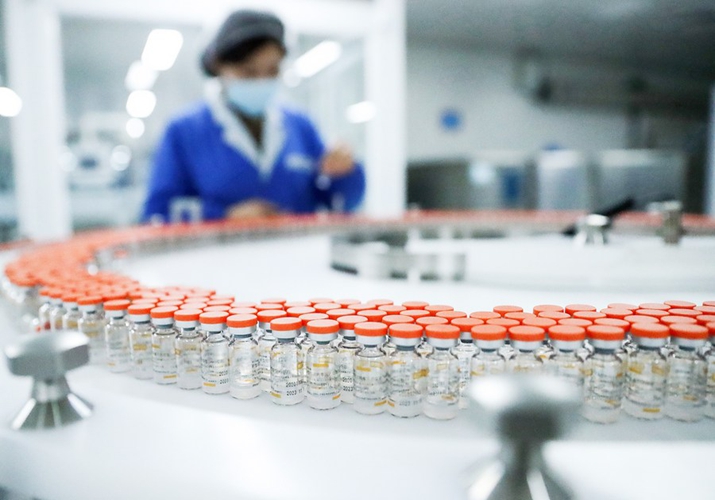 A staff member checks tags on inactivated COVID-19 vaccine vials on a packing line at Sinovac Life Sciences Co., Ltd. in Beijing on January 6 (XINHUA)
So far, China has developed three leading vaccines in the fight against COVID-19, produced by the companies Sinopharm, Sinovac and CanSino. However, in the race to inoculate their populations, developing nations have found themselves pushed to the "back of the queue" by Western countries.
As of the time of writing, China's vaccines have been procured and donated to most of Southeast Asia, Latin America, the Middle East, as well as several countries in Europe. A growing number of leaders in these countries have also taken the vaccines, including the prime ministers of the United Arab Emirates and Jordan, Turkey's President Recep Erdogan and President Joko Widodo of Indonesia.
However, not everyone is convinced. Despite the importance of China's international vaccine cooperation, the Western mainstream media has persistently portrayed Chinese vaccines in a negative light, depicting them as unreliable, dangerous and amplifying doubts toward them.
The level of scrutiny surrounding Chinese vaccines has not been shared equally by U.S.-produced vaccines, such as those from Pfizer and Moderna, despite legitimate concerns about side effects. Chinese journalists have also been attacked for pointing out these discrepancies.
It is quite clear that there is a campaign to discredit China's vaccines – one which is motivated more by politics than facts. Western media and political elites have spent the past year whipping up negativity against China and blaming Beijing unfairly for the virus in order to manufacture consent for tough policies. Therefore, the general goal of proliferating negative coverage based on Sinophobic stereotypes, is to dissuade countries from procuring Chinese vaccines.
There is a longstanding stereotype in Western discourse that Chinese products are unreliable and of inferior quality. For decades, China has been at the center of manufacturing and supply chains, meaning it has been repeatedly associated with goods that are "cheap" and "poor quality." However, such an understanding overlooks the nuanced fact that as China has developed, so has its capabilities and workforce. Meanwhile, the country has subsequently moved "up the value chain," producing more sophisticated and higher quality products. The products China made in the 1980s and '90s, are not the same as those nowadays, while that portion of manufacturing is increasingly associated with other markets.
However, those seeking to oppose China in Western media and government circles are well aware that this stereotype can be weaponized to political ends, and it is of course an easy avenue for discrediting Chinese vaccines. While sophisticated digital products made by China – such as smartphones and high-tech applications – have been accused of espionage in the bid to try and discredit them, a vaccine is a product that requires a much higher threshold of public trust and credibility to be used. This provided an easy route of attack for critics peddling the idea that China's vaccines aren't safe enough. Against such a background, it's not hard for people to believe it.
Most of the attacks have concerned the outcome of Sinovac's clinical trials in Brazil, where a recalibration of the results purportedly showed an efficiency rate of only 50% if "mild cases" were excluded. The mainstream media jumped on this, ignoring the fact that the same methodology would also reduce the efficacy rate of Pfizer's vaccine too, and further dismissing other Sinovac trials in Turkey which showed a 95% success rate, and a 78% one in Indonesia. Some U.K. tabloids also dishonestly portrayed Sinovac as if it were producing China's only vaccine. Meanwhile, mainstream American newspapers have persistently claimed that the vaccines "lack transparency" and sowed various stories of distrust amplifying voices of people in countries who said they won't take the vaccine.
However, this rhetoric isn't yielding results. Countries who procure Chinese vaccines have to grant them independent regulatory approval and utilize their own judgement. President Rodrigo Duterte of the Philippines sought to down-play negative reports in securing Chinese vaccines, noting: "The Chinese are smart." In addition, China is making these vaccines in conjunction with other countries via joint production agreements. For example, the UAE has secured a license to produce Sinopharm vaccines and is voluntarily distributing them to other countries, such as Sudan.
Therefore, contrary to media hysteria, China's vaccines are not part of a zero-sum game whereby a country simply buys a product and takes one's word for it, leaving room for deception. This is a multilateral effort and engagement which is allowing nations around the world to get vaccines quicker, all without the supply chain hurdles that companies such as Pfizer face as they need to keep their vaccines in extreme cold temperatures.
Likewise, with Western countries largely hoarding vaccines for themselves, China's role is a gamechanger. It goes without saying that those promoting scare stories and negative content about such vaccines are doing so out of political motivations.
Tom Fowdy is a British political and international relations analyst and a graduate of Durham and Oxford universities.