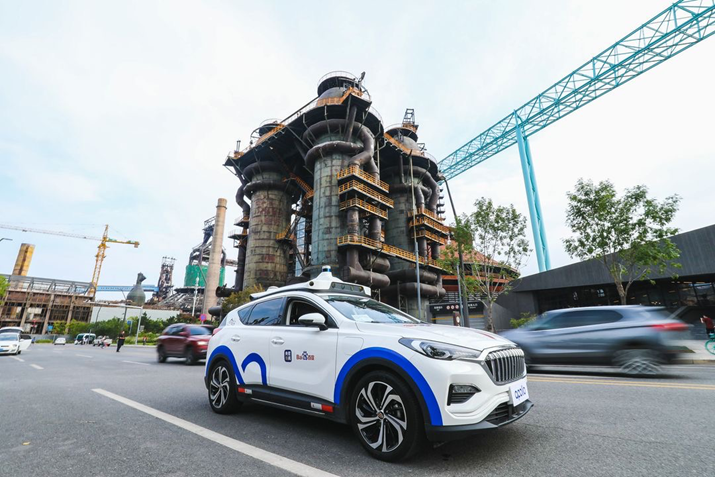 An autonomous Apollo Go Robotaxi from Baidu on a test run in Beijing on September 15, 2020 (COURTESY PHOTO)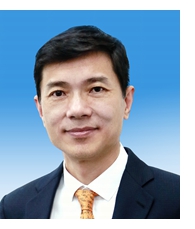 Robin Li, CEO of Internet giant Baidu, foresees artificial intelligence (AI) changing our lives and ways of production. Li is also a member of the 13th National Committee of the Chinese People's Political Consultative Conference (CPPCC), the top political advisory body. He talked with Beijing Review reporter Zhao Wei about the proposals he has submitted at the annual CPPCC session, which kicked off on March 4, Baidu's recent innovations, and China's position in global AI technology. This is an edited excerpt of his interview:
Beijing Review: What are your proposals for this year's session?
Robin Li: The first one is about accelerating the commercialization of self-driving [vehicles] and the utilization of intelligent transportation to ease traffic congestion so that people can travel in a more eco-friendly and convenient way. This will help achieve the goal of peaking carbon dioxide emissions before 2030 and achieving carbon neutrality ahead of 2060.
It is about the right time that the authorities begin large-scale commercialization of self-driving [vehicles] and boost the construction of intelligent infrastructure. By applying AI, big data, 5G and other technologies, China can build a low-carbon, efficient and convenient transportation system benefiting more people. At the same time, enterprises should step up research and development (R&D) and innovation of autonomous vehicles and key components.
My second proposal is encouraging the application of smart devices for elderly care services to cope with an aging population. If a comprehensive management platform based on smart devices is established, medical resources can be brought into communities more efficiently, providing nursing home care services, telemedicine consultation and emergency call services for the elderly.
The third proposal concerns information sharing, which aims at breaking the existing barriers and promoting free flow of information and knowledge. At the same time, the authorities should strengthen supervision of data security on different Internet platforms.
Another proposal is to foster new majors in universities and colleges such as AI and intelligent manufacturing and engineering, establish an AI-based vocational and technical education system to help people acquire new skills and achieve high-quality employment, and build a strong talent pool.
What progress has China made in the AI area? Where does it stand in the world in terms of current AI technology?
The rapid growth of China's economy in the past four decades is mainly attributable to the transition from a planned economy to an open market economy. In the coming years, medium-to-high-speed growth will mainly depend on improved efficiency brought about by scientific and technological innovation. The digital economy is evolving into an AI-driven intelligent economy, which will bring profound changes to our economic and
social life.
Intelligent transportation is an example. Baidu Apollo Go has launched new intelligent vehicle solutions, helping automakers to build good cars and governments to build good roads through intelligent transformation. It is estimated that intelligent transportation infrastructure can improve traffic efficiency by 15-30 percent, thus contributing 2.4-4.8 percent to GDP growth in absolute terms. Pilot projects have been carried out in Beijing, Changsha and Guangzhou, among others.
China has made remarkable progress in basic research, but it still lags behind other leading countries in some key technologies. To remove the technology-based bottleneck and climb the ladder of quality and industrial sophistication requires perseverance and enduring efforts. But we have the confidence that someday we will be at the leading edge of the technological frontier.
Some of the Chinese Internet companies, including Baidu, are becoming globally competitive. What has Baidu done to ensure its leading position in the market?
According to the 14th Five-Year Plan (2021-25) and the long-range objectives through 2035, full play will be given to the leading role of major enterprises while micro, small and medium-sized enterprises will be assisted to grow into sources of innovation. It will strengthen the development of an open, coordinated and effective platform for generic technology, and promote integrated innovation in various sectors of the industrial chain as well as among enterprises.
Major enterprises with technological advantages should assume a greater responsibility in leading innovation and enhancing the overall progress of the industry.
In recent years, Baidu has launched an open-source and fully functional deep-learning platform, PaddlePaddle, to help developers launch AI business and promote more industries to achieve intelligence upgrading. Its robotaxi service Apollo Go helps partners in the automotive industry build their own self-driving systems. Baidu also continues to increase investment in talent training and create a new model of training involving government authorities, enterprises and universities.
We are a front-runner in AI technology. In 2020, Baidu's core R&D expenditure accounted for 21.4 percent of its revenue, becoming one of the top Internet companies with the highest R&D spending. After years of investment and accumulation, the number of Baidu's AI-related patent applications has exceeded 10,000. Baidu has ranked first in China in terms of the number of patent applications and grants for three consecutive years.
Baidu Brain, a core AI system featuring advanced technology for recognizing and processing speech, images and words as well as building user profiles based on big data analysis, is used by 2.65 million AI developers and provides 270 key AI capabilities to its ecosystem participants. This year, mass production of Kunlun 2, our cloud-to-edge AI chip, will begin. It can be applied in both cloud and edge scenarios such as data centers, public clouds and autonomous vehicles.
What kind of AI development and application prospects does the 14th Five-Year Plan envision? What will an intelligent society look like in the future?
According to the plan, innovation will play a central role in China's modernization drive with self-reliance in science and technology as the strategic underpinning for national development. This once again highlights the importance and urgency of sci-tech innovation.
More cutting-edge technologies will be industrialized and put into commercial use. The world today is embracing a new round of innovation dividend, with the intelligent economy becoming one of the new drivers of economic growth.
AI will have a wide and far-reaching impact on society, the economy and life at three levels: human-computer interaction, infrastructure and industrial application. This would reshape our economic structure and usher in a more creative and dynamic era. It would change our way of production, provide new solutions and promote the smart industry.
In the 1990s, the U.S. came up with the National Information Infrastructure [telecom plan to build communication networks and revolutionize the availability of information] and ushered in the Internet age. Today, China is pushing forward the construction of new infrastructure in the digital era, which could give it an opportunity to take the lead in achieving a comprehensive AI application in the society.
For example, biocomputing, a cutting-edge field of technology operating at the intersection of biology, engineering and computer science, will play a key role in accelerating R&D of new drugs. AI technology also holds great promise for early disease screening. For example, researchers have developed a non-invasive blood test that can detect whether an individual has one of five common types of cancer four years before the condition can be diagnosed with the current methods.
In the future, everyone should have their own personal intelligent assistant. For example, Baidu's DuSmart Speaker, [a voice command speaker with an integrated virtual assistant,] is used by thousands of families and is regarded as a family member. The elderly and children like to interact with DuSmart and rely on it to get
information.
In the future, using AI technology, parents can have a personal intelligent education assistant that will help with their children's schoolwork. Dedicated intelligent assistants may be used in many fields such as medical care, education and finance.
(Print Edition Title:Toward an Intelligent Tomorrow)
Copyedited by Sudeshna Sarkar
Comments to zhaowei@bjreview.com