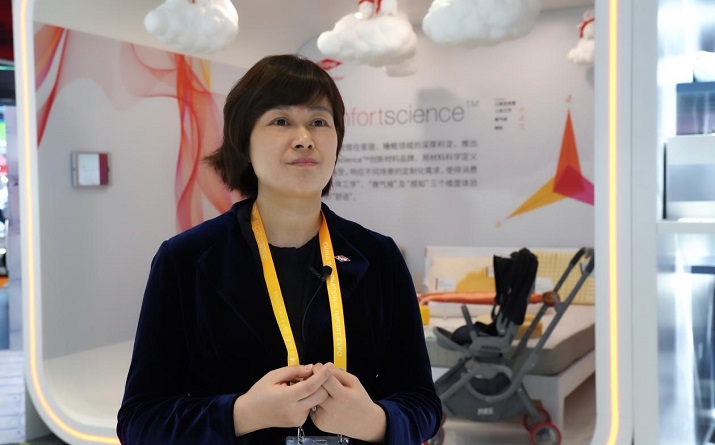 Xu Yang, Vice President of Dow Greater China (ZHANG WEI)
The China International Import Expo (CIIE), with its fourth edition currently underway in China's major economic hub of Shanghai, offers up precious opportunities for global manufacturers and exporters. Many exhibitors have already promised to gather once again for the next edition, with the U.S. materials science giant Dow being one of them.
When delivering a keynote speech at the opening ceremony of the fourth CIIE, Chinese President Xi Jinping said that China stands ready to work jointly to build an open world economy so that "the spring breeze of openness will bring warmth to all parts of the world." Xu Yang, Vice President of Dow Greater China, said that this statement encourages her.
Among the main world economies China has been the first to start recovering from the pandemic. At the same time, Chinese demand is driving, or has substantiated, the growth of many other markets. President Xi has demonstrated a lot of confidence in the continuous growth of the Chinese economy and "the world should feel it," Xu told Beijing Review during the fourth CIIE.
According to Xu, China, Dow's second largest market worldwide, is a pivotal center for her company to generate new ideas, explore the possibilities for innovation and then bring those ideas to other markets.
Last year, impacted by the COVID-19 pandemic, Dow saw two to three months of low business performance. However, the business in China bounced back quickly, which Xu described as "beyond our expectations."
Dow now witnesses strong momentum in the Chinese market, with Xu explaining how there are two chief reasons for the company's growing confidence. First, the Chinese market potential is massive given its complete supply chain. This is further evidenced by the fact that when a lot of markets were locked down due to the pandemic, China was supplying the whole world.
From the value chain perspective, you will find that China is "constantly climbing the ladder," and now able to produce "more sophisticated products," she added.
"This is the fourth year Dow has joined the CIIE. We are proud to have been a participant since the very beginning. And we believe that the CIIE is a platform for us to demonstrate our commitment to the Chinese market and to showcase our latest technology, especially when China is looking at how to grow our economy in a low-carbon way," she said.
Compared with two decades ago, the Chinese economy is rapidly transforming into a more sustainable and low-carbon one. "We see many opportunities in its consumption upgrade, new infrastructure, as well as low-carbon growth model," Xu added.
Jon Penrice, President of Dow for Asia Pacific, said that "the CIIE is an ideal platform to engage Chinese customers, partners and government agencies around innovative solutions that help energy-intensive industries reduce their carbon footprint and meet their climate protection goals."
"With the world's focus surrounding carbon neutrality and sustainable manufacturing, we are always innovating, bringing customized materials and scientific solutions targeting the needs of the Chinese market. We believe that this will help build a better and lower-carbon future," he added.
Talking about uncertainties in the U.S.-China relationship, Xu said that her company has benefited from the Phase One trade deal reached by the two countries in February 2020, and they have seen some positive movements in the arena of intellectual property protection.
"We hope that more discussions and negotiations will happen between both governments to shelve existing differences and create more space for us to do business in China," she added.
Copyedited by Elsbeth van Paridon
Comments to mamm@bjreview.com