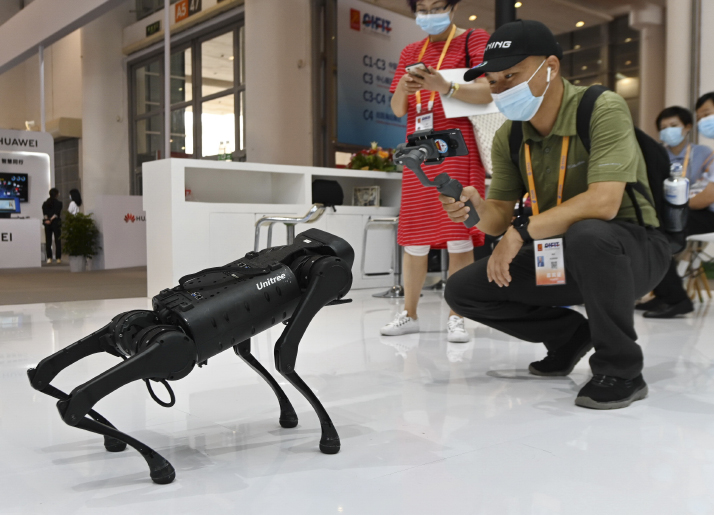 An intelligent robot dog on display at an exhibition on the BRICS New Industrial Revolution in Xiamen, Fujian Province, on September 8, 2021 (XINHUA)
In 1990, the landmark report of the South Commission, chaired by Manmohan Singh, who served as Indian prime minister from 2004 to 2014, represented a defining moment for the Global South, calling for South-South cooperation and consecrating the theory of the "locomotives of the South." The report emphasized that Global South countries could not expect former colonizers and imperialist forces to be the driver of their development. "The new locomotive forces have to be found within the South itself," it argued.
Representing 40 percent of the global population, 25 percent of global GDP and 20 percent of global trade, it is hard not to consider BRICS countries as such locomotives. Since the creation of BRICS in 2006, of which Singh was one of the protagonists, the number of governmental and multistakeholder meetings, partnerships and initiatives organized by the grouping every year has been growing consistently. No member state leader has ever missed an annual summit and BRICS has never lost momentum.
Despite the remarkably challenging situation that global governance, supply chains and global diplomatic relationships are facing, the commitment of BRICS members to the grouping remains solid and unchanged. The countries continue to consider the group as a diplomatic priority and, despite their—sometimes—very different opinions on several issues, they remain united in diversity.
Twenty years after Goldman Sachs economist Jim O'Neill coined the BRIC acronym in 2001, the fundamental goal of the grouping remains unchanged: to build a multipolar order where global governance and development can be led by the Global South for the benefit of developing countries.
To achieve and enable such an ambitious goal, it has become clear to BRICS and non-BRICS countries alike that digital technologies, digital governance and digital policies have acquired a key role.
Digital technologies
The COVID-19 pandemic has been a harsh reminder that digital technologies play an essential role for our societies and economies, and are a key enabler of literally every service, be it private or public. From education to national security, passing through health, commerce or culture, any service has been or is in the process of being digitized, and this trend is irreversible.
Over the past five years, largely because of recent COVID-19-induced shocks, the way we organize work, communications and trade have changed much more than over the preceding 50 years. When the BRIC leaders met for the first time in 2009, before the S was added for South Africa, the terms "digital" or "cyber" were not even mentioned in their first joint statement. These terms are featured 23 times in the 14th BRICS Summit Beijing Declaration, adopted on June 23. Digital transformation is completely reshaping our lives at an unprecedented pace. This transformation brings incredible opportunities but also enormous challenges. In such a context, BRICS countries have demonstrated they are not only the "locomotives of the South," but also capable of acting as drivers of innovations in terms of both digital technology and digital governance.
In less than a decade, BRICS countries have evolved into regional or global leaders in digital technologies. As a telling example, it suffices to consider that China, India and Brazil have passed from being among the least connected countries in the world to global leaders in online payments in eight years. Together, BRICS countries have the potential to be the digital locomotives of the Global South.
Innovative digital governance
Since the revelations of former U.S. National Security Agency contractor Edward Snowden in 2013 about extensive Internet and phone surveillance by U.S. intelligence, BRICS has also promoted numerous governance initiatives aimed at fostering global digital cooperation.
In the aftermath of the Snowden revelations, Brazil convened the Global Multistakeholder Meeting on the Future of Internet Governance, better known as NETmundial, in São Paulo in 2014, which adopted an ambitious declaration. Unfortunately, time has demonstrated that ambition alone is insufficient and must be accompanied with resources and stability to produce meaningful outcomes.
Aware of this, China launched, also in 2014, a new global effort aimed at fostering cyberspace governance: the World Internet Conference, also known as the Wuzhen Summit. The conference, which is convened annually in Zhejiang Province, provides a valuable venue for stakeholders to discuss solutions on a plethora of issues related to digital technologies.
India hosted the Global Conference on Cyberspace in 2017; Russia has organized its AI Journey Conference since 2019; and South Africa has emerged as the most active African country in most Internet governance forums.
Importantly, in July, the First Digital BRICS Forum was organized under the Chinese presidency of the grouping, thus providing an extraordinary opportunity to the member countries to further discuss their approaches to digital technologies and governance, and identify common ground to enhance cooperation.
Legal interoperability
The initiatives spearheaded by BRICS countries demonstrate the enormous importance they attach to digital technologies and governance, and to converging normative frameworks. It is increasingly evident that they have understood the value of interoperable digital technologies, which will allow them to exchange information and access or provide services globally, but also of interoperable norms, facilitating international trade while preserving national and digital sovereignty.
Preserving sovereignty and fostering openness are and should be seen as compatible goals if they are supported by legally interoperable frameworks. Legal interoperability can be achieved via many strategies, fostering convergent norms, providing similar levels of protection for users and similar obligations for producers of digital goods and providers of digital services.
Such legal interoperability should be at the basis of BRICS efforts to enhance their digital cooperation, while offering an alternative model of digital governance, driven by the Global South, but aimed at openness and inclusiveness. Importantly, as the works of the CyberBRICS project have demonstrated, many digital policies and norms in BRICS countries are already remarkably compatible.
Despite their differences on numerous issues, BRICS countries have demonstrated incredible strength when acting together, for instance, by establishing the BRICS-led New Development Bank, universally considered a remarkable achievement.
Even on traditionally thorny issues, such as cybersecurity governance, they can reach consensus. BRICS countries were represented among the 25 states which appointed experts in the UN Group of Governmental Experts on Advancing Responsible State Behavior in Cyberspace, which produced a consensus report in July 2021.
The same year, the BRICS Declaration, issued as the main outcome of the Delhi Summit, called for the establishment of "legal frameworks of cooperation among BRICS states [and] a BRICS intergovernmental agreement on cooperation."
Considering this context, there is an incredible potential for BRICS countries. They have the strength, the relevance and the creativity to offer a Global South-led model of digital governance. As former Brazilian President Luiz Inácio Lula da Silva once said, the logic behind BRICS is "to do something different and not copy anybody."
The author is a professor at Fundação Getulio Vargas (FGV) Law School in Rio de Janeiro, Brazil, where he heads the Center for Technology and Society and the CyberBRICS project
Copyedited by G.P. Wilson
Comments to yanwei@cicgamericas.com