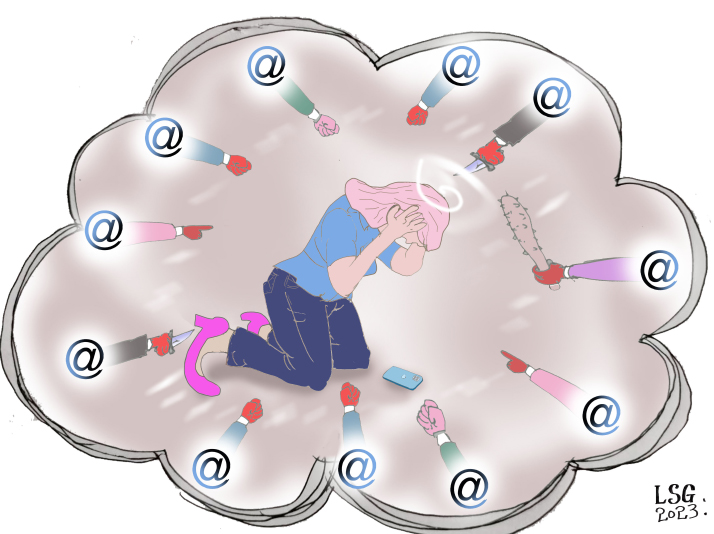 (CARTOON BY LI SHIGONG)
In July 2022, then 23-year-old Zheng Linghua from Hangzhou in Zhejiang Province suffered tremendous online backlash after a photo she posted on popular lifestyle app Xiaohongshu (Little Red Book) of her showing her hospitalized grandfather a graduate school admission letter whilst sporting pink-dyed hair went viral. Some netizens appeared to take offense at her colored hair, flooding Zheng's account with taunts like "pink haired prostitute" or even suggesting the photo with her beloved grandfather was "the image of a May-December couple."
The cyberbullying led to the young student battling severe depression for six months and eventually taking her own life on January 23.
Zheng tried to defend her rights by recording evidence of the abusive comments and trying to pursue legal action. Her lawyer called for an end to the harassment and for the removal of the abusive content. But the platform failed to do anything about the matter.
The news of her death was met with outrage on Weibo, the Chinese Twitter equivalent, with many commenters wondering: "Is our legal system really powerless against cyberviolence?"
Of course it's not. The Civil Code, the Law on Penalties for Administration of Public Security and the Criminal Law all feature corresponding articles to deal with this type of situation.
First is civil liability; the term "liability" means responsibility for the harm alleged by the plaintiff and the damages suffered. Article 1024 of the Civil Code provides that: "A party to civil legal relations enjoys the right to reputation. No organization or individual may infringe upon other's right to reputation by insultation, defamation, or the like." So, at the occurrence of any such infringement, the party responsible shall bear civil liability such as financial compensation or the extension of apologies.
Next is administrative liability. Article 42 of the Law on Penalties for Administration of Public Security stipulates: "A person who openly humiliates another person or slanders another person by fabricating stories may be detained for a maximum of 10 days."
Finally, there is criminal liability. Article 246 of the Criminal Law states: "Whoever, by violence or other methods, publicly humiliates another person or invents stories to defame them, if the circumstances are serious, shall be sentenced to fixed-term imprisonment of no more than three years, criminal detention, public surveillance or deprivation of political rights."
The right to reputation is based on mutual respect, which means that every individual is entitled to respect regardless of social status. However, the dark side of human nature is that we often try to gain the moral upper hand by pointing
out the flaws in and mistakes of others, even if we, too, share similar shortcomings or have made similar mistakes. But as is so very often the case, those who like to criticize others' lifestyles may in fact have bigger problems of their own.
The Internet provides an easily accessible and anonymous medium for group polarization, opening up avenues for echo chambers and the reinforcement of fallible information. Extensive research on group polarization has found that the group's consensual opinion often is more extreme than that of its individual members. This is why it is a fundamental reason for cyberviolence running rife. Extreme opinions easily provoke extreme emotions and people just jump on the bandwagon.
But contrary to popular belief, the Internet is not a ring of invisibility and users' real identities can be traced. Measures to hold abusers accountable are manifold and effective.
The Silence, a short story by Japanese writer Haruki Murakami, tells the tale of a high school student who is isolated from a group of his peers. At the very end, the protagonist says, "What I really fear are those who accept and believe uncritically what others say. They don't even think—even for a moment—about whether what they are doing is wrong, they don't even think they can hurt someone fatally; it is these people that I am really afraid of."
Treat people with dignity and respect; and you shall receive both in return. While Zheng fought alone and you and I stood idly by, we, too, became accomplices in her untimely demise.
The author is a professor of law at the China University of Political Science and Law
Copyedited by Elsbeth van Paridon
Comments to wangruohan@cicgamericas.com