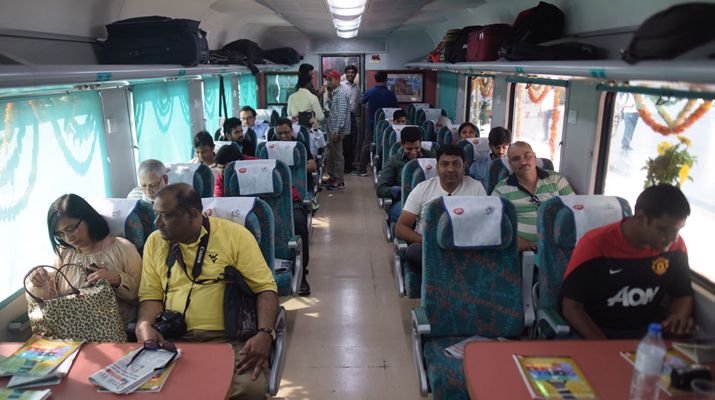 India's first semi-high-speed train awaits departure with passengers on board at a station in New Delhi on April 5 (XINHUA)

India has tenaciously pursued economic development since Narendra Modi took over as prime minister in May 2014. Under the Modi administration, arguably the most powerful government India has seen in decades, the South Asian giant has maintained rapid growth, and its economic ties with the rest of the world have flourished.
According to India's official statistics, the nation experienced 7.6 percent economic growth during the 2015-16 fiscal year, and the growth rate for the first quarter this year reached 7.9 percent. Investment bank Goldman Sachs is optimistic about India's growth, predicting that the annual rate in 2016-17 could remain 7.9 percent.
Modi's cabinet has implemented a series of economic reforms which have significantly loosened market restrictions and enhanced economic liberalization. In the past, India adopted a mixed economic system comprising parallel development of the state and private sectors. It followed the former Soviet Union's central economic planning model, implementing large-scale nationalization policies in defense, transportation and the banking and mining industries. This approach helped enable the country, which had limited resources, to prioritize important projects such as laying the foundations for manufacturing industries, in particular heavy industry.
Excessive state intervention in the economy, however, resulted in lack of growth and inefficient state-owned enterprises (SOEs). In 1991, the then Indian Government implemented economic reforms, relaxing its control of certain industrial sectors and finance, in an attempt to unleash market impetus for economic development. These reforms, however, failed to bear significant fruit, as the country's rigid economic system still featured too many constraints.
Revitalization through reform
Modi's reform program aims at attracting foreign investment and building a market-oriented economy. His cabinet has raised the cap for foreign investors to participate in national defense, railway and insurance, and his administration has put an end to the long-standing monopoly of SOEs over the coal and mining industries by allowing private companies to get involved. Modi has also established the National Institution for Transforming India (NITI) to replace the 64-year-old Planning Commission, around which the nation's planned economy revolved. The newly-established NITI serves mainly as an advisory body and features full representation of both the central and local governments.
In August, India's parliament approved the ambitious Goods and Services Tax (GST) bill, which is widely recognized as a milestone in the country's latest economic reform efforts. The GST is set to transform India into a common market with a unified taxation system.
Prior to the approval of the GST, the convoluted taxation system together with the rigid labor and land acquisition laws were widely perceived as the three largest obstacles restricting economic development.
With the adoption of the GST, India will establish a convenient national consumption tax system, which abolishes the multiple taxation frameworks imposed by local authorities and avoids double taxation by the central and local governments. The GST will help cut business costs, facilitate flows of goods and services between states, and build a unified domestic market for investors. The government has also initiated a number of programs to encourage innovation and startups.
India has since forged ahead in terms of economic expansion, and with China have become Asia's two predominant growth engines. With their stellar economic performances, the two powerhouses—the only BRICS economies that continue to grow despite the lackluster global economic recovery—enhance the prospects of both the BRICS group and the world economy as a whole.
India has now surpassed the United States and China to become, for the first time, the world's leading nation in terms of foreign direct investment (FDI). FDI in India totaled $63 billion in 2015, and the number of FDI projects reached 697, increasing 8 percent compared with the year before, according to a report by fDi Intelligence, a division of the Financial Times Ltd. in the UK.
The Indian Government has initiated favorable policies to encourage the development of renewable energy sources. Multinational corporations Foxconn and SunEdison have stated their intention to invest as much as $5 billion in India's renewable energy sector.
Furthermore, to improve the domestic investment environment and promote manufacturing, Modi's cabinet has launched multiple infrastructure projects to construct railways, roads, ports and airports. Infrastructure construction is the field of expertise of many companies in China. The two nations, therefore, could achieve beneficial outcomes through cooperation on infrastructure construction.
Before taking over as prime minister, Modi was chief minister of his home state, Gujarat, from 2001 to 2014, during which period, he helped turn the west Indian state into an economic powerhouse. Gujarat's rise is not only significant to India, but also serves as a model of economic growth for developing nations around the world.
According to statistics, Gujarat, whose population makes up 5 percent of India's total, contributes 7.5 percent of the nation's GDP and a quarter of foreign trade. Industrial output in Gujarat has maintained double-digit growth of as high as 15 percent for years. The pharmaceutical and automobile industries, in particular, are well developed in Gujarat.
The rise of Gujarat can be attributed to several factors. The Gujarat local government facilitates private investment by making the process comparatively efficient and convenient, provides equal opportunities for all business entities, and ensures balanced development. Gujarat's many prestigious universities churn out talent that underpins industrial development and technological innovation in the region, and the state has sufficient general labor resources.
Hurdles to overcome
The challenges that India faces, however, cannot be ignored.
The first challenge comes from the current legal system. By approving the GST, India's parliament has swept away one of the main obstacles hindering economic growth. But economic vitality remains stifled by the labor law—largely unchanged since independence from British colonial rule—and the land acquisition law, which restricts purchases of land from farmers.
India's labor law makes it difficult for companies to dismiss staff. Even if employees are found unqualified, the cost of laying them off is prohibitively high. Companies in India, therefore, feel reluctant to expand by hiring more workers.
Meanwhile, 70 percent of land in India is privately owned, and if land is to be used for commercial purposes. The current law dictates the purchaser must gain consent from at least 80 percent of the families affected.
Modi's cabinet has proposed amending the law on land use to facilitate infrastructure construction and industrial development. But opposition parties and farmers have rejected the proposal. Thus, the legal obstacle surrounding land use has yet to be overcome.
Unemployment is a serious problem in India. In the past, with a large number of English-speaking population, India prioritized the development of its IT industry and achieved great success, becoming "the world's office." But the IT industry cannot create enough job opportunities for average, poorly-educated people. In the last decade, India's population has grown rapidly, and the labor population increases by an average 12 million annually. India, therefore, faces heavy pressure in dealing with unemployment.
Another related issue is that as many as 500 million people work in small, family-run workshops whose businesses typically extend no further than traditional handicrafts and livestock breeding.
Apart from IT outsourcing, India's strength in exports lies largely in natural resource and primary agricultural products, and it remains weak in manufacturing, especially of high-value-added goods.
The Indian Government has continued economic reforms for over 20 years and has achieved remarkable success in many areas. The world holds high hopes for India's future economic trajectory.
The author is an expert on South Asia at the China Institutes of Contemporary International Relations
Copyedited by Chris Surtees
Comments to liuyunyun@bjreview.com