—Jitendra Singh, Minister of State for Youth Affairs and Sports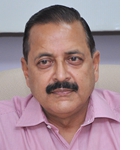 In the last two years, the BRICS have emerged as an influential forum and platform for the nations of Brazil, Russia, India, China and South Africa.
The relationships among these nations have assumed wider dimensions, and the summit beginning today, with the involvement of youth from these nations, is a marker of the realization that youth have a vital role to play in the emerging scenario of the 21st century.
While over 65 percent of India's population is aged below 35, the other BRICS nations also have large youth populations. This demographic dividend offers a great opportunity for these nations to move ahead at a fast pace and emerge as frontline states in economics, science, technology and other fields.
The BRICS bring together five major [emerging] economies that together account for 43 percent of the global population, 37 percent of world GDP and 17 percent of international trade. This means that BRICS nations hold the key to the future of the 21st-century world, and youth can play a decisive role in shaping this destiny.
(At the opening session of the BRICS Youth Summit on August 21)
Copyedited by Chris Surtees
Comments to liuyunyun@bjreview.com