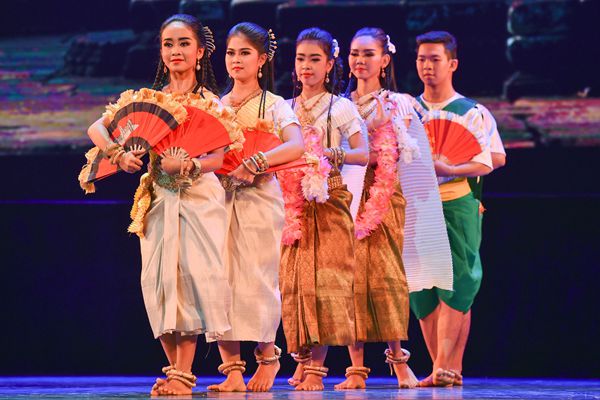 Dancers from Cambodia perform during the first Maritime Silk Road International Dance Week in Fuzhou, southeast China's Fujian Province, on December 2 (XINHUA)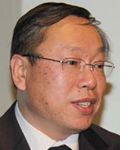 Editor's Note: Culture is the cornerstone of a nation's self-confidence and soft power. In the process of building a moderately prosperous society, China has begun to attach great importance to the promotion and spread of Chinese culture, alongside its long term goals of economic growth and industrial development. Xie Jinying, Director of Bureau for External Cultural Relations, Ministry of Culture, gave a comprehensive analysis on China's cultural promotion and its vision for the future. Excerpts of his article follow:
China is now at a critical stage in its efforts to build a moderately prosperous society, amid changing international patterns and the transformation of world systems. The Party Central Committee, with Xi Jinping at the core of the leadership, has put forward a series of new ideas and strategies, and deployed new methods to enhance the country's cultural soft power, pushing forward China's efforts for foreign cultural exchange.
Increasing cultural exchange
General Secretary of the Central Committee of the Communist Party of China, (CPC) Xi Jinping, stressed at the Central Conference on Work Relating to Foreign Affairs in November 2014 that China's diplomacy should, under the leadership of the CPC, persist along the road of socialism with Chinese characteristics, as with an independent foreign policy of peace, democratization of international relations, win-win cooperation and correct concepts of justice and benefit. These six points compose an important part of foreign policy with Chinese characteristics and serve as a guiding principle for China's foreign cultural exchange in a new era.
Most important diplomatic events involve cultural activities, which can display the merits of Chinese culture whilst helping to strengthen bilateral relations.
In March 2013, President Xi Jinping and Russian President Vladimir Putin jointly attended the opening ceremony of China-Russia Year of Tourism, watching the performance titled Beautiful China. In November 2014, President Xi and Australian Prime Minister Tony Abbott attended the opening ceremony for the China Cultural Center together in Sydney. In December 2015, President Xi attended the closing ceremony of the Year of China and again, in June 2016, attended the cornerstone laying ceremony for China Cultural Center in Belgrade, Serbia, together with the country's President Tomislav Nikolic.
The establishment of inter-governmental, cultural relations with other countries serves to make China's cultural diplomacy regular and institutionalized. China has now signed cultural cooperation agreements with 157 countries, formalizing nearly 700 cultural exchange implementation plans, deepening high-level cultural exchange mechanisms with Russia, the United States, United Kingdom, Germany, and the European Union among others. China has developed established mechanisms cultural exchanges with major countries and regions in all parts of the world.
Promoting connectivity
The Belt and Road Initiative proposed by China has been widely welcomed by countries along the Silk Road, with President Xi stressing that the Belt and Road should become a road of civilization through the common efforts of all participants. In pursuing the Belt and Road Initiative, it is vital to ensure that there is cooperation between civilizations so that exchange replaces estrangement, collaboration supersedes conflict, and mutual understanding takes the place of discrimination. By doing this we can boost learning, respect and trust among different countries. In order to push forward cultural exchange and cooperation under the framework of the Belt and Road Initiative, the Ministry of Culture has compiled a plan of action for the implementation of projects from 2016 to 2020.
The Ministry of Culture has already begun making headway in this respect. The key principles of the Belt and Road Initiative - "wide consultation, joint contribution and shared benefits" – have been promoted through three major platforms, including the Silk Road International Arts Festival, the Maritime Silk Road International Art Festival and the Silk Road International Cultural Expo in Dunhuang, as well as the cultural sections of China (Shenzhen) International Cultural Industries Fair and Shanghai International Arts Festival. The Ministry also provided support for other maritime Silk Road events in Quanzhou, a coastal city in Southeast China's Fujian Province, including the construction of the Maritime Silk Road Art Park which features national exhibition booths for the countries along the maritime Silk Road. In Yinchuan, capital of northwest China's Ningxia Hui Autonomous Region, we helped build the Sculpture Garden of China-Arab Friendship in accordance with the development strategy of the China-Arab Cooperation Forum.
Another means of strengthening cooperation with countries along the Belt and Road is the protection of historical and cultural relics. In June 2014 the combined efforts of China, Kazakhstan and Kyrgyzstan saw the Routes Network of Chang'an - Tianshan Corridor successfully added to UNESCO's list of World Heritage Sites, and Chinese cooperation in archaeological projects with countries such as India, Bangladesh, and Tajikistan along the ancient Silk Road aims to discover and preserve a shared heritage which can facilitate future partnerships.
Strengthening soft power
China has extended its international cultural exchanges through the establishment of communication platforms between Chinese and foreign think-tanks, as well as within academic circles. Events like symposium on China studies, and visiting programs for junior sinologists have received a positive reception, extending the influence of Chinese culture and values around the globe. Since 2013, China has held five symposiums on China studies, and carried out ten visiting programs, providing the platform for the visit of 125 well-known sinologists from 49 countries, as well as 360 junior scholars from 95 countries, to China.
Another important means of cultural exchange, the "Happy Spring Festival" project has established itself as a well-known brand, having gained a firm foothold in foreign cities with an expanding global influence. In 2017, more than 2,000 activities under the "Happy Spring Festival" program took place in over 500 cities across 140 countries, reaching an audience of 280 million overseas. International mainstream media outlets in around 20 languages covered these events, broadcasting to a combined audience of three billion. These figures underline the important role cultural programs have assumed in the project of spreading Chinese culture. In many places around the world, Spring Festival is increasingly celebrated and appropriated by local people.
We are making efforts to build more Chinese culture centers overseas through cooperation with local governments and social organizations. So far more than 30 of these overseas Chinese culture centers have been put into operation, holding more than 4,000 cultural activities involving eight million people. These centers represent stages from which to present the essential elements of Chinese culture, whilst portraying China's national image around the world.
In cyber space too, Chinese culture has seen its influence spread. The official China Culture website, www.chinaculture.org, has become the most important web portal for China-foreign cultural exchanges, after recently undergoing a comprehensive revamp. Under the account name 'Chinese culture', it is now available on the four major overseas social media platforms, Facebook, Youtube, Instagram and Twitter, helping to increase interaction with overseas Internet users and expand the influence of Chinese culture online.
The past five years have witnessed the rapid growth of China's foreign trade and investment in culture, which has given rise to the increasing influence of Chinese culture around the world. As the market for culture becomes more valuable and diverse, private companies have been a major force in the export of Chinese cultural products and services. China has established cultural centers for foreign trade in Shanghai, Beijing and Shenzhen, exploring and developing new models for driving the industry, as the total volume of cultural products reached $88.52 billion in 2016. The export of cultural products reached $78.66 billion with a surplus of $68.8 billion, whilst the export of cultural entertainment and advertising services reached $5.43 billion, up 31.8 percent year on year. In the culture, sports and entertainment sectors, China's direct investments in foreign markets stood at $3.92 billion, up 188.3 percent over the previous year.
Open to the World
The Central Government has stressed that the opening up of the cultural sector is an important aspect of deepening its reform efforts. China should learn from the rest of the world, absorbing valuable cultural aspects from abroad, whilst importing talent, technology and experience that will contribute to China's own cultural development.
Over the past five years, we have held many international cultural events, such as the China Shanghai International Arts Festival, the Beijing International Music Festival, the International Festival of Intangible Cultural Heritage Chengdu, the China Xinjiang International Dance Festival, the China International Chorus Festival, the China Wuqiao International Circus Festival, and the Silk Road International Arts Festival. These activities not only enhance China's image overseas, but also benefit the public, providing local people the opportunity to celebrate their own culture.
China has also strengthened its participation in multilateral cultural communication and cooperation. Through international platforms like UNESCO, China has been working with the international community to revise and implement the Convention for the Safeguarding of Intangible Cultural Heritage, and the Convention on the Protection and Promotion of the Diversity of Cultural Expressions, which has helped increase the influence of China's discourse in the forum of global culture. A total of 31 Chinese entries have been listed by UNESCO's Masterpieces of the Oral and Intangible Heritage of Humanity, with seven added to the UNESCO list of Intangible Cultural Heritage in Need of Urgent Safeguarding. Whilst the important cultural phenomena of many countries feature on the list, it is China which boasts more than any other signatory.
The Central Committee of the Communist Party of China has put forward and issued a series of policies for promoting Chinese culture overseas, reflecting culture's increasing importance in the cause of building socialism with Chinese characteristics. These policies make clear our mission to improve the nation's soft power by delivering a favorable impression of China to the world, and promoting communication between people.
In the future, we will continue to explore new theories and practice new methods in international cultural exchange, making further contributions toward promoting Chinese culture around the world, and at the same time enhancing China's cultural soft power.
Copyedited by Laurence Coulton
Comments to baishi@bjreview